Langa Zita
From KeyWiki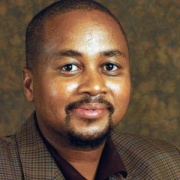 Langa Zita
In 1994, the Editorial Board of Links, a "journal of international socialist renewal" produced and sponsored by the Australian Democratic Socialist Party, included;
South African government post
As of August 2010, former environmental portfolio committee chair Langa Zita was set to become the next director general of the Department of Agriculture, Forestry and Fisheries.
According to well-placed sources in the department, Zita's name was forwarded as first choice to Public Services Minister Richard Baloyi and Cabinet for approval.
Zita has a strong background in the South African Communist Party, is said to be a close ally of Cosatu secretary general Zwelinzima Vavi and has been one of Agriculture Minister Tina Joemat-Pettersson's closest advisers in the past few months.[1]
References