Kirsten E. Gillibrand
From KeyWiki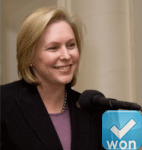 Kirsten E. Gillibrand , formerly known as Tina Rutnik, is a Democratic member of the United States Senate, representing New York.
Gillibrand was sworn in as New York's Senator in January 2009, filling Hillary Rodham Clinton's seat. Before her appointment, Gillibrand served in the United States House of Representatives, representing New York's 20th Congressional District.
She graduated from Dartmouth College in 1988 and received her law degree from the UCLA School of Law in 1991.
During the Clinton Administration, Senator Gillibrand served as Special Counsel to the United States Secretary of Housing and Urban Development (HUD) Andrew Cuomo. She then worked as an attorney in New York City before her congressional career.
Gillibrand was born and raised in upstate New York, but now lives Hudson, New York, with her husband, Jonathan Gillibrand, and their two sons, Theodore and Henry.[1]
Background
Raised in upstate New York, Kirsten Gillibrand was first introduced to public service by her grandmother, a women's rights activist who organized Albany women to make a difference. Gillibrand attended Dartmouth College, majoring in Asian studies and graduating magna cum laude. After her undergraduate studies were complete, she received her J.D. from the UCLA School of Law in 1991.
Gillibrand began her professional career during the Clinton administration, where she served as special counsel to the Secretary of Housing and Urban Development, Andrew Cuomo. Following that, she served as an associate at one law firm and a partner at another, working on a wide range of legal and policy-related issues. She handled many cases pro bono, including representing abused women and their children, and serving as a legal advocate for tenants seeking safe housing after lead paint and unsafe conditions were found in their homes.[2]
Asian experience
An Asian studies major at Dartmouth in 1986, Gillibrand studied for six months in China and Taiwan, becoming sufficiently proficient to comprehend stories in Chinese newspapers. She later spent four months in Hong Kong as a corporate lawyer. [3]
Ms. Gillibrand is apparently the only member of Congress with some proficiency in Mandarin, other than Representative David Wu, an Oregon Democrat who was born in Taiwan.
Ms. Gillibrand has come a long way from her days in China and Taiwan as Lu Tian Na, an exuberant adventurer who sucked down toad venom to counteract poisonous crabs from Beidaihe beach (about 180 miles east of Beijing), and who rode helmetless on a motorcycle in polluted Taipei. But those experiences deepened her appreciation for different cultures, Ms. Gillibrand said in an interview, and helped to shape her views on relations between the United States and China.
Ms. Gillibrand gravitated toward Chinese in college, she said, because she had never been to Asia and she loved the artistry of Chinese characters. Her Chinese name, Lu Tian Na, reflected a routine transliteration of her name. Tian Na (heaven and beautiful, respectively) represents Tina, which she was known as growing up, and the surname Lu (which means land) was thought to be a close match to her maiden name, Rutnik, and adds poetry and meaning to her Chinese name.
As a member (and eventually captain) of the squash team at Dartmouth, Ms. Gillibrand would practice writing countless Chinese characters during van rides to matches.
"She was more enthusiastic than average; she really stood out that way," said Seth Hendon, a student at Dartmouth who taught her at a language drill class. "She really wanted to learn."
During her studies abroad in 1986, first in Beijing, then in Taichung, Taiwan, Ms. Gillibrand, then a junior, sampled everything from congee to dried cuttlefish and stinky tofu. She used a slide projector to show images of people and places she photographed, talked constantly to ordinary Chinese, took up tai chi and navigated her bicycle through Beijing's thoroughfares and narrow alleys.
By the time she returned to Dartmouth, Ms. Gillibrand could comprehend television news and newspaper articles, according to two classmates, Eve Stacey and Dana Beard, who accompanied Ms. Gillibrand overseas.
"I know it was a life-changing experience for me, and I suspect it was the same for Tina," said Ms. Beard. "It opened our minds."
Ms. Gillibrand agreed.
"Our relationship with China is extraordinarily complicated, and when you do understand the culture better, having that appreciation means you can hopefully find compromises," she said.
She said that the United States should be a "candle for the world," and that "so much of our foreign policy and national security depends on China."
She also suggested that she would be pragmatic in dealing with China's human rights record. She recalled trekking in Tibet, and noticing a 5-year-old boy who had little choice, because of his family's economic predicament, but to work alongside his father, carting stones in a wheelbarrow.
"When we talk about child labor laws, I have a recognition of how far other places have to go," she said.[4]
John Liu connection
At the Chinatown parade down Mott Street on Feb. 1, Ms. Gillibrand was flanked by Assembly Speaker Sheldon Silver, whose district includes Chinatown, and Councilman John C. Liu, who represents Flushing. Mr. Liu, who immigrated from Taiwan as a child, rarely speaks Chinese in public, even though his Mandarin is quite good. Mr. Silver, meanwhile, can say, "Hello, I am Silver," in Cantonese.[5]
Fair Elections Now Act
In 2010 Senator Maria Cantwell signed on as a Senate co-sponsor of the Fair Elections Now Act (FENA), S.752 - joining Senator Dick Durbin (original sponsor) and other Senate colleagues for a total of nine.
In the Senate, others were Sens. Barbara Boxer, Chris Dodd, Russ Feingold, Kirsten Gillibrand, Tom Harkin, John Kerry, and Arlen Specter. [6]
Endorsed by Liu and Meng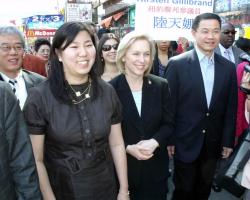 City Comptroller John Liu and Assemblymember Grace Meng (D-Flushing) formally endorsed Senator Kirsten Gillibrand (D-New York) for the U.S. Senate March 20, 2010,
Gillibrand was appointed junior U,S, Senator from New York by Governor David Paterson after Senator Hillary Clinton was named Secretary of State by President Barack Obama and will run for election to the seat in November.
Joined by Asian-American community leaders, Liu and Meng led Gillibrand on a walking tour of Downtown Flushing's business section along Main Street through narrow sidewalks crowded by locals shopping and going about their daily routine. The tour began at the Flushing Library at 41st Avenue and Main Street and ended at 37th Avenue and Main Street. Along the way, the trio stopped at Ou Jiang Supermarket underneath the Long Island Rail Road overpass, where Gillibrand ate a handmade dumpling and then sipped bubble tea at Taipan Bakery. Gillibrand also paid a visit to the Xinhua Bookstore the source of thousands of books in various Asian dialects.
"Our relationship with China is extraordinarily complicated, and when you do understand the culture better, having that appreciation means you can hopefully find compromises," Gillibrand said.
"The Senator's knowledge of our culture makes her more sympathetic to our needs and goals," Grace Meng said. [7]
Backing Meng
Senator Kirsten Gillibrand seems to have a preferred candidate in the race to succeed Gary Ackerman.
After an event on equal pay at N.Y.U. Law April 16, 2012, , Gillibrand posed for photos with Assemblywoman Grace Meng, who said she was absorbing positive energy from the senator and Councilwoman Letitia James.
"We're making sure you win," Gillibrand told Meng.
Gillibrand had just told a mostly female crowd of about 100 that they should seek out less-senior women in their own field and offer them guidance on how to succeed in a male-dominated world. Her words to Meng seemed to be offered in that spirit.
As the women mixed up for various groups photos, Gillibrand gave Meng a serious look and told her to "keep fighting" to get to Congress.[8]BY REID PILLIFANT, Apr. 16, 2012]</ref>
Communist Party interest
As part of the discussion leading up to the Communist Party USA's 29th National Convention May 21-23, 2010. the State Committee of the New York District, CPUSA, contributed a paper "Convention Discussion: New York's Road to the Future" - which included the lines;[9]
Sen. Gillibrand's seat may be the most important electoral fight. A loss of a relatively progressive Democrat from New York is not at all out of the question, and would devastate the national political scene. There are also a good number of House seats up for grabs; we have to keep our eyes on them.
21st Century Democrats support
21st Century Democrats is a Political Action Committee that has stood for Progressive causes for over 20 years. Founded in 1986 by Institute for Policy Studies affiliate, Iowa Senator Tom Harkin, Democratic Socialists of America affiliates, former Texas Agriculture Secretary Jim Hightower, and former Illinois Congressman Lane Evans. Its three main goals are to help elect progressive candidates, train young people about grassroots organizing, and lastly, to continue to support our elected officials after Election Day "through our comprehensive progressive network".
Carol Moseley Braun, a former US Senator from Illinois, and long time Communist Party USA affiliate, serves on the organization's Advisory Board. Long time Board chair was Democratic Socialists of America member Jim Scheibel, a former Mayor of Saint Paul, Minnesota.
The mission of 21st Century Democrats is to build a "farm team" of progressive populists who will be the future leaders of the Democratic Party.
In each election cycle, we endorse a diverse array of candidates who exemplify our values and show unusual promise to advance our progressive goals. We invest in some of the most competitive races as well as in some of the most challenging – those in which the candidates are outstanding but the traditional Democratic supporters are most reticent. We back candidates in primaries as well as general election races, and we focus the bulk of our resources on electing challengers and protecting vulnerable incumbents.[10]
Gillibrand was one of 12 key progressives endorsed by 21st Century Democrats in the 2012 election cycle. 21st Century Democrats helped Gillibrand win her House seat against a four-term GOP incumbent in 2006. 21st Century Democrats endorsed her 2008 reelection bid for that seat, and then again in the 2010 U.S. Senate special election in New York. [11]
2012 CLW Senate victories
2012 CLW Senate Victories were;
Tammy Baldwin (D-WI), Sherrod Brown (D-OH), Bob Casey (D-PA), Kirsten Gillibrand (D-NY), Martin Heinrich (D-NM), Heidi Heitkamp (D-ND) Mazie Hirono (D-HI), Tim Kaine (D-VA), Angus King (I-ME), Amy Klobuchar (D-MN), Claire McCaskill (D-MO), Chris Murphy (D-CT) Bernie Sanders (I-VT), Debbie Stabenow (D-MI), Jon Tester (D-MT), Elizabeth Warren (D-MA) and Sheldon Whitehouse (D-RI).[12]
South Korea, China, Japan trip
Four members of Congress traveled to South Korea, Japan and China, September 2013, during a summer recess, congressional sources said Wednesday.
They are Sens. Kirsten Gillibrand (D-NY) and Mazie Hirono (D-Hawaii) and Reps. Grace Meng (D-NY), and Terri Sewell (D-AL), and Dan Benishek, a Republican from Michigan.
"All of them are symbolic figures in the 113th Congress in terms of representing minority groups," a source said. "Also, they have a good understanding on Korea."
Gillibrand is said to have potential to become a political star like Hillary Clinton, one of her close associates.
Hirono, a Buddhist born in Japan, is the first Asian-American woman elected to the U.S. Senate.
Meng, a Chinese-American, is the first Asian-American from New York to be elected to Congress.
Sewell is the first black woman elected to Congress from Alabama.
Another source said some of them may meet with South Korean President Park Geun-hye, the country's first female president, during their visit.[13]
Before continuing to Asia, the delegation will stop today in Alaska to host a roundtable on military sexual assaults with Senator Mark Begich (D-AK). The roundtable will feature military officials and survivors of sexual assaults. [14]
CLUW support
Delegates to the 17th Coalition of Labor Union Women Biennial Convention, November 15th, 2013 in Reno, Nevada, endorsed the Family and Medical Insurance Leave Act (FAMILY Act), sponsored by Senator Kirsten Gillibrand of New York and Representative Rosa DeLauro of Connecticut, which would create a national paid family and medical leave insurance program to ensure people have much-needed income when family and medical needs arise.[15]
Committees
Environment and Public Works Committee
Foreign Relations Committee
Agriculture, Nutrition and Forestry Committee
Special Committee on Aging[1]
Aboriton
Planned Parenthood
Gillibrand received $8000 in lobbying funds from Planned Parenthood in 2008.
EMILY's List
Gillibrand has been supported by EMILY's List during her campaigning.
External links
References