Kenneth Riley
Jump to navigation
Jump to search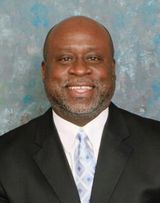 Template:TOCnestleft Kenneth Riley is a South Carolina labor activist.
"Charleston 5"
Kenneth Riley was the spearhead of a two-year campaign in defense of five dockers in Charleston, S.C., known as the Charleston 5. The struggle began Jan. 20, 2000 when 600 police in full riot gear attacked members of the ILA who were conducting a lawful picketline to protest the use of a nonunion crew to unload a Danish freighter. Police in armored vehicles, on horseback, in helicopters and in patrol boats injured many longshoremen, including Riley.
Police arrested five dockers, four African Americans from Local 1422 and one white from Local 1771. Republican State Attorney General Charles Condon charged the five with conspiracy to riot, punishable by up to 10 years in prison.
In May 2000, Riley appealed to the ILWU convention for support. The ILWU made the campaign a priority and contributed over $300,000 to the defense fund. Nearly two years later that support, along with solidarity from the AFL-CIO, world labor, civil rights and community groups freed the Charleston 5, who received only minor fines.[1]
Gathered in the union hall and parking lot on East Bay Street, the dockworkers of International Longshoremens Association (ILA) Local 1422, mostly African American men, celebrated their hard-fought victory in the case of the Charleston Five. Elijah Ford, Peter Washington, Jr. and Ricky Simmons were freed Nov. 13, 2001, and Kenneth Jefferson and Jason Edgerton were freed the previous Thursday.
All five union dockworkers, four African-American and one white, pleaded no contest to a misdemeanor and paid $309 in fines and court fees. Their attorneys told the World that the workers were making no admission of guilt.
They spent nearly 20 months under house arrest following the riot by 650 heavily armed state troopers who brutally attacked the 150 workers walking on an ILA picket line the night of Jan. 19, 2000. The dockers had been protesting Nordana Shipping Companys use of non-union labor, a brazen attempt to break the union and force down the wages and benefits earned by the ILA dockers.
No worker is going to sit idle while they take our jobs away, said Frank Jenkins, a second-generation dockworker. This is the strongest union in the state of South Carolina. Weve built a good life for ourselves and our families. We can afford to send our children to college. South Carolina Progressive Network (SCPN), a multiracial and multi-issue organization was holding its monthly meeting in the Local 1422 recreational room. Kenneth Riley, president of Local 1422 and himself a SCPN member, thankedd the group for their staunch support. You were there from the beginning, he said. We couldnt have won this victory without the backing of groups like the Progressive Network.
The Progressive Network is building a strong coalition movement in South Carolina, said Torreah Cookie Washington, chair of the Charleston branch of the Progressive Network.[2]
ILA Local 1422 President Kenneth Riley and other local union leaders toured the U.S., Europe and even South Africa to build support, as part of a labor solidarity effort in which Lee Sustar participated. In November 2001, Condon withdrew from the case, and the house arrest was lifted shortly afterward in a rare big victory for organized labor.[3]
"Forging a Black Liberation Agenda for the 21st Century"
10th Anniversary Meeting of the Black Radical Congress, "Forging a Black Liberation Agenda for the 21st Century" Black Radical Congress, June 20-22, 2008, St. Louis, Missouri.
Endorsers for the Congress included Kenneth Riley , President-International Longshoremen's Association Local 1422.[4]
Committees of Correspondence conference
At the Committees of Correspondence National Conference and Convention, July 25-28, 2002 San Francisco State University.
Disarmament and the Military Budget. Panelists included: Kenneth Riley, David Bacon,, Marilyn Albert, Renee Saucedo, Angela Sambrano, Cathi Tactaquin, Marty Price, Patrice Sewell, Joan Cohen, Claire Carsman, James Campbell, Peter Orris, Thelma Correll, Edith Pollach, Amaha Kassa, Harry Targ, Steve Williams, Karen Talbot, Mort Frank, David Cohen.[5]
JUL 24-29 WED-MON - Strategies for Peace, Equality and Justice in an Age of Globalization. National conference and convention of the Committees of Correspondence for Democracy and Socialism with Herbert Aptheker, Angela Davis, Manning Marable, Betita Martinez, Charlene Mitchell, Gus Newport, John Nichols, Mike Prokosch, Kenneth Riley, Mark Solomon, Tim Wise and others plus representatives of progressive movements in Brazil, Cuba, Germany, Israel, Palestine and South Africa. San Francisco State University, Seven Hills Conference Center. [6]
Free Mumia Abu-Jamal
In 2008 Kenneth Riley, President of ILA Local 1422, Charleston, SC signed a statement circulated by the Partisan Defense Committee calling for the release of convicted "cop-killer" Mumia Abu-Jamal.[7]
Labor Notes
In 2009 Kenneth Riley, ILA Local 1422 member and Longshore Workers Coalition co-chair, Charleston was a member of the Labor Notes policy committee[1].
Center for Labor Renewal
In 2009 Ken Riley was listed as an endorser of the Center for Labor Renewal[8].
Cesar Chavez National Holiday campaign
In 2009, Kenneth Riley, Vice President International Longshoremen's Association (ILA), Vice Pres. South Carolina AFL-CIO & President ILA Local 1422 (Charleston) was listed on the Advisory Council of the Communist Party USA initiated Cesar E. Chavez National Holiday organization[9]
Harvey Gantt award
U.S. Rep. John Lewis, and South Carolina AFL-CIO President Emeritus Donna DeWitt, a civil rights and union organizer, were honored during the Tri-County Ecumenical Service, Jan. 27 at Morris Street Baptist Church, 25 Morris St, Charleston.
The service and award ceremony was part of the 41st annual Martin Luther King Jr. Celebration, sponsored by the YWCA.
The Harvey Gantt award was presented to Lewis and Dewitt by U.S. Rep. James Clyburn and newly elected state AFL-CIO President Kenneth Riley. Lewis gave the keynote address.[10]
T-Mobile panel
On February 16, 2013, a distinguished group of national, international, and local leaders gathered in Charleston to hear testimony from T- Mobile employees. Their testimony provided compelling evidence of horrible working conditions and a complete absence of job security.
Members of the Charleston Speak Out Panel were;
References
Template:Reflist Template:Center for Labor Renewal endorsers