Keith Bagwell
From KeyWiki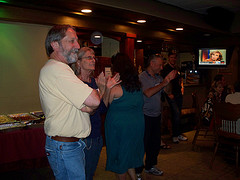 Keith Bagwell is a Tuscon, Arizona activist and the partner of Carolyn Trowbridge
Background
After growing up in Phoenix, Keith Bagwell earned degrees from the University of Arizona and became a dedicated Tusconan. He spent 23 years working in newspaper journalism, primarily as the environmental reporter for the Arizona Daily Star. In 2007 he was the executive assistant to the Pima County Board of Supervisors Chairman and co-chair of the Tucson Chapter of the National Writers Union, AFL-CIO.
He is married to Communist Party USA member Carolyn Trowbridge. Together, they have a grown daughter and three granddaughters.[1]
Sierra Club
Keith Bagwell was in the late 2000s chair of the Rincon Group of the Arizona Sierra Club. He has been on this group's executive Committee since 2002 and a member since 2000.[2]
Labor Day call
The Communist Party USA paper People's Weekly World issued a statement to mark Labor Day 1995, entitled "We honor the dead and fight like hell for the living."
Of the more than 100 endorsers listed, almost all were identified members of the Communist Party USA.
Bagwell of Tucson, Arizona was on the list.[3]
Endorsed Communist Party Call
On March 30 2002 the Communist Party USA paper People's Weekly World called for a national holiday in honor of late Farm Workers Union leader Cesar Chavez. The article was followed by a long list of endorsers[4]including Keith Bagwell, Almost all endorsers were confirmed members of the Communist Party USA.
Arizona "progressive" community
On May 1 2009, this statement appeared in the Communist Party USA paper Peoples World;[5]
Arizona's progressive community extends May Day and Cinco de Mayo greetings to all our friends across the country. We commit ourselves to join the struggle for jobs, equality, national health care, a fair immigration policy, and for peace and justice in the Middle East. Let's make this planet a good place to live for all its inhabitants.
Arizona Peace Council, AZ4NORML, Campaign for Labor Rights, The Einstein Academy, Casa Maria/Catholic Worker East Valley Club Communist Party USA, Law Office of Payson & Gattone, The Latino Doctrine (TV show) Revolutionary Grounds Books and Coffee, Salt of the Earth Labor College Tucson Club CPUSA , Tucson Peace Action Coalition
Clyde Appleton, Mary Elinor Adams, Rolande Baker, Anne Brenner, Joe Bernick and Cat Stelman, Nancy Bissell, Jack Blawis, Don Buchanan, Richard Boren, Susan Clark, Rebeca Cartes, Eugenia Chilton, Jack DeWeese, Howard Druan, & DD Sande, Gregory Feesl, Ray Figueroa, Brian Flagg, Michael Flower, Sean Fowlkes, Nancy Gallen, Maggie Gerring, Michael Gray, Nancy Graham, James Hannley, Beverly Halkias, Jeff Imig, Mansur Johnson, James Jordan & Raquel Mogollon, Frank Jents, Marilyn Kramer, John Kromko, Jim Kincaid, Brandy Lintencum, Rob McElwain, Mary MacEwan, John Mackoviak, Jane Martin & Bob Vint, Jon Miles, Nancy Myers, Kathy Norgard, Richard Osburn, Ismael Parra, Nancy Pontius , Alice Ritter, Carlos Salaz, Sr., Mazda Shirazi, Rosemary Solarez, James Stewart, Brian Stevens, Olga Strickland, Donald Tewels, Dennis Tallent & Laura Tallent, Anita Torrez & Lorenzo Torrez, Carolyn Trowbridge & Keith Bagwell, Susan Thorpe, Steve Valencia & Janet Valencia, Edward Vargas, Steve Wheaton, Michael Wheeler, Susan Willis , Wendell Wilson, Deb Wilmer.
References
References