Katha Pollitt
Jump to navigation
Jump to search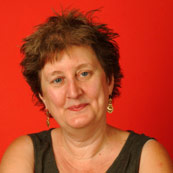 Katha Pollitt
Rise Up 4 Abortion Rights
Katha Pollitt was a signatory on a May 2022 statement issued by Rise Up 4 Abortion Rights, a Revolutionary Communist Party front group.[1] The statement called for "abortion on demand and without apology" and was issued in the wake of a leak of the Supreme Court decision to overturn Roe v. Wade, which forced states to accommodate the killing of unborn children.
DSA's Cuba Letter
Katha Pollitt signed an April 2003 Statement on Cuba, initiated and circulated[2] by prominent Democratic Socialists of America (DSA) member Leo Casey, calling for the lifting of trade sanctions against Cuba.
"a statement circulating among democratic left/socialist folks, largely by members of Democratic Socialists of America, condemning the recent trials and convictions of non-violent dissenters in Cuba".
The petition criticized Cuba's poor human rights record, but shared the blame for Cuba's problems with reactionary elements of the U.S. administration...
The democratic left worldwide has opposed the U.S. embargo on Cuba as counterproductive, more harmful to the interests of the Cuban people than helpful to political democratization. The Cuban state's current repression of political dissidents amounts to collaboration with the most reactionary elements of the U.S. administration in their efforts to maintain sanctions and to institute even more punitive measures against Cuba.
Many of the petition's 120 odd signatories were known members of DSA.
JournoList
Katha Pollitt was an identified member of JournoList - an email group of approximately 400 "progressive" and socialist journalists, academics and "new media" activists.
JournoList members reportedly coordinated their messages in favor of Barack Obama and the Democrats, and against Sarah Palin and the Republican Party. JournoList was founded in 2007 and was closed down in early 2010.[3]
Feminists for Peace and Barack Obama
In early 2008 Katha Pollitt, a writer signed a petition circulated by Feminists for Peace and Barack Obama[4].
In the coming elections, it is important to remember that war and peace are as much \"women\'s issues\" as are health, the environment, and the achievement of educational and occupational equality. Because we believe that all of these concerns are not only fundamental but closely intertwined, this Tuesday we will be casting our vote for Senator Barack Obama as the Democratic nominee for President of the United States.
DSA member
At the Democratic Socialists of America National Political Committee Meeting of September 26-27, 2009, members "brainstormed" on who could replace the late Ruth Spitz and one other opening for a woman among the DSA vice chairs. Suggestions were: Teresa Ghilarducci "at times a member", Katha Pollitt, Christine Kelly "joined at conference", Judith Deutsch, Theda Skocpol "if Joe approaches her to ask her to rejoin", Juliet Schor "a member on and off", "less likely": Holly Sklar, Peg Strobel. All names were referred to the Steering Committee.[5]
The Nation
In 2009 Katha Pollitt was listed as a columnist for The Nation[6].
Kopkind Colony
The Kopkind Colony Honorary Board , as of 2015;[7] The Kopkind Colony Honorary Board, as of 2015;[8] Tariq Ali, Mandy Carter, Alexander Cockburn, Joan Didion, John Gregory Dunne, (in memoriam) Jewelle Gomez, Tony Kushner, Maria Margaronis, Neil Miller, Victor Navasky, Katha Pollitt, Edward Said (in memoriam), Ben Sonnenberg, Calvin Trillin, Patricia Williams
References