Julianne Malveaux
From KeyWiki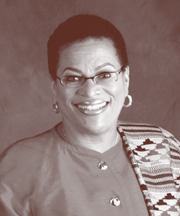 Julianne Malveaux is serving as the 15th President of Bennett College. She has worked as an economist, author, and commentator and is now the founder of Last Word Productions, Inc, a multimedia production company.
She is[1]an :outspoken activist for issues surrounding race, culture, gender, and their economic impacts.
Malvaux was described by Dr. Cornel West as "the most iconoclastic public intellectual in the country[2]."
Background
Malveaux was born on September 22, 1953, in San Francisco. She studied economics at Boston College, obtaining a B.A. in 1974 and an M.A. in 1975. Malveaux obtained a Ph.D. in economics at the Massachusetts Institute of Technology in 1980.
After finishing her studies at M.I.T., Malveaux returned to San Francisco, where she worked as an assistant professor at San Francisco University from 1981 to 1985. She then worked as a visiting scholar and visiting professor at the University of California, Berkeley, from 1985 to 1992, teaching economics, public policy and African American studies.[3]
Socialist Scholars Conference
Komozi Woodard, Walter Stafford, Lynne Mosley and Julianne Malveaux were speakers on the Urban Crisis and People of Color panel sponsored by the DSA African American Commission at the Tenth Annual Socialist Scholars Conference. The conference was held April 24-26, 1992 at the Borough of Manhattan Community College, New York City.[4]
Black Radical Congress
In March 1998 "Endorsers of the Call" to found a Black Radical Congress included Julianne Malveaux, Economist & Syndicated Columnist, Washington, DC[5].
Economic Policy Institute
Julianne Malveaux serves on the Board of Directors of the Economic Policy Institute[6].
The Black Scholar
Malveaux was a contributor to The Black Scholar.[7]
Free Mumia Abu-Jamal
In 2008 Julianne Malveaux a Economist, Author, Washington, DC signed a statement circulated by the Partisan Defense Committee calling for the release of convicted "cop-killer" Mumia Abu-Jamal.[8]
Black Commentator
As of 2009 Julianne Malveaux was listed on the Editorial Board for the Black Commentator.[9]
Influence
Dr. Malveaux's contributions to the "public dialogue on issues such as race, culture, gender, and their economic impacts, are helping to shape public opinion in 21st century America". Her work appears regularly in USA Today, Black Issues in Higher Education, Ms. magazine, Essence magazine, and The Progressive. Her weekly columns appear in numerous newspapers across the country including the Los Angeles Times, the Charlotte Observer, the New Orleans Tribune, the Detroit Free Press, and the San Francisco Examiner[10].
"Black agenda"
Tavis Smiley organized and hosted the forum, held on Saturday, March 20, 2010 at Chicago State University on the city's South Side. The confab offered up a provocative query: Is there room for a black agenda in the "post-racial America" of Barack Obama?
The televised event drew about 3,000 people, heard Smiley lead a four-hour conversation among 12 black intellectuals, educators and activists. The mix included longtime Smiley compatriots, academics like Cornel West, Michael Eric Dyson and Julianne Malveaux. Others were longtime black leaders like the Rev. Jesse Jackson Sr., and Nation of Islam Minister Louis Farrakhan. Most of them came, they said, to "lovingly" take Obama to the woodshed.
External links
References