Judy Gallo
From KeyWiki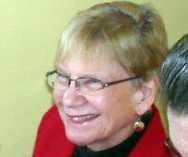 Judy Gallo died in 2012 at age 70 of progressive supranuclear palsy, a rare, incurable disease. She was an Ohio activist, married to John Gallo.
Gallo had been a leader in the peace movement and active in labor and social justice campaigns and in the Communist Party USA in the Cleveland area since the mid-1970s.[1]
Background
Gallo came from a conservative working-class family in northeastern Pennsylvania. After graduating from college in 1963, she joined the Student Nonviolent Coordinating Committee, working in the civil rights movement in Mississippi and Atlanta, Georgia.
She was arrested four times and saw first-hand the violence and brutality of the Jim Crow South as well as the courage of those fighting to end it. The experience had a transforming and radicalizing impact that changed her life.
After leaving the South, Gallo was hired as an organizer for the United Electrical Workers, working out of the New York office. Later, working for the Retail, Wholesale and Department Store Workers Union, she met Communists and joined the party, working in its labor commission.[2]
Ohio
Judy Gallo married John Gallo in 1974 and moved to Cleveland to be with his family. She soon became active in the effort to peacefully desegregate the city's schools. She went to nursing school and got a job as an RN at MetroHealth, the county hospital, where she discovered nurses were forced to work overtime without pay. She led an effort that made the hospital compensate the nurses and later led a union organizing drive that was unsuccessful.
Gallo became active in the peace movement and held leadership positions in Peace Action and the local chapter of Women's International League for Peace and Freedom.
After retiring from MetroHealth, she worked at the United Labor Agency providing services and training to union members, served on the AFL-CIO Executive Board and its AFL-CIO Retirees Council as well as with Cleveland Jobs with Justice.[3]
Voter activism
From 2003 to 2007 Gallo served as coordinator of the Greater Cleveland Voter Coalition, which led voter registration efforts in the African American and Latino communities. In a six-page autobiography distributed at the memorial, she wrote of her experiences in the 2000 elections, "I became convinced that if people voted they would vote the right way for Gore and the Democrats."[4]
WHP
Gallo did interviews and headed up the Women's History Project, which recently published a booklet with biographies of 16 local activists.[5]
Memorial
About 20 people spoke at Judy Gallo's memorial. They included her surviving husband and their two sons, Jesse Gallo and Nick Gallo . Others were labor and community leaders including Harriet Applegate, executive secretary of the Cleveland AFL-CIO, representatives of Reps. Dennis Kucinich and Betty Sutton, State Rep. Nickie Antonio and East Cleveland Councilwoman Barbara Thomas, the former president of AFSCME Local 3360 at MetroHealth.[6]
Communist Party's May Day Salute
In 1995 the Communist Party USA newspaper People's Weekly World, published a "May Day salute" to the "heroes in the class war zone". More than 100 unionists/activists endorsed the call, mostly known affiliates, or members of the Communist Party.
Judy Gallo, Women Speak out for Peace and Justice, Cleveland Ohio, was one of those listed[7].
Open Letter to the Colombian People, Press and Government, Aug. 1996
"Stop the Bloodshed in Uraba, Due Process for Jose Antonio Lopez, Nelson Campo and others, and an End to Faceless Justice and Political Repression".
We, the undersigned, are North Americans and others who are deeply disturbed by the human rights situation in Colombia.
Massacres, disappearances and torture happen continually in the anguished region of Uraba. We can not understand how paramilitary groups operate so freely in this militarized region where the Colombian army is present in massive numbers, and which does not perform its constitutional function of defending the civilian population. And we can not understand why the regional paramilitary leader is not apprehended and brought to justice for his crimes against humanity.
We call upon all armed parties -- paramilitary units, guerrillas, army, police, urban militias and commandos -- to immediately cease all attacks upon both the civilian population and upon each other. Justice, peace and a fruitful life is never found through murder, torture, kidnapping and intimidation.
Judy Gallo signed the letter, from the Colombia Support Network .[8]
Voter activism
In 1994, Judy Gallo was active in the Greater Cleveland Voter's Registration Coalition [9].
References