Jonathan Tasini
Jump to navigation
Jump to search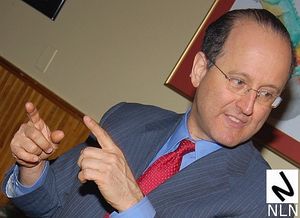 Jonathan Tasini is the executive director of Labor Research Association. Tasini ran for the Democratic Party nomination for the U.S. Senate in New York against Hillary Clinton.[1]
For the past 25 years, Jonathan Tasini has been a union leader and organizer, a social activist, and a commentator and writer on work, labor and the economy.
From 1990 to April 2003, he served as president of the National Writers Union (United Auto Workers Local 1981).He was the lead plaintiff in Tasini vs. The New York Times, the landmark electronic rights case that took on the corporate media's assault on the rights of thousands of freelance authors.
Socialist Scholars Conference 1990
The Socialist Scholars Conference 1990, held September 6-8, at the Hotel Commodore, New York, included panels such as:[2]
Labor and the Media'
Socialist Scholars Conference 1992
Phil Matera, National Writers Union; Jonothan Tasini, President, National Writers Union and Russell Miller, Co-Chair, National Writers Union Journal were speakers on the The National Writers Union panel sponsored by the The National Writers Union at the Tenth Annual Socialist Scholars Conference. The conference was held April 24-26, 1992 at the Borough of Manhattan Community College, New York City.[3]
Support from Democratic Socialists of America
In 2006 Jonathan Tasini received $500 from the Democratic Socialists of America Political Action Committee for his campaign as Democrats candidate for the New York seat in the U.S. Senate primary.[4]
DSA also endorsed Tasini in his primary run.[5]
PDA support
Tim Carpenter claimed that Progressive Democrats of America had chalked up several achievements in its short life, successfully promoting initiatives by PDA board members John Conyers and James McGovern.
PDA was the driving force in the passage of resolutions opposing the war in Iraq by eight state Democratic Party meetings. The organization also was instrumental in the passage of resolutions in 10 states calling for the impeachment of President Bush.
PDA is often referred to by Congressional Progressive Caucus Executive Director Bill Goold as the CPC's field operation, because PDA has built relationships with members of Congress by delivering grassroots support for their initiatives – from Rep. John Conyers' investigation of the 2004 Ohio voting fraud to Rep. Jim McGovern's bill to cut off funding for the war in Iraq, a current priority effort.
The organization worked hard for Marcy Winograd against Jane Harman and for other "progressive " Democrats including Donna Edwards, Christine Cegelis, Jerry McNerny, Tony Trupiano, John Hall, Jeff Latas, Gabby Giffords and Herb Paine.
In the United States Senate primary races PDA unsuccessfully backed Jonathan Tasini against Hillary Clinton in New York, In Ohio, PDA backed successful candidate Sherrod Brown. In Connecticut, PDA campaigned to replace pro Iraq War Senator Joe Lieberman with Ned Lamont.[6]
Progressives for Obama
In 2009, Tasini National Writers Union was listed as a signer of the Progressives for Obama website.[7]
Unity Statement
The Unity Statement Signed by Those Arrested was signed by 56 activists arrested in New York City, in front of 26 Federal Plaza June 1 2010, the "third in a series of civil disobedience actions in New York aimed at highlighting the growing human tragedy and unsustainable moral crisis caused by a broken U.S. immigration system badly in need of reform".
Signatories included Jonathan Tasini Economic Future Group .
Advisory Board
SLO County Progressives Advisory Board January 15th 2019.
External links
References