Jon Tester
From KeyWiki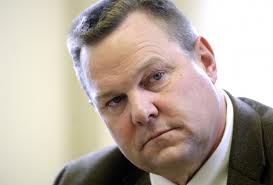 Jon Tester is a Democratic member of the United States Senate, representing Montana.
Background
Jon Tester still farms the same land outside Big Sandy, Montana, where he grew up and where his grandfather homesteaded nearly 100 years ago. Born in 1956, Jon attended the University of Great Falls and studied music . He also taught public school.[1]
Politics
Jon Tester launched his political career in response to huge rate hikes following the deregulation of Montana's energy industry in the 1990s. He was elected to the Montana Senate in 1997 and became Senate President in 2005. His 2006 campaign for U.S. Senate ousted a three-term incumbent, putting Jon in the same Senate seat once held by former Senate Majority Leader Mike Mansfield.[2]
Supported by Council for a Livable World
The Council for a Livable World, founded in 1962 by long-time socialist activist and alleged Soviet agent, Leo Szilard, is a non-profit advocacy organization that seeks to "reduce the danger of nuclear weapons and increase national security", primarily through supporting progressive, congressional candidates who support their policies. The Council supported Jon Tester in his successful Senate run as candidate for Montana.[3]
2012 CLW Senate victories
2012 CLW Senate Victories were;
Tammy Baldwin
(D-WI),
Sherrod Brown
(D-OH),
Bob Casey
(D-PA),
Kirsten Gillibrand
(D-NY),
Martin Heinrich
(D-NM),
Heidi Heitkamp
(D-ND)
Mazie Hirono
(D-HI),
Tim Kaine
(D-VA),
Angus King
(I-ME),
Amy Klobuchar
(D-MN),
Claire McCaskill
(D-MO),
Chris Murphy
(D-CT)
Bernie Sanders
(I-VT),
Debbie Stabenow
(D-MI),
Jon Tester
(D-MT),
Elizabeth Warren
(D-MA) and
Sheldon Whitehouse
(D-RI).
[4]
According to the Council for a Livable World website;
In 2006, endorsed early by Council for a Livable World, he scored the biggest surprise of the primary elections by coming from far behind to trounce his heavily favored opponent. He then went on to win a close general election contest, defeating a sitting Republican Senator by 3,500 votes.
Tester serves on the Senate Appropriations Committee, including the key Energy and Water Subcommittee that appropriates non-proliferation program funding.
Senator Tester again faces a tough challenge in the 2012 election. His opponent is Montana's at large Congressman, U.S. Representative Denny Rehberg (R).
Tester has averaged 85% on the Council's scorecard over past four years that included votes on the New START Treaty, Afghanistan, missile defense, the Iraq War and North Korea. Rehberg, on the other hand, has averaged under 9% over the same time period on Council for a Livable World's PeacePAC voting record.
21st Century Democrats support
21st Century Democrats is a Political Action Committee that has stood for Progressive causes for over 20 years. Founded in 1986 by Institute for Policy Studies affiliate, Iowa Senator Tom Harkin, Democratic Socialists of America affiliates, former Texas Agriculture Secretary Jim Hightower, and former Illinois Congressman Lane Evans. Its three main goals are to help elect progressive candidates, train young people about grassroots organizing, and lastly, to continue to support our elected officials after Election Day "through our comprehensive progressive network".
Carol Moseley Braun, a former US Senator from Illinois, and long time Communist Party USA affiliate, serves on the organization's Advisory Board. Long time Board chair was Democratic Socialists of America member Jim Scheibel, a former Mayor of Saint Paul, Minnesota.
The mission of 21st Century Democrats is to build a "farm team" of progressive populists who will be the future leaders of the Democratic Party.
In each election cycle, we endorse a diverse array of candidates who exemplify our values and show unusual promise to advance our progressive goals. We invest in some of the most competitive races as well as in some of the most challenging – those in which the candidates are outstanding but the traditional Democratic supporters are most reticent. We back candidates in primaries as well as general election races, and we focus the bulk of our resources on electing challengers and protecting vulnerable incumbents.[5]
Jon Tester was first endorsed by 21st Century Democrats when he ran for Montana State Senate in 1998. He was supported again in his successful 2012 U.S. Senate re-election bid.[6]
Relationship with Marshall Mayer
Jon Tester has a relationship with one time Montana Democratic Socialists of America leader Marshall Mayer, and his wife Bonnie Lambert.
Take Back America Conferences
John Tester was on the list of 237 speakers at the 2007 Take Back America conference, which was organized by the Institute for Policy Studies, and Democratic Socialists of America dominated Campaign for America's Future.[7]
An almost "Progressive" Cabinet "nominee"
In September 2008, Chicago based socialist journal In These Times asked its editors and writers to suggest their top progressive choices for a potential Obama Cabinet.[8]
We asked that contributors weigh ideological and political considerations, with an eye toward recommending people who have both progressive credentials and at least an arguable chance at being appointed in an Obama White House.
This group of people would represent at once the most progressive, aggressive and practical Cabinet in contemporary history. Of course, it is by no means a definitive list. It is merely one proposal aimed at starting a longer discussion about the very concept of a progressive Cabinet—and why it will be important to a new administration, especially if that administration is serious about change.
David Moberg suggested Jim Hightower for Agriculture Secretary - he also spoke highly of Tom Harkin and Jon Tester:
Two current U.S. senators would make excellent secretaries of agriculture.
One is Sen. Tom Harkin (D-Iowa). Harkin has been a committee chair and leader on agriculture issues, opposing deregulation and favoring supply management, conservation, antitrust actions and many progressive policies — only some of which he has managed to put into law.
The other is freshman Sen. Jon Tester (D-Mont.), an organic farmer with a distinctive flat-top haircut. Tester is a populist who is sympathetic to environmental issues and critical of corporate globalization. He might push more comprehensive reform than Harkin would.
But here's the problem: Both are needed in the Senate.
Luckily, Obama can call on Jim Hightower, who is best known for his crusading print and radio journalism and his pithy, punchy, populist proverbs — like his book title, "There's nothing in the middle of the road but yellow stripes and dead armadillos."
But the funny, feisty Hightower also knows his farm and food issues. As Texas Agriculture Commissioner from 1983 to 1990, he promoted organic agriculture, alternative crops (like wine grapes and native plants), direct international marketing by small farmers, strong pesticide control and comprehensive environmental management.
Hightower would be a cheerfully combative complement to Obama's ultra-cool post-partisanship (although he may have been too post-partisan for some Democrats by supporting Ralph Nader in 2000).
If Obama ever needs a Cabinet member to attack the fat cats who keep the sweet stuff for themselves on the top shelf — out of reach for the little guy — he could send Hightower, who would perform the task with glee.
External links
References