John Yarmuth
From KeyWiki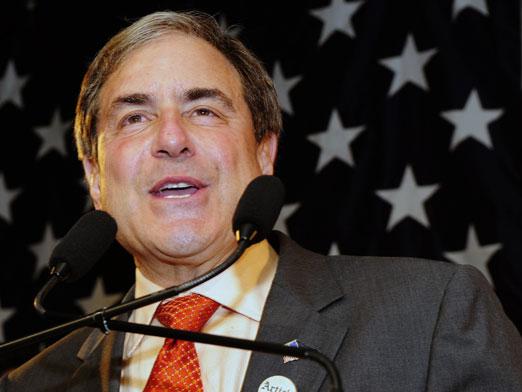 John Yarmuth is a Democratic member of the United States House of Representatives, representing the 3rd district of Kentucky.
Background
Born and raised in Louisville, Kentucky, Congressman Yarmuth graduated from Atherton High School where he served as student government president. He went on to earn a degree in American Studies from Yale University. He and his wife Cathy have one son, Aaron, who graduated from Indiana University in 2006 and obtained a Masters Degree from American University in 2010.[1]
Career
Yarmuth previously worked on Capitol Hill as Legislative Aide for Kentucky Senator Marlow Cook from 1971 to 1974, before moving back to Louisville, to publish Louisville Today Magazine. He went on to work as Associate Vice President of University Relations at the University of Louisville and Vice President of a local healthcare firm.
In 1990, Yarmuth founded LEO Newsweekly, a free publication with approximately 150,000 monthly readers. With Yarmuth as editor, LEO won nearly 100 Metro Louisville Journalism Awards, 16 of which were awarded to Yarmuth for his editorial and column writing. He owned the paper from 1990 to 2003, and continued writing his columns through 2005.
On television he debated local and national politics as co-host and commentator on WAVE 3's "Yarmuth & Ziegler" in 2003 and "Hot Button" in 2004 and 2005.[2]
Supported by Council for a Livable World
The Council for a Livable World, founded in 1962 by long-time socialist activist and alleged Soviet agent, Leo Szilard, is a non-profit advocacy organization that seeks to "reduce the danger of nuclear weapons and increase national security", primarily through supporting progressive, congressional candidates who support their policies. The Council supported John Yarmuth in his successful 2008 House of Representatives run as candidate for Kentucky.[3] He has also been previously supported by the Council.[4]
Populist Caucus
The Populist Caucus was founded on February 11, 2009 in the United States House of Representatives by Democrat Bruce Braley of Iowa. The caucus originally included 26 other Democrats in the House, including John Yarmuth.
Supported Lifting the Gaza Blockade
On Jan. 27, 2010, U.S. Representatives Keith Ellison and Jim McDermott led 52 other members of Congress in signing a letter addressed to President Barack Obama, calling for him to use diplomatic pressure to resolve the blockade affecting Gaza. John Yarmuth was one of the signatories of the letter. [5] The entire letter together with a complete list of signatories can be read by clicking here.
"Progressive" record
In an article in People's World January 30, 2011, Kentucky Communist Party USA activist Derek Souleotes wrote of Yarmuth;[6]
Though HR 2, "Repealing the Job-Killing Health Care Law" passed in the House of Representatives on January 19, Rep. John Yarmuth, D-Ky., voted against the repeal, voicing the opinion of the Kentucky working class against the corporate interests of the Republican Party. Yarmuth, who represents Louisville and the surrounding area, stood by his earlier vote for the historic health care law passed by the 111th Congress last March.
Yarmuth has shown his support for other progressive causes. Before being elected to the House of Representatives in 2006, he founded the Louisville Eccentric Observer (known as the LEO), a free weekly newspaper, in 1990. He also wrote a political column that was progressive-oriented, that would often appear on the first page of the LEO.
In December, Yarmuth voted for the pro-worker Mine Safety Act, which did not pass the House, but would have put more responsibility on mine owners to protect their workers. He also voted to extend unemployment benefits for workers devastated by the recession, voted for the repeal of "Don't Ask, Don't Tell," voted for the DREAM Act, and in August voted for a failed resolution directing the president to removed armed forces from Pakistan.
House Ethics Committee
John Yarmuth is a member of the Republican chaired House Ethics Committee as of August of 2011. It is well known that he is anti-Israel in his leanings. He voted to bar members of Congress from attending Glenn Beck's Restoring Courage rally in Jerusalem, Israel on during the week of August 24th, 2011. Also during this time he received substantial campaign cash from the George Soros funded J Street. [7]
External links
References