John Woodford
Jump to navigation
Jump to search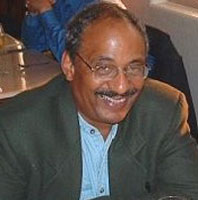 Template:TOCnestleft John Woodford is a long time Chicago and Michigan supporter of the Communist Party USA[1].
He is married to Elizabeth Woodford.
Education
John Woodford received his BA and MA from Harvard University in 1964 and 1968[2].
Career
John Woodford was executive editor of the U-M alumni publication Michigan Today from 1985 until his retirement in 2004. Woodford joined the University in 1981 as executive editor for the Medical Campus news and publications office.
Before coming to Michigan, he was a journalist for the New York Times, Chicago Sun-Times, Ford Motor Co., Ebony and Jet magazines, and the Ann Arbor Observer. He was on the staff of Muhammad Speaks newspaper from 1968-72, and served as editor-in-chief for three years[3].
From Muhammad Speaks to the Communist Party
John Woodford first came a cross the Communist Party USA, through Ishmael Flory and Claude Lightfoot, while working on the Nation of Islam newspaper Muhammad Speaks in the late 1960s[4];
I remember the way Ish Flory came booming and blustering into our Muhammad Speaks newspaper office on Chicago's South Side in 1968. He always had a bundle of Daily Worlds with him, offered some comments about world affairs and sold some copies. To cut to the chase: the paper made a lot of sense on every issue that interested me. Then, listening to Ish and his good buddy Claude Lightfoot recount their many adventures, their witty and "Aesopian" dialogue, their combination of bravery and humor, of deep reading and mother-wit, I couldn't help but conclude: whatever these guys are and however they got that way, they are mighty impressive. I'm not saying the CPUSA is perfect; there are flaws, aggravations and perturbing aspects that reflect the array of human frailties. But I will argue that it is one of the most noteworthy products of American civilization and its most advanced foe of racism.
Richard Durham, who presided over a great expansion in the newspaper's circulation and international respect during the 1960s, was succeeded by John Woodford, another former Ebony editor and writer in 1970. John Woodford expanded the newspaper's coverage beyond simply a hard news journal with arguably the best coverage of Africa and the non-aligned movement in any U.S. newspaper, with features on the arts and music which were richly illustrated with photographs by Chester Sheard, Hassan Sharrieff and Robert Sengstacke[5].
According to John Woodford;
Maybe, in retrospect, we sometimes leaned too far the other way to counterbalance the weight of the domineering Daddy Warbucks culture. Maybe there were aspects of life in the socialist countries that we should have probed more deeply . In my five or so trips to the Red lands of USSR, Czechoslovakia, Cuba, Mongolia, and the German Democratic Republic, I got glimpses through the cracks of officially sanctioned and arranged tours to sense the rising resentment against thought control, the lack of freedom to travel, the punishing of free thinkers in art and politics, the economic backwardness, animosity among nationalities, manipulation of Third World progressive groups, the rise of yuppie-type careerists in the supposedly vanguard revolutionary parties, and a sort of craven fawning for approval from the anticommunist elites of the West. Yet I never interwove these observations in my stories . I suppose I assumed that such problems were atypical and/or curable, and also that to open up such subjects would provide ammunition for the enemy and make me indistinguishable from the mammoth stable of kneejerk anti-communist journalists...
In addition, almost every leader of every liberation group or progressive Third World country subscribed to Muhammad Speaks in those years.
We subscribed to the Liberation News Service (LNS), used many of its international stories and graphics, and published its credit . Many world leaders visited our offices, including Oliver Tambo of the African National Congress of South Africa ; Shirley Graham, the widow of W.E.B. DuBois and a powerful thinker and freedom fighter in her own right ; and Sam Nujoma, the South West African People's Organization leader who has just returned from exile in September 1989.
Muhammad Speaks staffers began to play an active role in all of the major Black press conventions. I even went to the Alternative Press convention in Ann Arbor, Michigan, that was attended mainly by the White radical and/or hippie press. The highlight of the meeting was looking out the window of the farmhouse in which we met and seeing Abbie Hoffman prancing nude in a glen with two naked young women.[6]
National Anti-Imperialist Conference in Solidarity With African Liberation
John Woodford, Reporter of Chicago Sun Times was named as a sponsor of the Communist Party USA dominated National Anti-Imperialist Conference in Solidarity With African Liberation held at Dunbar Vocational High School, Martin Luther King Drive, Chicago, October 19 to 21 1973.[7]
East Bloc visit
In 1985, a delegation of 16 Afro-American journalists traveled to the Soviet Union, German Democratic Republic and Czechoslovakia[8].
The delegation consisted of
The trip was organized by International Organization of Journalists executive Don Rojas, the American educated former press secretary to Grenada's late leader Maurice Bishop[10], in conjunction with the Black Press Institute, the National Alliance of Black Journalists and the National Newspaper Publishers Association-the US's largest organization of owners of black newspapers.
According to one of the tours leaders Alice Palmer[11];
The trip was extraordinary because we were able to sit down with our counterparts and with the seats of power in three major capitals-Prague, Berlin and Moscow. We visited with foreign ministers, we talked with the editors of the major newspapers in these three cities...
It was a very unusual trip because we were given access...Every effort was made to give us as much as we asked for...We came back feeling that we could speak very well about the interest of the socialist countries in promoting peace.
This was before the (Soviet nuclear test ban) moratorium, this was before the Reykjavik offers...It was very clear to us in our conversations and interviews with people at that time, that this was already something of concern and, something that would be promoted when the opportunity arose, as we can see that it has been.
Malcolm X conference
A conference, Malcolm X: Radical Tradition and a Legacy of Struggle was held in New York City, November 14 1990.
The "Malcolm X and Muhammad Speaks Newspaper" panel consisted of;
Chairperson:
Panel:
Univerity of Michigan
John Woodford retired from the University of Michigan in 2004. He was a past president of Association of Black Professionals, Administrators, Faculty and Staff and a current member of the executive board[13].
John Woodford was the Executive Editor of the university publication Michigan Today[14]
For more than a decade, Michigan Today has served as a window on the world of the University of Michigan for all U-M alumnae and alumni, as well as for non-alumni friends of the University. We cover U-M personalities and progress; report on campus events and controversies; and keep alive University history and traditions. We give voice to our students and graduates to reflect on current events and reminisce about their days on campus. We profile outstanding students, graduates and professors in the humanities, arts, social sciences, science and the professions. .
Committee to Defend Diane Bukowski and Freedom of the Press
In 2009 John Woodford was listed as a supporter of the Committee to Defend Diane Bukowski and Freedom of the Press[15]
References