John Olsen
From KeyWiki
John W. Olsen is President of the Connecticut AFL-CIO, and was first elected to that office in 1988.[1]
Labor career
Olsen is a plumber by trade, a former President and Business Manager of the United Association of Plumbers, Pipefitters and Steamfitters, Local 133, and a former Secretary-Treasurer of the Connecticut State Building and Construction Trades Council.He was elected to the Connecticut AFL-CIO Executive Board in 1983, and subsequently served as General Vice President and then as Secretary-Treasurer in 1987-88.[2]
Service
Olsen represents labor on a number of commissions and boards including Connecticut Innovations Inc., Connecticut Employment and Training Commission, the Connecticut Clean Energy Fund and the national board of the Elderly Housing Development and Operations Corporation.[3]
Democratic Party
Mr. Olsen has more than thirty years of political activism and volunteerism. He was a member of the Democratic State Central Committee from 1982 to 1995, served as Chair from 2001 to 2002 and was Co-Chair of the State Central Platform Committee. He has been on the Democratic National Committee since 1996. Mr. Olsen, a native of Greenwich, served on the Greenwich Democratic Town Committee from 1978 – 1993 with one term as Chair and one as Treasurer. He is involved in his hometown Democratic Town Committee in Clinton since 1996.[4]
Clinton superdelegate
In May 2008 John Olsen, a superdelegate at the Democratic convention, threw his support to presidential hopeful Hillary Clinton.[5]
Olsen, head of the Connecticut AFL-CIO, said today that he voted for the New York senator in Connecticut's Democratic primary in February and has been impressed by her tenacity in the nomination battle and ability to appeal to core groups of voters.
2006 Communist May Day celebrations
At the 2006 People's Weekly World annual May Day celebration, Connecticut AFL-CIO President John Olsen recalled that only two years ago Connecticut Labor Against the War was awarded the Connecticut PWW's Newsmaker Award. This, he said, contributed to the dialogue that resulted in adoption by the state and national AFL-CIO of strong resolutions against the Iraq war.
Olsen spoke at the May 7 celebration, where he accepted the Newsmaker Award on behalf of the Connecticut AFL-CIO. "It is in rooms like this where things begin to happen," Olsen said.
Making the presentation, Art Perry of SEIU 32BJ credited Olsen's leadership for creating the climate where Change to Win and AFL-CIO unions in the state have continued to work together despite a national split.
This fight for justice has stirred up a powerful coalition of real grassroots organizing, Joelle Fishman, chair of the Connecticut Communist Party USA, told the PWW gathering.[6]
Endorsing Democrats
At the Connecticut AFL-CIO convention June 23, 2008, state AFL-CIO President John Olsen, calling on everyone to go out and organize. "We got the House and Senate back in 2006 and now we have to get the presidency back so we can win the Employee Free Choice Act, universal health care and an energy policy like the Apollo plan."
Connecticut Sen. Chris Dodd was warmly welcomed by the delegates. Decrying the disparities in America, he lauded the labor movement for hard fought battles for workers' gains "not given benevolently by corporate America," and passionately called for an all-out push to elect Barack Obama on Nov. 4.
Saying he hopes the Employee Free Choice Act will be the first bill on the new president's desk, Dodd emphasized that "this election will determine what kind of country, what kind of world, we leave to our children and grandchildren … We can't afford four more years of Bush."
The convention unanimously adopted a resolution reaffirming opposition to the war by national and state labor bodies, and asserting that Obama "shares labor's opposition … while John McCain supports the war and President Bush's military policy."
The resolution urges unions to inform their members "of McCain's pro-war position and how it is directly related to his anti-union economic policies; and how the continuation of the war is fueling the current economic crisis."
Bill Shortell, representing the Machinists Union and the Bristol Labor Council, recalled asking, when the war began, "Is this an issue for us?" to which his buddy replied, "Who's going to speak for me if the union doesn't speak for me?" Shortell called on the delegates to "take a strong position and back candidates committed to get us out of Iraq and end this bloodshed as soon as possible."
A heated debate took place over the endorsement of Jim Himes, a pro-labor, antiwar Democrat challenging incumbent Republican Chris Shays (4th Congressional District), a leading proponent of Bush's Iraq war policies. Shays was the only representative from Connecticut to vote for additional funding of the war last month. He had angered the endorsement committee during an interview in which he objected to a question on the war, saying, "Why are you asking me about that? That's not a labor issue."
AFSCME delegate Blair Bertaccini got a round of applause when he called on the convention to "support candidates who support us as a class, as workers, not just one particular sector. Otherwise we will keep losing numbers and become irrelevant." Himes won the endorsement overwhelmingly.
The convention also committed to help Democratic Reps. Chris Murphy (5th CD) and Joe Courtney (2nd CD) return to Congress. They both defeated Republicans in 2006 and have been targeted by the Republican National Committee for smear attacks.
Speaking to delegates from the 3rd CD, which she represents, Rep. Rosa DeLauro thanked the labor movement for enabling her to win by large majorities. "With big margins I can take on the strong fights, which those with small margins many not feel free to do," she said, referring to the vote against further funds for the war.
Delegates signed up for the Labor 2008 program, including speaking to members in their workplace and at home. Signatures were collected on postcards for the Employee Free Choice Act which will be presented to the new president in January.
A moment of silence honored prominent union leaders who recently died, including Merrillee Milstein, former District 1199 vice president and then deputy regional director of the AFL-CIO, known for her dedication and commitment to organizing and building diversity within the labor movement.
The convention adopted a strategic plan for the elections and legislative and organizing goals. A Diversity Dialogue will be held Sept. 20 with the aim of developing new union leaders. AFL-CIO representative Barbara Nicole Holtz urged delegates to attend, projecting the conference as a model for other states.[7]
Communist Party award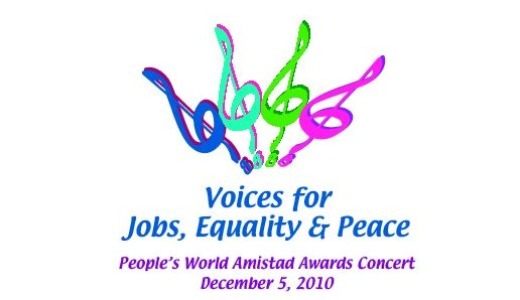 Three Connecticut leaders were named as recipients of the Amistad Award presented by the Communist Party USA newszine People's World on Sunday, Dec. 5. 2010
John Olsen, Carmen Boudier and Juan Figueroa "have long been in the forefront of struggles for jobs, health care and basic human needs, workers' rights, equal representation, voting rights and peace. From the picket line to the voting line, they have each exemplified the strength and unity that it takes to keep our country moving forward."
The annual awards were at a special anniversary concert, "Voices for Jobs, Equality & Peace.....A concert for people's needs not corporate greed." Jazz and Latin music, labor songs and spoken word were presented by an array of artists including Bill Collins of the Rabble Rousers, Hermanos Son, a jazz set with Jeff Fuller, William Fluker and friends, Richard Hill, Baub Bidon, DJ Bell and Ken Brown.
The post-election event was dedicated to "expanding grass roots action to achieve good jobs, equal rights and a redirection of funds to meet the needs of local communities and youth".
"John Olsen has devoted his life to the cause of working people since he started out as a member of the Plumbers Union. During his tenure as president of the Connecticut AFL-CIO he has been instrumental in winning legislation, union contracts and elections that have expanded opportunity and raised the quality of life for workers and their families."
"Carmen Boudier, president of the New England Health Care Employees Union, District 1199, first joined the union when she organized the nursing home where she worked. She has led many ground-breaking organizing drives and contract battles including the current six month strike against Spectrum Health Care."
"Juan Figueroa has been a pioneer for Latino representation and civil rights in many capacities at the state and national level. His leadership of the Universal Health Care Foundation put Connecticut in front with the passage of Sustinet. He was the first Puerto Rican candidate for Governor of Connecticut in the 2010 Democratic primaries."[8]
May Day with the Communists, 2011
On May Day 2011, in New Haven, a rally and march of several hundred was initiated by immigrant workers who had just won a long fight with Goodfella's Restaurant for $23,000 in unpaid wages. Representatives from local unions, student and community groups joined in. The march through downtown ended at the New Haven Green for the annual May Day celebration, including information tables, a giant peace sign project, performances and speeches.
At the end of the afternoon, an overflow crowd from around the state turned out for the presentation of People's World Newsmaker Awards to Spectrum nursing home workers locked out on strike for one year, Communications Workers Local 1298, and SEBAC, the bargaining coalition of all state worker's unions representing 40,000 workers.
Organized around the theme "We are One - Workers Rights are Human Rights," the event honored Connecticut's public workers, their unions and the services they provide. It offered an opportunity for youth leaders, strikers, community activists and state labor leaders to discuss how to build a more powerful political force of working people that can change the debate from deficits to taxing the rich and big corporations, and achieve a change of priorities in our country.
Exemplifying the kind of courage required, Carmen Boudier, president of New England Local 1199, said the 400 Spectrum workers had rejected a company attempt to rehire only some workers and not others. "We will all stay out until we can all go back," she declared to cheers and applause.
John Olsen, president of the Connecticut AFL-CIO, addressed all three events. "There is a class war going on - they're trying to exterminate us," he said. Warning against balancing the budget on the backs of state workers, he said that if the Bush tax cuts extended by Congress in December were collected from Connecticut residents making over $250,000, there would be no deficit..[9]
Defending Social Security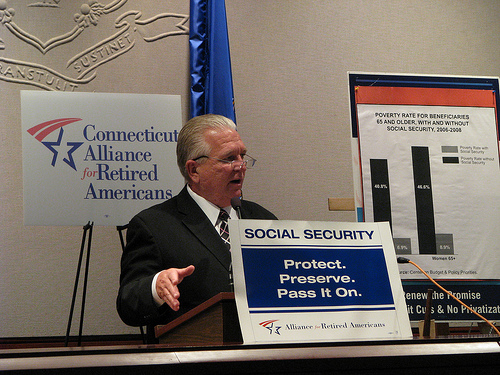 Alfred L. Marder 90th Birthday Celebration
The March 2012 Host Committee, in honor of Connecticut Communist Party USA member Alfred Marder's 90th Birthday Celebration, held at the New Haven People's Center consisted of;
Hon. Rosa DeLauro, Sen. Toni Harp, Sen. Martin Looney, Rep. Juan Candelaria, Rep. Patricia Dillon, Rep. Toni Edmonds Walker, Rep. Gary Holder-Winfield, Rep. Roland Lemar, Ald. Jorge Perez, President, New Haven Board of Aldermen, Ambassador Sylvester Rowe, Mohammed Barrie, Vinie Burrows, Mary Compton, Joelle Fishman, Craig Gauthier, Emanuel Gomez, Hilda Kilpatrick, Henry Lowendorf, Kenneth Marder, Rev. Scott Marks, William Morico, John Olsen, Quentin Snediker, Jarvis Tyner, Andrea van den Heever, Susan Yolen
A statement issued on the committee's behalf read;[10]
Dear Friends and Family of Al Marder,
We are excited to invite you to celebrate the 90th birthday of Al Marder and to recognize his many contributions, international and local, toward world peace, justice and equality.
Please join us in this joyous occasion on Sunday, March 18, at 3:00 pm at the New Haven Peoples Center, 37 Howe Street, New Haven, Connecticut 06511.
Connecticut pro union rally
On March 30,2011, New Haven's "working people" got a jump on the "We Are One"actions that took place around the country on April 4, commemorating the anniversary of Dr. Martin Luther King, Jr.'s assassination and his work with the Memphis sanitation workers. In attendance were UNITE HERE national president John Wilhelm, Connecticut AFL-CIO president John Olsen, Rep. Patricia Dillon, D-New Haven, and former Secretary of the State Susan Bysiewicz, now a candidate for the U.S. Senate in 2012, alongside thousands of marchers from the community.
This rally didn't protest the attempt by elected officials to pass legislation that would take away collective bargaining rights. Instead, the coalition that has been organizing for months—beginning well before Wisconsin brought union rights to the front pages--included public workers fighting layoffs and privatization of their jobs, the unemployed, and one union that's been battling for 20 years for recognition.[11]
References