John Conyers, Jr.
Jump to navigation
Jump to search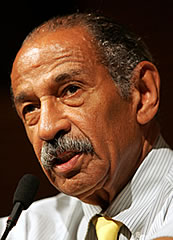 John Conyers, Jr. is a far left member of the United States House of Representatives, representing the 13th district of Michigan. He is chair of the House Judiciary Committee. Serving his 21st term in Congress, he is the second most senior member of the House and dean of the Congressional Black Caucus. He was also a founding member of the Congressional Progressive Caucus and an original member of President Nixon's Enemies List.
Among his accomplishments in Congress: the Violence Against Women Act of 1994, the Motor Voter Bill of 1993, the Martin Luther King Holiday Act of 1983, the Alcohol Warning Label Act of 1988, and the Jazz Preservation Act of 1987. A legendary force for peace, civil rights and social justice, Rep. Conyers has worked closely with PDA to hold the Bush Administration accountable for manipulating Iraq intelligence, and in exposing voting irregularities in Ohio in 2004. He is a Korean War veteran.
Conyers is married to the former Monica Esters.
Radical connections
Below is a list of pages detailing John Conyers's involvement with:
Influence
Fringe politician that he is, Conyers is no backbencher. On his Website he calls himself "a senior statesman in American political life." The 20-term representative from Detroit is the second-most-senior member of the House, and serves as the ranking Democrat on the House Judiciary Committee.
This means Conyers shares oversight of the Justice Department and FBI, and writes and amends antiterrorism laws. [1]
Service
Conyers has served as Trustee of the Martin Luther King, Jr. Center for Non-Violent Social Change, past director of United Auto Workers Local 900, a member of the advisory council of the Michigan Civil Liberties Union, general counsel for the Trade Union Leadership Council, vice-chair for the advisory council of Michigan Civil Liberties Union, and a member of the Executive Board of Directors of the Detroit Branch of the NAACP. [2]
Early life/education
John Conyers, Jr. was born in 1929 in Detroit, Michigan, son of Lucille Simpson and John Conyers, Sr..[3] After graduating from Detroit public schools, he earned his B.A. degree in 1957 and his J.D. degree in 1958 from Wayne State University. Before beginning a career as a private attorney, Conyers served one year in Korea as an officer in the U.S. Army Corps of Engineers and was awarded combat and merit citations[4].
Political career
In 1958, Conyers began his work in politics as an aide to Congressman John Dingell, whom he served until 1961. Conyers made history when he was elected to the House of Representatives in 1964 on a platform of jobs, justice and peace. During his years in Congress, "social justice and economic opportunity" have remained focal points of Conyers' platform.
Conyers was re-elected in November 2006 to his twenty-first term in the House, presenting Michigan's 14th Congressional District. His district includes Detroit and the Wayne County communities of Dearborn Heights, Pointe Shores, Grosse Pointe Woods, Harper Woods, Highland Park and Redford. Conyers is the longest-serving African American in the history of the House. He is the dean and a founding member of the Congressional Black Caucus[5].
Americans for Democratic Action
Conyers has been a vice-chairman of Americans for Democratic Action, the radical center of American politics.[3]
Against the Vietnam War
Conyers adopted the position that the Vietnam War was a racist conflict and he was one of only four members of the House of Representatives to vote against military support for U.S. troops in Vietnam. Other than his opposition to the Vietnam war, Conyer's interest in foreign affairs seems to have been confined to his adulatory support of the Communist Kwame Nkrumah, former head of Ghana.
On the House Judiciary Committee, Conyers was the only member to oppose legislation designed to make desecration of the American flag a crime.[3]
Vietnam Veterans Against the War/Operation RAW
During the Labor Day weekend of September 4-7, 1970, Operation RAW ("Rapid American Withdrawal") took place. It was a three day protest march from Morristown, NJ, to Valley Forge State Park by over 200 veterans. It was sponsored by Vietnam Veterans Against the War. They were joined by members of Nurses for Peace and other peace groups. Dressed in combat fatigues and carrying toy weapons, the march was designed to dramatize a Vietnam-type search and destroy mission to the Middle America they passed through. Upon entering each town along the march, sweeps were made, prisoners taken and interrogated, property seized and homes cleared with the assistance of previously planted "guerrilla theater" actors portraying civilians. The 86 mile long march culminated in a four hour rally at Valley Forge that over 1,500 people attended. The honorary commander during this event was retired Army Brigadier General Hugh B. Hester. Sponsors included Senators George McGovern and Edmund Muskie, Rep. John Conyers, Paul O'Dwyer, Mark Lane, and Donald Sutherland. Scheduled speakers were John Kerry, Joe Kennedy, Rev. James Bevel, Mark Lane, Jane Fonda, and Sutherland. Congressman Allard Lowenstein, Mike Lerner, and Army First Lt. Louis Font also spoke.[6]
Black voting "bloc"
In 1968, Conyers told The Worker, a Communist Party USA publication, that he was organizing a committee of blacks to evaluate candidates for the 1968 election. It was part of his overall program to organize American Negroes into one voting bloc. For his evaluating committee, he had chosen, among others, the revolutionaries Stokely Carmichael, Ralph Abernathy and Floyd B. McKissick.[3]
Founding Members CBC
The following were founding members of the Congressional Black Caucus:[7]
Exploiting the black vote
Around October 1971 Percy Sutton returned to Chicago, for another smokefilled- room meeting plus the third annual Black Expo, the black trade show — cultural fair sponsored by Jesse Jackson's Operation Breadbasket, the economic action wing of the Southern Christian Leadership Conference.
Sutton was going to run one of the political seminars that will be a part of Black Expo, which has drawn around 500,000 visitors during its first two years and is aiming at 750,000 this time in its Sept. 29-Oct 3 run.
Sutton, along with Rep. John Conyers, D.-Mich., Cleveland mayor Carl Stokes and Gary, Ind., mayor Richard Hatcher, were to be giving chalk talks on how to register voters and what to do with them when you have them registered, which is get them to vote as a bloc.[8]
Congressional Black Caucus
John Conyers, Jr. is a member of the Congressional Black Caucus for the 113th Congress:[9]
Congressional Asian Pacific American Caucus
In May 2013, John Conyers was listed as an associate member the of the Congressional Asian Pacific American Caucus.[10]
The Chile letter
On August 1 1979 Thirty-five U.S. Congressmen signed a letter[11]to President Jimmy Carter demanding that private bank loans to Chile be barred unless the Chilean government chose to extradite three military officials, including the former director of the Chilean intelligence service. The three had been indicted for complicity in the assassination of marxist Unidad Popular government member and KGB agent Orlando Letelier and the killing of Institute for Policy Studies (IPS) staffer Ronni Moffitt in 1976.
In May 1978 the Chief Justice of the Chilean Supreme Court rejected the U.S. request for extradition.
Chief sponsor of the letter was Rep. Tom Harkin (D-IA), who was joined by Congressmen John Burton (D-CA), John Conyers (D-MI), Robert Kastenmeier (D-WI), Ron Dellums (D-CA), Berkley Bedell (D-IA), Richard Ottinger (D-NY), Fred Richmond (D-NY), Robert Drinan (D-MA), Leon Panetta (D-CA), Don Edwards (D-CA); Norman Mineta (D-CA), Pete Stark (D-CA}, Anthony Beileson (D-CA) George Brown (D-CA), Toby Moffett (D-CT), Dale Kildee (D-MI), Eugene Atkinson (D-PA), Michael Barnes (D-MD), David Bonior (D-MI), Adam Benjamin (D-IN), William Brodhead (D-MI), Robert Carr (D-MI), Tom Daschle (D-SD), Tom Downey (D-NY), Harold Hollenbeck (R-NJ), Pete Kostmayer (D-PA), Stewart McKinney (R-CT), Edward Markey (D-MA), Andrew Maguire (D-NJ) Richard Nolan (DFL-MN), Gerry Studds (D-MA), Bruce Vento (DFL-MN) and Howard Wolpe (D-MI).
The Harkin letter characterized the Chilean government as "an enemy of the American people" and urged the President to "take strong action against this terrorist government." The letter was released (9 A.M. on August 1 1979) at the same time a press statement from the Washington, DC, Chile Legislative Center of the National Coordinating Center in Solidarity with Chile, staffed by veterans of the Venceremos Brigade and the Communist Party USA, supported the Congressional letter and urged pressure so that the State Department does not accept a military trial of the three Chileans in Chile as a substitute for extradition and trial in the US.
IVI-IPO
In 1981 John Conyers was a Vice President of Independent Voters of Illinois-Independent Precinct Organization[12].
Trying to save the Olympics
When Moscow, two other East European nations and Vietnam boycotted the 1984 Los Angeles Olympics, Rev. Jesse Jackson and John Conyers attempted to set up a special committee of athletes, civic leaders and members of Congress to "create a climate in which the decision can be changed."
The group held its first meeting in Conyers office may 11. Jackson, after a one hour meeting with Soviet Foreign minister Dobrynin, said that both he and the committee were willing to go to Moscow.
"I would say we have a about a one in ten chance" Conyers' press secretary Julian Epstein said. "They were firm in their position, but not final...The lines to the Soviet Embassy are being kept open.They are really bending over backwards to accommodate us. We will find out exactly under what conditions they would come back, and then get back with the US, Soviet, and international Olympic committees to see what we can mediate."[13]
Voted against support for "Contras"
The Congressional Record of February 3, 1988 shows that the following leading Democratic Party Congressmen voted against aid to the Nicaraguan Freedom Fighters - the "Contras"- then fighting against the Marxist-Leninist Sandinista government of Nicaragua:
Supporting Mumia Abu-Jamal
Several campaigns seeking a civil right investigation into the case of convicted cop-killer Mumia Abu-Jamal have been launched since 1995, at which time the Congressional Black Caucus was one of many groups that publicly supported an investigation. In a 1995 letter written independently of the CBC, Representatives Chaka Fattah, Ron Dellums, Cynthia McKinney, Maxine Waters and John Conyers, Jr. (later Chairman of the House Judiciary Committee) stated, "There is ample evidence that Mr. Abu-Jamal's constitutional rights were violated, that he did not receive a fair trial, and that he is, in fact, innocent."[14]
Single-payer Bills
In 1994 Jim McDermott, John Conyers and Paul Wellstone promoted a "single-payer" health care bill (HR1200/S491).[15] Ellen Shaffer, a member of Wellstone's staff told the People's Weekly World that the authors had been "working closely" with Hillary Clinton. "She knows what they are doing" Shaffer said.[16]
In February 2003 Jim McDermott, John Conyers, Dennis Kucinich and more than 20 others introduced legislation "medicare for all" (HR 676).[17]
National Health Insurance Conference
Congressman John Conyers Jr. (D-Mich.) hosted a National Health Insurance Conference, April 16-17, 2004 to kick off a 50-state campaign for passage of national health insurance legislation, HR 676 – the "Expanded and Improved Medicare for All Act." Conyers introduced HR 676 in the House in 2003.
Dr. Quentin Young, national coordinator of Physicians for a National Health Program, keynoted the conference, speaking on "The State of Health Care – The Case for National Health Insurance." Conyers spoke on "Launching a National Movement for HR 676," followed by a session on "Getting the Message Out – Working the Media."
Dean Baker, of the Center for Economic and Policy Research, and Joel Segal, senior assistant to Conyers, presented the details of HR 676 in a session titled, "What Is It and How Do We Pay For It?" They will seek to arm the participants to take the message back to the neighborhoods. There was also a session on strategies to promote single-payer legislation on the state level. Activists were working on state single-payer bills in a number of states, including Massachusetts, California, and Pennsylvania. The agenda includes nuts-and-bolts workshops on working with unions, faith communities, educators, and health workers.
Ron Gettelfinger, United Auto Workers president, and Leo Gerard, Steelworkers president, both advocates of single-payer health care, were invited to address the conference. The conference also extended invitations to Rep. Barbara Lee (D-Calif.) and Democratic presidential candidate Dennis Kucinich of Ohio, two of the co-sponsors of HR 676.
Conference organizers intended to establish a national health insurance citizens' network to begin implementing a campaign to pass HR 676 or its equivalent. They also hoped to open a national health insurance coordination office in Washington.
Dozens of health care and social justice organizations endorsed the conference including Physicians for a National Health Program, the Gray Panthers, Jobs with Justice of Washington, D.C., the National Coalition for the Homeless, the American Medical Students Association, Universal Health Care Action Network, and the National Welfare Rights Union.
"We believe that the leadership should come from the people that do the work, and now is the time to build a serious movement for national health insurance for all in America," asserted conference organizers Michelle Tingling-Clemmons and Rick Tingling-Clemmons. The conference was held at Howard University Hospital and Towers Auditorium, 2041 Georgia Ave. NW, Washington, D. C.[18]
Congressional Progressive Caucus
In 1998 John Conyers Democrat was listed as a member of the Congressional Progressive Caucus.[19]
As of February 20 2009 John Conyers was listed as a member of the Congressional Progressive Caucus.[20]
Clinton/Pinochet letter
On October 21, 1998, many Members of Congress wrote a letter to President Bill Clinton, urging him to release information to a Spanish judge investigating former Chilean President Pinochet for alleged crimes committed during and after the overthrow of the Marxist Allende government.
Dear Mr. President:
The October 17 arrest of General Augusto Pinochet in London is a good example of how the goals you outlined in your anti-terrorism speech at the United Nations can be put into practice. Indeed, when the rule oflaw is applied to combat international lawlessness,humanity's agenda gains...we call upon you to ensure that the U.S. government provides Spanish Judge Baltasar Garzon material related to Pinochet's role in international terrorism -- material and testimony that the U.S. government has thus far withheld.
Signatories included Rep. John Conyers.[21]
Communist inspired letter to defund Colombian military
Sam Farr had been a Peace Corps volunteer in Colombia, and was contacted by the communist dominated Colombia Support Network in 1997. Efforts by Colombia Support Network were instrumental in getting a letter sent to Secretary of State Madeleine Albright, with the 19 other members signing on. The January 30, 1998 letter called for the continued suspension of funding to the Colombian military then engaged in a bloody civil war against communist guerillas.
Dear Secretary Albright :
We are writing to express our concern with the worsening human rights situation in Colombia and urge you to take steps to address this matter.
News reports and first-hand accounts indicate that violence in Colombia is escalating, particularly in the country's northern most regions and the southern coca growing regions. Many different groups and individuals have been implicated in the violence, but an increasing number of human rights abuses are being instigated by paramilitary groups --armed civilians who torture, evict, kidnap and murder Colombian civilians.
There is also evidence of links between paramilitaries and local drug lords, who rely on paramilitary groups to undertake violent activities on their behalf. The Peasant Self-Defense Group of Cordoba and Uraba, a paramilitary group lead by Carlos Castano, is considered one of the most powerful paramilitary groups in Colombia. Reports indicate that last yeqar Castano's group killed hundreds, if not more than a thousand, peasants it accused of helping rebels.
As concerned Members of Congress, we urge you to place the issue of human rights and the problem of paramilitary groups in the forefront of your priority list in your dealings with Colombia. We understand that aid to the Colombian army is currently on hold because of human rights concerns and urge you to continue to withhold funding.
Signatories were;Sam Farr, John Porter, Ron Dellums, David Bonior, Marty Meehan, Marcy Kaptur, Scott Klug, James McGovern, Elizabeth Furse, Jim Oberstar, Peter DeFazio, Maurice Hinchey, Gerald Kleczka,John Conyers, Pete Stark, Robert Wexler, Lucille Roybal-Allard, Lane Evans, David Price, Sherrod Brown, [22]
2006 letter to Condoleezza Rice on Colombia
Alleged Colombian Army killings prompted Fellowship of Reconciliation to work with Representative Sam Farr to forge a response that would impact the 17th Brigade, the unit allegedly responsible for the violence against San José de Apartadó and communities throughout northwestern Colombia.
As a result, Reps. Sam Farr and Jim McGovern, wrote a letter to their colleagues in Congress urging them to join in calling on Secretary Condoleezza Rice to cut funding for the Colombian military.
Letter to Secretary of State Condoleezza Rice
(Deadline for Congressional representatives to sign: February 22)
We applaud the decision, noted in your certification letter of August 2005, that the US "will not consider providing assistance to the 17th Brigade until all significant human rights allegations involving the unit have been credibly addressed." Because the Brigade is a component of the Colombian Armed Forces' command structure and has been implicated in the above referenced human rights violations, we implore you to abide by both the letter of the law and the spirit of the law by withholding human rights certification for Colombia until the following conditions are met:
Signatories included John Conyers, Jr..[23]
Cutting off military aid to Colombia
In November 2014, eight United States lawmakers sent a letter to Secretary of State John Kerry in which they say that ongoing Afro-Colombian rights abuses show that "Colombia is not in full compliance" with human rights policies required to receive US military aid.
In the letter, coordinated by House Representative Hank Johnson's office and signed by seven other members of Congress, the US politicians expressed "grave concern" over the human rights situation in cities on the Pacific coast, where the majority of inhabitants are Afro-Colombians.
Signatories were Hank Johnson, James McGovern, John Conyers, George Miller, John Lewis, Sam Farr, Barbara Lee, Emanuel Cleaver. [24]
"Is the Pentagon Budget Increase Needed?"
February 3, 1999 Council for a Livable World convened a seminar in Rayburn House on "Is the Pentagon Budget Increase Needed?"
Participants were;
"Reparations"
Rep. John Conyers (D-Mich.) talked of the "legitimacy and the necessity of the study of reparations" for the enslavement of African Americans in a speech at the University of Michigan, February 2002. Conyers' speech was part of a number of events planned to celebrate Black History Month at the school.
Conyers first introduced HR-40, the "Forty Acres and a Mule Bill," as he called it, in 1989. The bill would not implement reparations, but would develop a federal government commission, appointed by the president and Congressional leaders, to study the issue. Included in the study would be the work of academics and politicians, but also discussions of ordinary people in town hall meetings.
Conyers said that since slavery was a national issue, the repair, both economic and psychological, of the effects must also be considered a "national obligation; slavery is a national fact and ought to be treated as such, not as a personal issue."
He also said that "no one questioned whether slaveowners ought to be compensated for the loss of their property, and the government acceded."
This view of the legitimacy of reparations for property loss was built into the Constitution, the Fugitive Slave Laws and the reaction of wealthy whites in the South to radical reconstruction.
Rather than divide us as a nation, Conyers argued, "reparations would be helpful, they would bring healing" because they would start by "acknowledging that there was a crime against humanity."
At the World Conference Against Racism, last September in Durban, South Africa, Bush administration representatives "refused to acknowledge that the enslavement of people is a crime – a hideous crime and a long-running crime, in the case of African Americans." The healing process through discussion, acknowledgment and economic reparations may be unifying, in Conyers' view.
Conyers finished his talk by critiquing the "right-wing's drive to divide working people through racial profiling of Muslim residents of the U.S.", calling it "the most useless method of apprehending suspects" and that "it is still wrong, whether it is African Americans or Arabs or Muslims."
Conyers also challenged his audience to think about the social and economic costs of Bush's war on terrorism. Future generations are going to ask, Conyers said, "why did we cut all the social programs, why did we not provide a prescription drug benefit for seniors, why did we cut a billion dollars from Pell Grants to prosecute this war."
We are going to find,
Conyers said, that we are "squandering huge amounts of money, claiming it goes to fight terrorism."[26]
CBC 33rd Legislative Conference, 2003
Anger at the Bush administration for waging war abroad and attacking rights at home bubbled up at the Congressional Black Caucus 33rd Legislative Conference in Washington DC, Sept. 24-27, 2003.
"Collective Leadership: Challenging A Bold New World" was the title of the conference, which attracted thousands of participants in 53 plenary and workshop sessions.
A standing-room crowd at a session titled "The Iraq War: America Speaks Out" convened by Rep. Charles Rangel (D-N.Y.), cheered Sen. Edward Kennedy (D-Mass.), who recently accused Bush of "fraud" in tricking the U.S. into war. The White House reacted with rage to that blast.
But Kennedy did not apologize. "If your son or daughter is in the National Guard or Reserves, you know they are going to be called up and sent over to serve in Iraq," Kennedy thundered. "They are asking $87 billion for the war in Iraq and they cannot find enough to fund 'No Child Left Behind.'"
Kennedy read from the Pentagon's 28-page draft plan sent to Capitol Hill after weeks of protests from lawmakers that the occupation is floundering. "Locate and secure weapons of mass destruction," was the goal one week. A week later, again, "Continue to locate and secure weapons of mass destruction." The crowd groaned and Kennedy flung the draft in the air, calling it "an insult to our troops serving over there."
Democratic presidential contender Al Sharpton told the crowd that Kennedy "has nothing to apologize for" in his blistering attacks on Bush. Recalling Secretary of State Colin Powell's presentation to the UN last Feb. 14 with spy photos allegedly showing Iraqi weapons sites, Sharpton demanded, "Where are they?" He said, "Our children were put in harm's way. It is immoral to give this president $87 billion for this war."
Rep. John Conyers (D-Mich.) asked, "What do you do if a president has committed acts that should lead to his removal? Citing mounting calls to investigate lies and misuse of intelligence by the "unelected president and the people around him," Conyers said, "How do we withstand the mood of people who are saying to us: 'What are you waiting for?'"
Rep. Sheila Jackson Lee (D-Texas) said, "Every day people are dying. I am appalled and outraged that Republicans are blocking a full and fair examination of the facts."
Civil rights leader Rev. Willie Barrow said, "Mr. Bush, you didn't find Osama bin Laden, Saddam Hussein, or weapons of mass destruction. We know a lie when we hear it." She challenged the crowd to start now to register millions of voters. "It's not enough to register people. We have to get them out to the polls on Election Day," she said. "Let's come together and show Bush the door.[27]
Peace activism
In July 2006 Conyers addressed[28] the Peace Action National Congress at Wayne State University, with Rep. Lynn Woolsey (D-CA), and activist and author Tom Hayden.
Gray Panthers dinner
Oct. 6. 2007 the Gray Panthers of Metro Detroit held a Dinner at United Food and Commercial Workers Union Local 876—The honorees include Saundra Williams, Elaine Crawford, Louis Green, Father John Nowlan, and the Raging Grannies. Keynote speaker is U.S. Rep. John Conyers, Jr. Contact for the event was Greater Detroit Democratic Socialists of America affiliate Ethel Schwartz.[29]
NLG pressure to impeach President Bush
The National Lawyers Guild voted unanimously and enthusiastically for a resolution calling for the impeachment of George W. Bush and VP Cheney at their national convention in Washington, DC on November 2, 2007.
The resolution listed more than a dozen high crimes and misdemeanors of the Bush and Cheney administration and "calls upon the U.S. House of Representatives to immediately initiate impeachment proceedings, to investigate the charges, and if the investigation supports the charges, to vote to impeach George W. Bush and Richard B. Cheney as provided in the Constitution of the United States of America."
National Lawyers Guild President Marjorie Cohn and Center for Constitutional Rights President Michael Ratner were among more than a dozen cosponsors. In a news release about the resolution issued by the NLG Marjorie Cohn said,
"the war of aggression, the secret prisons, the use of cruel, inhuman and degrading treatment, the use of evidence obtained by torture, and the surveillance of citizens without warrants, all initiated and carried out under the tenure of Bush and Cheney, are interesting under the U.S. Constitution and international law."
The resolution provides for an NLG Impeachment Committee open to all members that will help organize and coordinate events at the local, state, and national level to build public participation in the campaign to initiate impeachment investigation, impeachment, and removal of Bush and Cheney from office without further delay. NLG members wishing to participate in launching this committee should immediately contact Ian Head in the National Office at "
The resolution also called on all other state and national bar associations, state and local government bodies, community organizations, labor unions, and all other citizen associations to adopt similar resolutions and to use all their resources to build the campaign.
Passage of the resolution followed two events with John Conyers, Chair of the House Judiciary Committee, during the convention. First was a House Judiciary Committee Public Policy Forum on failure of the Bush/Cheney regime to observe international law. NLG members Marjorie Cohn, Jeanne Mirer, John Quigley, and Peter Weiss testified in the Judiciary Committee hearing room in the Rayburn House Office Building. Jeanne Mirer, Secretary General of the International Association of Democratic Lawyers, took the floor toward the very end of the hearing to say that a remedy is needed, that the remedy is clearly provided in the US constitution, and that this committee has the authority to get that process going. Conyers, who chaired the forum, asked her to repeat that point to make sure it was included in the record. He said that he would be holding further hearings and invited the speakers to return to testify on that remedy, impeachment.
A couple of hours after that forum ended Congressman Conyers arrived at the convention to give his keynote address and answer questions before the 400 lawyers and legal workers in attendance. Former NLG president Michael Avery was first to line up at the microphone and asked Conyers what the NLG could do to help Conyers decide to initiate impeachment investigation of Bush and Cheney. Speaker after speaker pressed Conyers to take action on impeachment, many receiving thunderous applause. Although he remained non-committal, Conyers said he would like to participate in a series of public policy forums around the country that he said could consider the interesting actions by Bush and Cheney and that these forums could lead to the ultimate step of the double impeachment. He suggested that we can only expect Congressional action to follow establishment of a widespread public campaign visibly demanding impeachment.[30]
Pacifica Radio
Conyers has been involved with the "WPFW since it's very inception," said Acie Byrd, the station's Board Gala Chair. Conyers serves as the Honorary Chair for the evening that Howard Zinn received the Pacifica Peace and Justice Award. He served as the Honorary Co-Chair with Attorney Roscoe Dellums. The WPFW is a Pacifica Radio affiliate.[31]
FightingBobFest speaker
John Conyers was a guest speaker at Wisconsin's annual progressive Fighting Bob Fest, in 2005.[32]
Obama supporter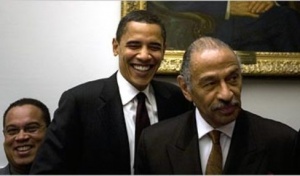 Health Care Access resolution
John Conyers promoted House Concurrent Resolution 99 (H. Con Res. 99) Directing Congress to enact legislation by October 2004 that provides access to comprehensive health care for all Americans. IN THE HOUSE OF REPRESENTATIVES April 4, 2001.
Sponsors:John Conyers (for himself), Jan Schakowsky, John Tierney, Barbara Lee, Donna Christensen, David Bonior, Dennis Kucinich, Earl Hilliard, Maurice Hinchey, Jerry Nadler, Donald Payne Chaka Fattah, Peter DeFazio, John Lewis Tammy Baldwin, Stephanie Tubbs Jones, Barney Frank, Henry Waxman, Cynthia McKinney, Jim Langevin, George Miller Alcee Hastings, Patsy Mink, John Olver , Bennie Thompson, Pete Stark, Julia Carson, and Mike Capuano submitted the following concurrent resolution; which was referred to the Committee on Energy and Commerce;[33]
Resolved by the House of Representatives (the Senate concurring), that the Congress shall enact legislation by October 2004 to guarantee that every person in the United States, regardless of income, age, or employment or health status, has access to health care..
HR 3000
On September 3, 2003 Congresswoman Barbara Lee (D-CA) introduced H.R. 3000, the United States Universal Health Service Act, which would provide health coverage for all Americans. H.R. 3000 would establish a United States Health Service (USHS), which would eliminate profit issues from health care because it would be owned and controlled by the public and administered primarily at the local level.[34]
According to the Communist Party USA's People's World, initial supporters of HR 3000 were Julia Carson, (D-Ind.), Donna Christensen (D-Va.), John Conyers (D-Mich.), Elijah Cummings (D-Md.), Danny Davis (D-Ill.), Jesse Jackson, Jr. (D-Ill.), Dennis Kucinich (D-Ohio), Major Owens (D-N.Y.), Donald Payne (D-N.J.), and Lynn Woolsey (D-Calif.).
The World went on to say;[35]
We will not win the United States Health Service without a massive, prolonged struggle by working people against the corporate defenders of the current for-profit health care industry.
"Single Payer" advocate
John Conyers wrote on his blog December 28, 2008[36];
Already nearly 9,000 people have sent the message online to the incoming Obama Administration that single payer is the one true health care reform that the country desperately needs. Now there are citizens groups across the country meeting to come together to collectively call upon the President-elect to consider single payer health care.
Michigan Medicare event
Michigan Alliance to Strengthen Social Security and Medicare presented "Health Care for All," a forum on Rep. John Conyers, Jr.'s U.S. National Health Insurance Act (HR 676) featuring Marilyn Clement (National Coordinator for Health Care NOW), Olivia Boykins (Special Assistant to Representative John Conyers, Jr.), and Democratic Socialists of America member Richard Shoemaker (retired UAW Vice-President and former director of the UAW General Motors Department and UAW Community Action Program) and moderated by Metro AFL-CIO President Saundra Williams—Tuesday, May 1, 2007 at International Brotherhood of Electrical Workers Local 58 (1358 Abbott Street, Detroit). Conact for the event was Democratic Socialists of America member Maurice Geary.[37]
"Single - payer" movement
According to Michael Lighty, a former National Director of Democratic Socialists of America, and Director of Public Policy for the California Nurses Association/National Nurses Organizing Committee, writing in DSA's Democratic Left, Winter 2007/2008 .[38]
There's a growing movement for single-payer universal healthcare. The movement is led by activists in Healthcare-Now!, doctors in the Physicians for a National Health Program, nurses in the California Nurses Association/National Nurses Organizing Committee, leaders in labor unions such as United Steelworkers of America and Communication Workers of America, activists in the Progressive Democrats of America, and Congressman John Conyers, with the support for HR 676 by 300 union locals, 75 Central Labor Councils, and 25 state Federations of Labor, and hundreds of clergy and faith-based organizations, as well as civil rights, women's and healthcare advocacy groups in the Leadership Conference for Guaranteed Healthcare.
The policy proposals developed by Beltway think tanks and the principles for reform adopted by the AFL-CIO confer support for single-payer while allowing for private insurance-based approaches as well. Other bills in Congress, notably sponsored by Ted Kennedy and John Dingell and "Americare" introduced by Pete Stark, seek to incrementally establish a single-payer system.
Democratic Party Super Delegates
In February 2008 Michigan Democratic Party Super Delegates were;[[39]
Charles Brown Mon, 25 Feb 2008
Advisory Board Maurice & Jane Sugar Law Center
As at Winter, 2008, the following served on the Advisory Board of the Maurice & Jane Sugar Law Center:
Supporting Coalition of Immokalee Workers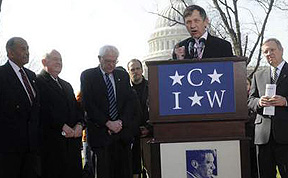 .
The Coalition of Immokalee Workers' petition drive to end sweatshop conditions in Florida's tomato fields received a warm welcome in Washington, DC. Senator Dick Durbin joined Senator Bernie Sanders, Representatives Dennis Kucinich and John Conyers, AFL-CIO President John Sweeney and representatives from dozens of human rights, religious, labor, and student organizations joined the CIW's call to end sweatshops and slavery in the fields.
Senator Sanders decried the "desperate conditions, conditions that in some cases are so extreme that even the Bush Administration has brought slavery charges," in Florida's fields, and announced that a hearing into those conditions is scheduled for April 15th.
Senator Durbin announced that a letter had been sent to "seven companies -- Wal-Mart Stores, Inc., Winn-Dixie Stores Inc., Kroger Co., Publix, Safeway Inc., US Food Service, Supervalu Inc., and Sysco Corp. -- asking them to join McDonald's and Yum Brands in the extra penny a pound program."[40]
ACLU meeting
More than 150 people, including several Democratic Socialists of America members , participated in the Metro Detroit ACLU's conference, "Reclaiming Our Rights," January 26th 2008 at the Arab-American National Museum in Dearborn.
Representative John Conyers, Jr., State Senator Gilda Jacobs, State Representative Steve Tobocman, attorney Bill Goodman, and others spoke on the "threats to civil liberties both nationally, under the Bush Administration, and here in Michigan."
ACLU Legal Director Mike Steinberg described several recent civil liberties cases..
"Recent revelations about wiretapping, Internet spying, torture cover-ups, and library censorship show us that the need to protect our rights has never been greater," said Heather Bendure, chair of the ACLU's Metro Detroit branch. [41]
Congressman John Conyers, Jr., Chair of the House Judiciary Committee, updated the conference on the latest efforts by Congress to challenge the Bush Administration's domestic spying program. Other speakers and panelists included Arab American News Editor Osama Siblani, NAACP Executive Director Heaster Wheeler, and Wayne State University Professor Robert Sedler, ACLU of Michigan attorney Mark Fancher, civil liberties attorney William Swor, and human rights activist Reverend Harry Cook. [42]
2009 letter on Colombia
From November 6th through December 7th 2009, a letter calling for change in U.S. policy towards Colombia was circulated through the House of Representatives. This letter called for a decrease in U.S. aid for Colombia's military and an increase in support for human rights and humanitarian efforts. The initiators of this letter were —Representatives James McGovern, Jan Schakowsky, Donald Payne, and Mike Honda.
Dear Secretary of State Clinton,
The FY 2011 budget will contain the twelfth year of a major aid package to Colombia—an aid package originally slated to phase out after six years.
After eleven years, it is time to scale down assistance for Colombia's military and more systematically "Colombianize" such programs, within both the State Department and Defense Department budgets.
Signatories included John Conyers.[43]
Rally with NAKASEC
Health Equity: On June 24 2009, NAKASEC and affiliates mobilized a dozen people for an evening action and rally that integrated cultural heritage with political expression in support of health equity within health reform legislation in 2009. Representatives from the Korean American Resource & Cultural Center of Chicago, staff from our national Los Angeles office and NAKASEC supporters from the DC metropolitan area were present to share the energizing beats of poongmul, express unity in fighting racial and ethnic health disparities, and promote culturally competent practices. Hundreds of people participated in the event, in partnership with the Service Employees International Union (SEIU), and heard Representative John Conyers (D-MI) and Representative Lucille Roybal-Allard (D-CA) speak from the podium on these issues. NAKASEC Board member Je Yon Jung introduced executive director EunSook Lee, who linked the language needs of our communities to the need to ensure access to healthcare for immigrants.[44]
Hate Crimes Prevention Act
In his early years in Congress, Conyers introduced legislation aimed at ending lynching and other hate crimes. It came to a head when in a short span of weeks, Matthew Shepard, a gay youth, was lynched in Wyoming and James Byrd, Jr. was lynched in Texas. Conyers introduced the Matthew Shepard and James Byrd, Jr. . It was approved by the House Oct. 22, 2009 and also by the Senate. President Barack Obama signed it into law a week later with the families of Shepherd and Byrd standing beside him.[45]
Committee to Stop FBI Repression delegation
In mid November 2010, a delegation from the Committee to Stop FBI Repression ( returned home from several days of bringing the "issue of the FBI raids and grand jury subpoenas of people doing international solidarity work and anti-war organizing to the U.S. Capitol". Three supporters of the Marxist-Leninist Freedom Road Socialist Organization/FightBack!, Deb Konechne of the Committee to Stop FBI Repression, Anh Pham, who is facing a reactivation of her subpoena and Joe Iosbaker, whose home was raided, spent two days meeting with U.S. Representatives on the issue. The delegation asked each Congressperson to sponsor a "Dear Colleague" letter condemning the raids and grand jury subpoenas. In the two days, the delegation met with either the Congressional Representative's staff or the Representative themselves fro[[m the following 16 offices: Tammy Baldwin (WI), John Conyers (MI), Danny Davis (IL), Keith Ellison (MN), Raul Grijalva (AZ), Luis Gutierrez (IL), Mike Honda (CA), Jesse Jackson, Jr. (IL), Dennis Kucinich (OH), Barbara Lee (CA), Jim McDermott (WA), Jim McGovern (MA), Bobby Rush (IL), Linda Sanchez (CA), Jan Schakowsky (IL), Maxine Waters (CA). The "meetings were positive, with all the offices expressing genuine concern about the situation. In some cases, because of the outpouring of calls from around the country, the U.S. Representatives were aware that the delegation was in Washington D.C. and the offices made time on their schedules to meet with the delegation. This reinforces the continuing importance of the solidarity work taking place around the country."
Rep. Conyers (MI), chair of the Judiciary Committee, directed the Counsel of the Judiciary Committee to meet with the delegation. Also, Rep. Ellison (MN) and his Congressional staff met directly with the delegation for a significant amount of time. rep. Ellison sent a letter to U.S. Attorney General Eric Holder, expressing concern over the situation and is continuing to work on options to support his constituents affected. The delegation also received face-to-face meetings with Rep Gutierrez and Rep Davis from Chicago. Rep. Grijalva's (AZ) office set up a meeting between the delegation and the Executive Director of the Congressional Progressive Caucus in the Congress of which rep. Grijalva is the chair. In addition, the office of Jan Schakowsky (IL) and Maxine Waters (CA) gave the delegation significant time and attention.
"It was clear that progressive Representatives of the Congress are very concerned about the FBI investigation. Overall, they were very thankful for our visit and for the information and analysis given to them The level of awareness about the raids and grand jury was varied, from little to full awareness, but the delegation certainly changed that. After the two days, our presence and purpose definitely created a stir in the halls of Congress. "The fact that we were able to interact with 16 legislative aides or Congress people themselves, during an extremely busy time of restructuring leadership in the Congress, exemplifies the attention this matter is receiving", stated Joe Iosbaker.[46]
Defending the Public, Our Families, and Our Communities
A forum "Defending the Public, Our Families, and Our Communities" was held Saturday, April 9, 2011, Chicago Temple, 77 West Washington, Chicago.
Join progressive leaders and activists to discuss strategies for defending our rights to earn, learn, and live in dignity. In the wake of the all-out attack against workers' rights and against programs that help our communities, it is more important than ever to come together across movements and push to realize a vision of FDR's "Second Bill of Rights." Panelists will discuss a roadmap to fight back and push for progressive priorities including ending wars and militarism; enhancing workers' rights; and developing economic policies that promote jobs and communities instead of corporate profits.
Program:
Emcee: Lori Challinor ­ DuPage Peace Through Justice Coalition
Opening Remarks: Jesus Garcia ­ Cook County Commissioner, 7th District
Panelists:
Keynote: Congressman John Conyers, Jr. (D-MI"Towards a New New Deal: A 21st Century Full Employment Act"[47]
CPC "Good jobs" tour
On June 27, 2011, Detroit was the second stop of the Congressional Progressive Caucus's "Good Jobs" tour. Reps. Hansen Clarke and John Conyers, D-Mich., joined with Keith Ellison, D-Minn., Marcy Kaptur, D-Ohio, and the Rev. Jesse Jackson listening to the "stories and thinking of the people".
In their brief remarks, the leaders issued a call to redirect money from wars, Wall Street and the rich to a rebuilding of America.
Jackson said war spending is "breaking our cities." He was seconded by Clarke who said the money we're spending in Afghanistan is ours, "it should come back to us."
Kaptor said we need to tax the financial giants asking, "Why can't we tax hedge funds like we do the corner bakery?"
Ellison emphasized that unity is required to win, saying being angry will not bring jobs but banding together, speaking together, and fighting together can. "We will use our strength in numbers to fight corporate greed," he said.
Conyers said we are "getting ready" to re-elect President Obama but we need the President to get behind job creating legislation like the Humphrey Hawkins jobs bill he has introduced.
"We are going to Washington to tell him we want him to lead in the fight for jobs. We will tell him we are ready to help," said Conyers.[48]
Black Caucus jobs campaign
In mid 2011, "demands to address the country's jobs crisis are accelerating with the Congressional Black Caucus (CBC) joining a growing number of groups calling for federal action". The CBC resolved to hosting a For the People Jobs Initiative in several urban areas stricken by high unemployment.[49]
Detroit event
Over 5,000 jobseekers showed up at the Wayne County Community College in Detroit for a jobs fair and town hall meeting yesterday. More than 7,000 attended last week's event in Cleveland, the second stop on the Congressional Black Caucus's "For the People" tour.
Over 1,000 positions were offered at the fair.
The event was hosted by Democratic U.S. Reps. John Conyers and Hansen Clarke. Also present from the caucus were Maxine Waters of California, Emanuel Cleaver of Missouri and Gregory Meeks from New York.
Rep. Maxine Waters, noting the great love and admiration for President Obama in the African American community, called on the audience to "unleash us" to address the president on the jobs issue. "When you tell us it's alright and you unleash us and you tell us you're ready for us to have this conversation, we're ready to have the conversation. The Congressional Black Caucus loves the president too. We're supportive of the president but we're getting tired ya'll..." she said.
Rep. John Conyers called for a demonstration in front of the White House, "We should be in front, three to five, six thousand people the day before we open our 40th conference on Tuesday, September the 20th, in front of the White House, demanding jobs," Conyers said.[50]
HR 365
HR 365 was introduced by Michigan Democratic Rep. Hansen Clarke, in 2011, in a YouTube video posted on the representative's page, he said "We need to cut, cap, and forgive student loan debt," and that "That is the true debt that is burdening American families. We cut student loan debt we'll have a freer more prosperous country."
The bill has been sponsored by House Representatives Dennis Kucinich of Ohio, Keith Ellison of Minnesota John Conyers of Michigan, and Elijah Cummings of Maryland.[51]
LIBERT-E Act
June 18, Rep. Justin Amash (R-MI), Chairman of the House Liberty Caucus, and Rep. John Conyers, Jr. (D-MI), the Ranking Member on the House Judiciary Committee, announced the introduction of bipartisan legislation to address National Security Agency surveillance.
H.R. 2399, the Limiting Internet and Blanket Electronic Review of Telecommunications and Email Act (LIBERT-E Act), restricts the federal government's ability under the Patriot Act to collect information on Americans who are not connected to an ongoing investigation. The bill also requires that secret Foreign Intelligence Surveillance Act (FISA) court opinions be made available to Congress and summaries of the opinions be made available to the public.
A coalition of 32 Members of Congress joined Conyers and Amash in introducing the bill. After introduction, Conyers and Amash issued the following statement:
"The recent NSA leaks indicate that the federal government collects phone records and intercepts electronic communications on a scale previously unknown to most Americans.
"The LIBERT-E Act imposes reasonable limits on the federal government's surveillance. The bill puts some teeth into the FISA court's determination of whether records the government wants are actually relevant to an investigation. It also makes sure that innocent Americans' information isn't needlessly swept up into a government database. LIBERT-E prohibits the type of government dragnet that the leaked Verizon order revealed.
The following Members of Congress cosponsored the legislation:
Rep. Paul Broun (R-GA) Rep. Judy Chu (D-CA) Rep. Suzan DelBene (D-WA) Rep. John Duncan (R-TN) Rep. William Enyart (D-IL) Rep. Tulsi Gabbard (D-HI) Rep. Chris Gibson (R-NY) Rep. Paul Gosar (R-AZ) Rep. Morgan Griffith (R-VA) Rep. Raúl Grijalva (D-AZ) Rep. Rush Holt, Jr. (D-NJ) Rep. Sheila Jackson-Lee (D-TX) Rep. Hank Johnson (D-GA) Rep. Walter B. Jones (R-NC) Rep. Barbara Lee (D-CA) Rep. Zoe Lofgren (D-CA) Rep. Thomas Massie (R-KY) Rep. Tom McClintock (R-CA) Rep. Jim McDermott (D-WA) Rep. James McGovern (D-MA) Rep. Mike Michaud (D-ME) Rep. Mick Mulvaney (R-SC) Rep. Jerrold Nadler (D-NY) Rep. Beto O'Rourke (D-TX) Rep. Steve Pearce (R-NM) Rep. Jared Polis (D-CO) Rep. Trey Radel (R-FL) Rep. Matt Salmon (R-AZ) Rep. Mark Sanford (R-SC) Rep. Kyrsten Sinema (D-AZ) Rep. Peter Welch (D-VT) Rep. Ted Yoho (R-FL) [52]
Lifting travel ban on Cuba
A May 03, 2013 Press release from the radical controlled and Institute for Policy Studies affiliated Latin America Working Group's Cuba Team stated:
Due to your action/emails/phone calls we have 59 signatures from House representatives urging President Obama to support travel to Cuba by granting general licenses for ALL current categories of travel.
By eliminating the laborious license application process, especially for people-to-people groups, that is managed by the Office of Foreign Assets Control (OFAC), the majority of the bureaucratic red tape that holds up licensable travel to Cuba would disappear and actually facilitate what the President wanted to see in 2011, liberalized travel regulations.
Signatories included Rep. John Conyers.[53]
Nelson Mandela's funeral
In December 2013, the following Democratic legislators traveled to South Africa to attended Nelson Mandela's funeral Democrats Dels. Eleanor Holmes Norton (D.C.) and Donna Christensen (V.I.); and Democratic Reps. Marcia Fudge, John Conyers (Mich.), Charles Rangel (N.Y.), John Lewis, Jim McDermott (Wash.), Maxine Waters (Calif.), Bobby Scott (Va.), Mel Watt (N.C.), Sheila Jackson-Lee (Tex.), Elijah Cummings (Md.), Gregory Meeks (N.Y.), Barbara Lee (Calif.), G.K. Butterfield (N.C.), Gene Green (Tex.), Gwen Moore (Wis.), Yvette Clarke (N.Y.), Karen Bass (Calif.), Joyce Beatty (Ohio) and Terri Sewell (Ala.).[54]
Congressional Letter for Neutrality, 2014 Salvadoran Elections
On Monday December 16, 2014 Reps. Juan Vargas (D-CA), Mike Honda (D-CA) and Mark Pocan (D-WI) sent a letter to Sec. of State John Kerry – signed by 51 Members of Congress – calling for a public statement of neutrality by the State Department before the first round of El Salvador's presidential elections on February 2, 2014.
The letter, , highlighted several "important steps" that the current government has taken to "strengthen its democratic system and expand the right to vote to all citizens," including those living outside of the country, who will be voting by absentee ballot for the first time in February. Since the election of Mauricio Funes, the first President from the Marxist Farabundo Martí National Liberation Front (FMLN) party, the government has increased the number of polling places four-fold to increase accessibility, especially in rural areas.
"We're glad to see so many Members of Congress expressing respect for the right of the Salvadoran people to determine their own future. That's an attitude that's sorely lacking in much of the US' policy in Central America, especially with regard to economic policy," said Alexis Stoumbelis, Executive Director for the pro-communist Committee in Solidarity with the People of El Salvador (CISPES), in Washington, DC, which has observed every post-war election in El Salvador, starting in 1994.
Signatories included Rep. John Conyers.[55].
JStreet endorsement
The socialist infiltrated, anti-Israel "two state solution" JStreet PAC endorsed John Conyers, Jr. in his 2014 Congressional race. [56]
JStreet endorsed him again 2016.
Rep. John Conyers has been a reliable friend of the pro-Israel, pro-peace movement throughout his career in Congress.[57]
Friendships
Vietnam conference
Vietnam - The Power of Protest - Telling the Truth - Learning the Lessons was held Friday and Saturday, May 1-2, in Washington, D.C.
The conference "has a star-studded program of progressive leaders of the past half century": Dolores Huerta, Danny Glover, Daniel Ellsberg, Phil Donahue, former Congresspersons Patricia Schroeder, Ron Dellums and current Reps. Barbara Lee and John Conyers, singer Holly Near, and more.[58]
H.R. 1534, The Smarter Approach to Nuclear Expenditures Act
The 2015 Bill H.R. 1534 would reduce the number of nuclear-armed submarines operated by the Navy, to prohibit the development of a new long-range penetrating bomber aircraft, to prohibit the procurement of new intercontinental ballistic missiles.
Sponsor: Rep. Earl Blumenauer (D-OR-3rd district). Co-sponsors were Reps James McGovern, Mark Pocan, Peter DeFazio, John Conyers, Raul Grijalva, Michael Quigley, Eleanor Holmes Norton, Sam Farr, Jackie Speier, Barbara Lee, Donna Edwards, John Lewis, Jared Polis, Louise Slaughter.[59]
ARA endorsement, 2014
The Alliance for Retired Americans Political Action Fund endorsed John Conyers, Jr. in 2014, also 2012.[60]
"Progressive Agenda"
Signers of New York City Mayor Bill de Blasio's May 12, 2015 launched The Progressive Agenda to Combat Income Inequality included US Rep. John Conyers .[61]
Congressmembers call on Obama to rescind Venezuela sanctions
May 15, 2015, Sixteen Democratic members of the U.S. House of Representatives signed a letter calling on President Obama to withdraw sanctions on seven Venezuelan government officials, and also to withdraw the language of an executive order justifying the sanctions.
The sanctions to which the letter refers were based on legislation voted by Congress in December and signed by the president on Dec. 18. On Mar. 9, after the arrest of several Venezuelan political figures whom Venezuelan President Nicolas Maduro accused of plotting a coup, President Obama issued an executive order declaring an "emergency" on the basis of a supposed "unusual and extraordinary threat" to the United States and its interests by Venezuela, and imposed the sanctions, mostly on mid-level security personnel.
The sanctions prevent them from traveling to the United States and freeze any assets they might have in this country.
The congresspersons who signed the letter were: Hank Johnson, John Conyers, Barbara Lee, Raul Grijalva, Keith Ellison, Jose Serrano, Sam Farr, Karen Bass, Jan Schakowsky, Jim McDermott, Bobby Rush, Sheila Jackson-Lee, Mike Capuano, Charles Rangel, Chellie Pingree, and Earl Blumenauer.[62]
Condemning Criticism of Islam legislation
On December 17, 2015, Rep. Don Beyer, Jr. introduced legislation condemning "violence, bigotry, and hateful rhetoric towards Muslims in the United States." The legislation is based on unsourced claims that there is a "rise of hateful and anti-Muslim speech, violence, and cultural ignorance," and a "disproportionate targeting" of "Muslim women who wear hijabs, headscarves, or other religious articles of clothing...because of their religious clothing, articles, or observances." The resolution, H.Res.569 - Condemning violence, bigotry, and hateful rhetoric towards Muslims in the United States [63]
The legislation was cosponsored by Rep. Michael Honda, Rep. Keith Ellison, Rep. Joseph Crowley, Rep. Andre Carson, Rep. Eleanor Holmes Norton, Rep. Betty McCollum, Rep. Marcy Kaptur, Rep. Carolyn Maloney, Rep. Dan Kildee, Rep. Loretta Sanchez, Rep. Charles Rangel, Rep. Scott Peters, Rep. Brad Ashford, Rep. Alan Grayson, Rep. Mark Takai, Rep. Brian Higgins, Rep. William Keating, Rep. Raul Grijalva, Rep. Debbie Wasserman Schultz, Rep. G.K. Butterfield, Rep. Gerry Connolly, Rep. Ruben Gallego, Rep. Cheri Bustos, Rep. John Delaney, Rep. Kathy Castor, Rep. Luis Gutierrez, Rep. Michael Quigley, Rep. Elizabeth Esty, Rep. Joseph Kennedy III, Rep. Robin Kelly, Rep. Eddie Bernice Johnson, Rep. Gregory Meeks, Rep. Grace Meng, Rep. Al Green, Rep. Katherine Clark, Rep. Adam Schiff, Rep. Alcee Hastings, Rep. Sam Farr, Rep. Frank Pallone, Rep. Jim McDermott, Rep. Barbara Lee, Rep. Donna Edwards, Rep. Robert Brady, Rep. Frederica Wilson, Rep. Michael Doyle, Rep. Albio Sires, Rep. Suzan DelBene, Rep. Judy Chu, Rep. Jared Polis, Rep. David Loebsack, Rep. Bill Pascrell, Rep. Debbie Dingell, Rep. Jan Schakowsky, Rep. Steve Cohen, Rep. Ruben Hinojosa, Rep. John Yarmuth, Rep. Niki Tsongas, Rep. Jim Langevin, Rep. Mark Pocan, Rep. John Conyers, Jr., Rep. Mark Takano, Rep. Tim Ryan, Rep. Jose Serrano, Rep. Hank Johnson, Rep. Paul Tonko, Rep. Zoe Lofgren, Rep. Chris Van Hollen, Rep. Lois Capps, Rep. David Price, Rep. Doris Matsui, Rep. Gwen Moore, Rep. Denny Heck, Rep. Sheila Jackson Lee, Rep. John Carney, Rep. Xavier Becerra, Rep. Eric Swalwell, Rep. John B. Larson, Rep. Dina Titus, Rep. Peter Welch, Rep. Lloyd Doggett, Rep. Jim Himes, Rep. Matt Cartwright.
Letter on US-Mexico security Co-operation
From Clergy and Laity United for Economic Justice;
Urgent alert from our friends at CISPES- Los Angeles Chapter : "The US plans to expand cooperation between Mexico and the United States to unfairly and inhumanely target Central American migrants and asylum seekers at the upcoming "Conference on Prosperity and Security in Central America".
We asked Representative Alan Lowenthal of Long Beach to author a letter to Secretary Tillerson calling for to put the human rights of Central Americans and all migrants and refugees front and center, and he's circulating a letter now. To have the biggest impact possible we need as many Members of Congress as possible to sign this letter!
Call or email your representative today and ask them to join Mr. Lowenthal as a co-signer.
Representative Alan Lowenthal (D-CA) led 37 Members of Congress, including top Democrats from the Armed Forces, Judiciary and Appropriations committees, in sending a letter to Secretary of State Rex Tillerson to raise red flags about "suggestions that the United States deepen security collaboration with Mexico along its southern border [with Guatemala] due to evidence that Mexico's Southern Border Program has led to wide-spread human rights violations and abuses against migrants and asylum-seekers."
Signers: Don Beyer (D-VA), Suzanne Bonamici (D-OR), Mike Capuano (D-MA), Tony Cardenas (D-CA), Judy Chu (D-CA), Emanuel Cleaver (D-MO), John Conyers (D-MI), Lloyd Doggett (D-TX), Keith Ellison (D-MN), Dwight Evans (D-PA), Ruben Gallego (D-AZ), Raul Grijalva (D-AZ), Luis Gutierrez (D-IL), Alcee Hastings (D-FL), Eleanor Holmes Norton (D-Washington, DC), Pramila Jayapal (D-WA), Hank Johnson (D-GA), Marcy Kaptur (D-OH), Barbara Lee (D-CA) , Zoe Lofgren (D-CA), Michelle Lujan Grisham (D-NM), Stephen Lynch (D-MA), Betty McCollum (D-MN), James McGovern (D-MA), Seth Moulton (D-MA), Mark Pocan (D-WI), Grace Napolitano (D-CA), Lucille Roybal-Allard (D-CA), Jose Serrano (D-NY), Jan Schakowsky (D-IL), Louise Slaughter (D-NY), Adam Smith (D-WA), Paul Tonko (D-NY), Maxine Waters (D-CA), John Yarmuth (D-KY).[64]
Staff
The following have worked as staff members for John Conyers:[65]
External links
References