Joanna Misnik
From KeyWiki
Joanna Misnik was expelled from France for her trade union activism and for her participation in the Marxist tendency led by Ernest Mandel.[1] A life-long anti-war and union militant, she worked on the Jesse Jackson 1984 presidential campaign and is a member of SEIU Local 73 in Chicago.
60s radical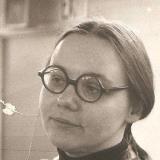 Radical Scholars & Activists Conference
In 1993 Joanna Misnik, Solidarity was a featured speaker at the Midwest Radical Scholars & Activists Conference. The theme of the conference was, "Popular Empowerment in the Clinton Era". The conference was held between Oct. 29 - 30, 1993 at Loyola University, Chicago.[2]
CrossRoads
In the mid 1990s Joanna Misnik was a contributing editor to Oakland based Institute for Social and Economic Studies - sponsor of CrossRoads magazine, which sought to promote dialogue and building new alliances among progressives and leftists... and to bring diverse Marxist and socialist traditions to bear while exploring new strategies and directions for the progressive political movements.[3]
In 1994, the Editorial Board of Links, a "journal of international socialist renewal" produced and sponsored by the Australian Democratic Socialist Party, included;
References
↑

Radical Scholars & Activists Conference pamphlet, 1993

↑

Crossroads March 1996