Jesus Garcia
From KeyWiki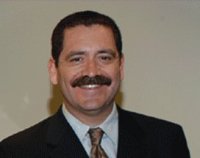 Jesus "Chuy" G. Garcia is Cook County Commissioner. He is a "dynamic and progressive leader who has fought selflessly to improve the lives of his neighbors on the southwest side of Chicago and the neighboring Cicero and Berwyn communities."[1]
Background
Emigrating with his parents from Durango, Mexico at the age of ten, Jesus Garcia has lived since then in the communities of Pilsen and Little Village. After earning a Bachelors degree in Political Science from the University of Illinois at Chicago, he went on to acquire a Masters degree in Urban Planning. Today, Jesus "Chuy" Garcia lives in Little Village with his wife Evelyn and daughter Rosa. He has two adult sons, Jesus and Samuel.[2]
Progressive activism
Advocacy of justice and equal opportunity led Jesus Garcia to work as a paralegal, as a community organizer and at a community-based housing organization. He was the Founding Executive Director of Enlace Chicago (a leading non-profit community development organization in Little Village, formerly known as LVCDC).
Garcia served as a Fellow at De Paul University and as adjunct professor at the University of Illinois at Chicago in the Departments of Political Science and Latino and Latin American Studies. He serves on the boards of several non-profit organizations including the Latino Policy Forum, a public policy and advocacy center, where he was the Founding President. He recently became Chairman of the Board of the Woods Fund of Chicago whose goal is to "increase opportunities for less advantaged people and communities."[3]
Political career
First elected to the Chicago City Council in 1986 as a reformer and supporter of Mayor Harold Washington, Jesus Garcia helped give Mayor Washington a majority in the City Council to enact "progressive legislation." He was among Mayor Washingtons most trusted allies.
Chuys fight for justice did not stop after the Mayor died.
In 1992, Jesus Garcia was elected and served two terms as State Senator. As the first-ever Mexican-American elected to the State Senate, Chuy pushed forward a broad range of legislation to benefit the working families of his district.[4]
Tribute to Golub and Montgomery
ON November 16, 1989, Alderman Jesus Garcia served on the Tribute Committee for the Chicago Committee to Defend the Bill of Rights Tribute to Leon Golub and Lucy Montgomery, held at the Congress Hotel, Chicago.[5]
Friends of Alice Palmer
In the mid 1990s Hon. Jesus Garcia was listed as a member of Friends of Alice Palmer (in formation), alongside Danny K Davis, Tony Rezko, Timuel Black and Barack Obama.[6]
Ishmael Flory tribute
Illinois Communist Party USA leader Ishmael Flory was honored at Malcolm X College in Chicago, September 29, 1991, by more than 100 guests.
Margaret Burroughs, a board member of the Chicago Park District MCed the event.
"Ishmael Flory is a man for all seasons...He never gives up", said State Senator Alice Palmer.
Alderman Jesus Garcia of Chicago's 22nd ward cited Flory's role in fostering African-American and Latino unity , and in building multi-racial coalitions for social progress.
Prof. Robert Starks of the Free South Africa Movement said "Ishmael has never failed to compliment me on my speeches, but at the same time he has never failed to pull me aside afterwards, too point out how I could have been a little more "progressive."
Tributes came from Communist Party USA chairman Gus Hall and Illinois organizational secretary Mark Almberg.
Other speakers included Crystal Bujol for the Flory family, long time friend Christine Johnson, Jack Spiegel of the Amalgamated Clothing Workers Union, Ronelle Mustin, peace activist Sarah Staggs, Harold Rogers, who brought greetings from Rep. Charles Hayes, Gerry Oliver, and Carl Bloice of the Peoples Weekly World.[7]
Chicago Committee to Defend the Bill of Rights Bicentennial Celebration
On November 10, 1991 Jesus Garcia was listed as a member of the 1991 Tribute Committee for the Chicago Committee to Defend the Bill of Rights Bicentennial Celebration.[8]
Jack Siegel tribute
Chicago Committees of Correspondence held a tribute banquet to 88 year old member Jack Spiegel, on October 3, 19993, with 250 in attendance.
special guest included State Senator Jesus Garcia, Alderman Helen Shiller, Harold Rogers from the Coalition of Black Trade Unionists, Carole Travis from the UAW, Larry Reagan from the Amalgamated Clothing and Textile Workers Union, Bernice Bild from the Coalition for New Priorities, Camille Odeh, from the Coalition of Palestinian Women and Meca Sorentini from the Puerto Rican Socialist Party
Keynote speakers CoC co-chair Manning Marable. Illinois CoC co-chairs Sandy Patrinos and Mildred Williamson presented the awards. Maggie Brown sang songs, some written by her father Oscar Brown.[9]
DSA/CoC meeting
Illinois State Senator Jesus Garcia and Bernice Bild from the Committee for New Priorities addressed a joint Chicago DSA / Illinois Committee of Correspondence forum on the 1998 elections. Senator Garcia gave a technical, electoral perspective on the outcome. Bernice Bild provided a look at the outcome from more of a policy perspective.[10]
Immigration activism
On August 31, 1996, several Illinois Latino political leaders including State Senators Miguel del Valle, Jesus Garcia, and Congressman Luis Gutierrez and Alderman Rick Munoz held a press conference in Chicago to condemn, what they determined was "bad faith" on the part of the INS, over immigration raids, and citizenship applications.[11]
2000 Chicago PWW banquet
The 2000 banquet, held October 28 at the House of Fortune restaurant featured Congressman Danny Davis as guest speaker.
Local honorees were;
A special award went to Evelina Alarcon, co-ordinator to the Cesar E. Chavez Holiday Campaign.
Lance Cohn was a banquet organizer.[12]
Woods Fund of Chicago
Jesus Garcia served on the Board of the Woods Fund of Chicago from 2004 - 2010. He was serving on the Board as at Feb. 18, 2010.[13] The Fund was established in 1941 and is a private philanthropic foundation that makes grants in metropolitan Chicago, Illinois. Woods Fund "supports nonprofits in their important roles of engaging people in civic life, addressing the causes of poverty and other challenges facing the region, promoting more effective public policies, reducing racism and other barriers to equal opportunity, and building a sense of community and common ground".[14]
Honoring Frank Wilkinson
Chicago Committee to Defend the Bill of Rights organized a "Celebration of the The Dynamic Life of Frank Wilkinson (1914-2006)" on Sunday October 29, 2006. Wilkinson had been a leader of the Communist Party USA, the New American Movement and Democratic Socialists of America[15].
Honoring Committee members included Jesus Garcia.
Lozano tribute
About 250 family, friends, colleagues and inspired young activists who gathered at the University of Illinois at Chicago June 2008, 25 years after Rudy Lozano's murder at age 31, to celebrate his short but influential life.
Several speakers, including former state senator Jesus Garcia and Ald. Ricardo Munoz (22nd), credited Lozano with fighting for improved education, labor reform and minority representation in city government. Many said he was a crucial ambassador in forging a relationship between Latino and black voters that helped elect Harold Washington as the city's first black mayor in 1983. [16]
2009 Cook County Commissioner campaign

On November 3, 2009, Jesus Garcia announced his candidacy as a Cook County Commissioner for the 7th District to usher in a new era of reform, accountability, transparency and efficiency in government for the benefit of working people. His campaign theme: Clean it up, make it work.
His running mate was Communist Party USA affiliate Rudy Lozano, Jr., for State Rep. in the 21st District.
Garcia won his race, Lozano narrowly lost.
Communist Party ties
In a report of the Communist Party USA's Mexican American Equality Commission, prepared as part of the discussion leading up to the Communist Party USA's 29th National Convention May 21-23, 2010, the Commission wrote of several electoral victories, of people obviously associated with the party;[17]
Mexican Americans are a necessary force in the struggle to breakthrough the right wing obstructionism and counteroffensive and win progressive changes in health care, jobs and income, immigration, civil rights, labor rights and a more reasonable foreign policy in on going electoral struggles and the coming elections.. Mexican Americans are strong supporters of the Obama administration's efforts to move away from the right wing policies of the past and to move for progressive reform as evidenced by the 76% approval rating of California Latinos for Obama, in the January 2010 poll by the California Public Policy Institute. These developments are reflected in the strong races of Rudy Lozano for Illinois legislature, Rick Nagin for the Cleveland City Council and the big victory of Jesus "Chuy" Garcia as Cook County Commissioner in Illinois and Ana Rizo as Mayor of Maywood one of the cities of greatest immigrant concentration in Los Angeles County.
Endorsements
The following individuals and organizations endorsed Garcia in his 2010 run for Cook County Commissioner for the 7th District:[18]
AFSCME Council 31
Americans For Democratic Action, Northeastern Illinois Chapter
Coalition of Black Trade Unionists, Chicago
22nd Ward Independent Political Organization
United Auto Workers, Chicago Area CAP
United Electrical Workers, Western Region
Congressman Luis Gutierrez
Congressman Danny K. Davis
Congressman Mike Quigley
Congresswoman Jan Schakowsky
Miguel del Valle, Chicago City Clerk
Frank Avila, Sr., Metropolitan Water Reclamation District Commissioner
Debra Shore, Metropolitan Water Reclamation District Commissioner
Forrest Claypool, Cook County Commissioner
Larry Suffredin, Cook County Commissioner
Chicago Sun-Times
Chicago Tribune
Democratic Committeepersons and Aldermandic Officials:
Defending the Public, Our Families, and Our Communities
A forum "Defending the Public, Our Families, and Our Communities" was held Saturday, April 9, 2011, Chicago Temple, 77 West Washington, Chicago.
Join progressive leaders and activists to discuss strategies for defending our rights to earn, learn, and live in dignity. In the wake of the all-out attack against workers' rights and against programs that help our communities, it is more important than ever to come together across movements and push to realize a vision of FDR's "Second Bill of Rights." Panelists will discuss a roadmap to fight back and push for progressive priorities including ending wars and militarism; enhancing workers' rights; and developing economic policies that promote jobs and communities instead of corporate profits.
Program:
Emcee: Lori Challinor ­ DuPage Peace Through Justice Coalition
Opening Remarks: Jesus Garcia ­ Cook County Commissioner, 7th District
Panelists:
Keynote: Congressman John Conyers, Jr. (D-MI"Towards a New New Deal: A 21st Century Full Employment Act"[19]
Endorsed Communist Party affiliate's State Rep. run
On June 25, 2011, Communist Party USA affiliate Rudy Lozano, Jr. announced his second bid for State Representative, for the 21st District.[20]
Lozano's listed endorsers were;
External Links
References