Jess Sundin
From KeyWiki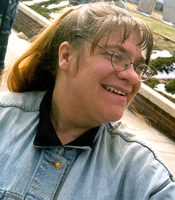 Jessica Sundin is a member of Freedom Road Socialist Organization/FightBack! and an important leader in Minnesota's peace and justice movement[1].
Meeting Raul Reyes
Jess Sundin has met late Colombian revolutionary leader Raul Reyes[2].
I met Comandante Raul Reyes in July 2000, at a guerrilla camp outside of San Vicente del Caguan, Southern Colombia. My visit was the FARC's first from U.S. solidarity activists. At the time, the FARC-EP was in the midst of a dialogue with the Colombian government which took place in the area I visited, an area cleared of all U.S. and Colombian military and police forces, and where the guerrillas operated openly.
After having a taste of life in town, and a visit to the site of the dialogues, we were driven around winding, rutted dirt roads, into the mountains, and to a semi-permanent FARC encampment, where Comandante Reyes was based, along with about 40 other men and women.
He acted as our principal host during my week inside FARC-controlled territory. My first night at camp, he invited us to join him for dinner. After dinner, we shared a few rounds of vodka, and a smoke for those who wanted it. He asked about the political situation in the United States, and how North Americans viewed the struggle in Colombia. Then, the Comandante shared his views, and that of the FARC, on the political situation in Colombia, the significance of the dialogue with the government and the prospects for peace.
Minnesota Coalition for a People's Bailout
Circa September 19, 2009, Jess Sundin signed a petition initiated by the Minnesota Coalition for a People's Bailout entitled, Petition to Demand a People's Bailout which includes the statement, "Tax the rich, make them pay for their crisis!"[3]
September 24, 2010 FBI Raids
On September 24 the F.B.I. raided the homes of twelve leftist activists across the U.S.A. looking for links to foreign terrorist organizations. Sundin was one of those whose home was raided and who is being investigated by the FBI.[4]
References