Jerry Wurf
Jump to navigation
Jump to search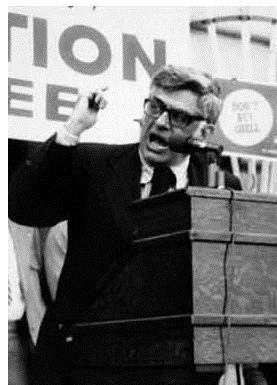 Jerome (Jerry) Wurf (1919-1981).
Cablegram to Portugese Socialists and the M.F.A.
In 1974, after a pro-communist military coup in Portugal;
More than eighty Americans, all identified with opposition to the Vietnamese war and with various radical and liberal causes, sent on August 9 a cablegram to to the Portugese Armed Forces Movement, to Portugese president francisco da Costa Gomes and to portugese socialist leader Mario soares expressing the hope that "democratic freedoms"...will continue to grow in Portugal".
Michael Harrington, the national chairman of the Democratic Socialist Organizing Committee, organized the effort with help from 5 "Initiators" - Lawrence Birns (writer), Sissy Farenthold (past president National Women's Political Caucus), Congressman Michael J. Harrington, Martin Peretz (chairman, editorial board New Republic), Cleveland Robinson (vice president, Distributive Workers of America), Leonard Woodcock (president United Auto Workers, Jerry Wurf (president AFSCME).
Elected officials who signed the cablegram included: Julian Bond, Willie Brown, Jr., John Conyers, Jr., Don Edwards, William Gluba, Edward J. Koch, Parren J. Mitchell, Henry S. Reuss, Benjamin S. Rosenthal and Louis Stokes.[1]
DSOC "Initiator"
According to the December 29, 1979, issue of Information Digest, the "initiators" of the Democratic Socialist Organizing Committee (forerunner of Democratic Socialists of America) , formed in 1973 as a result of a split within the Socialist Party USA, largely over the issue of cooperation with communists, included Julian Bond, Heather Booth, John Conyers, Ronald Dellums, Douglas Fraser, Joyce Miller, William Winpisinger, and Jerry Wurf.
Democratic Agenda
More than 1,200 people attended the Democratic Socialist Organizing Committee initiated Democratic Agenda Conference held November 16-18, 1979, at the International Inn and Metropolitan AM Church in Washington 1 DC. The conference focused on "corporate power'; as the key barrier to "economic and political democracy," concepts many Democratic Agenda participants defined as "socialism.'
The Democratic Agenda meetings attempted to develop anti-corporate alternatives" through influencing the direction of the Democratic Party during the period leading to the July 1980 Democratic National Convention in New York.
Saturday speakers included Jerry Wurf, president of AFSCME; Hilda Mason, D.C. City Council/D.C. Statehood Party, Ruth Messinger, New York City Council, and Paul Sedillo.[2]
Democratic Agenda/Socialist Caucus
For groups and organizations seeking radical social change within the Democratic Party, the National Convention of 1980 had at least one historic first - formation of a Socialist Caucus of delegates. Organized by the Democratic Socialist Organizing Committee and by the Democratic Agenda which was DSOC's cadre and supporters within the Democratic Party and was based in DSOC' s New York office and at 1730 M Street, NW, Washington, DC. Some 31 delegates and alternates from twelve states and Democrats Abroad attended the Socialist Caucus.
As a preliminary to the convention's Socialist Caucus meeting, , indeed as a "building event" and as a continued show of support for Senator Edward Kennedy (D-MA), the Democratic Agenda sponsored a convention rally at New York's Town Hall. The speakers included Herman Badillo, Julian Bond, Fran Bennick, Harry Britt, Cesar Chavez, Rep. John Conyers (D-MI}, Douglas Fraser, Murray Finley, Michael Harrington, Terry Herndon, Ruth Jordan, Ruth Messinger, Eleanor Smeal, Gloria Steinem and William Winpisinger.
DSOC works within the Democratic Party, said Harrington, because of the party's relationships with organized workers, blacks, feminists, environmentalists and other "progressive groups."
The Socialist Caucus circulated a list of convention delegates who were caucus members, including;[3]
References