Jeff Jones
Jump to navigation
Jump to search
Template:TOCnestleft Jeffrey Carl Jones (born Feb. 23, 1947 in Philadelphia, Pensylvannia) is a New York State based environmental activist. Jones, who is acknowledged as being one of the Weather Underground Organization leaders, was arrested during the WUO "Days of Rage" riots in October, 1969. Jones submerged into the WUO underground in early 1970 and continued to function therein.
Radicalization
Jeff Jones went to his first rally against the Vietnam War in 1965. Within a year, he had quit Antioch College to become a fulltime organizer for Students for a Democratic Society.
In 1966 he traveled to Cambodia to meet with high-level leaders of the National Liberation Front. In 1967 and 1968 he served as SDS Regional Organizer for New York City. In 1969, he was elected, along with Bill Ayers and Mark Rudd, to SDS national office[1].
Foreign Travel
In November, 1967 the North Vietnamese Embassy in Phnom Penh, Cambodia requested reservations for the following personso n the November 24th flight of the International Control Commission's flight to Hanoi, North Vietnam: Cathy Wilkinson, Karen Koonan, Jeff Jones and Steve Halliwell.
Note: some words in the text that follows were obscured and unreadable.
Jeffrey Jones, Inter-organizational secretary of Students for a Democratic Society was determined to have been in telephone conversation with a party by the name of Karen from Havana, Cuba. Karen apparently wanted the SDS to know a true story of a Black Panther Party member who denounced Cuba in the newspaper. Apparently Karen tried to impress the fact that this individual who denounced Cuba was a black -------- and that never indicated membership in the Black Panther Party until -------.
SDS Activism
Note: some words in the text that follows were obscured and unreadable.
On June 27, 1969 it was learned that Jones had given a press interview to Radio Havana. In this discourse, Jones discussed the SDS' expulsion of the Progressive Labor Party from the organization and indicated that SDS was now working for national liberation --- the United Front Against Fascism. Jones talked about the demonstrations being planned in conjunction with the "Chicago 8" trial during September, 1969. Jones stated SDS is continuing its program of opposition to the war in Vietnam and continues to ask for the recognition of the Vietnamese government. Jones closed the interview by wishing well to the people of Cuba.
...Jones spoke to students of Western Illinois University in the free speech area of the campus. He spoke of an SDS demonstration called National Action to be held in Chicago, Illinois on October 8 through 11, 1969. Jones stated that this demonstration was expected to spotlight the goals and aims of SDS in the U.S. Jones spoke of an International Industrial conference to be held in San Francisco, California some time in the future and that plans were being made by SDS to disrupt this conference. Joens stated that the Japanese equivalent of the SDS was going to try to prevent the plane carrying the Japanese delegation from leaving Japan. In the event the Japanese equivalent of the SDS failed, an attempt will be made in San Francisco to prevent the plane from landing. In his speech, Jones stated that SDS is attempting to recruit 600 individuals to go to Cuba and to help harvest the sugar crop. Jones stated that he had been to Cuba and that the country is in sad financial straits.
Weathermen Flint "War Council"
December 27-31, 1969, about 400 of the national membership of the Weatherman faction of Students for a Democratic Society held a "War Council" at a ballroom dancehall in Flint, Michigan. Posters of a giant cardboard machinegun, Ho Chi Minh, Che Guevera, and Fidel Castro hung everywhere.
Among the attendees of the "War Council in Flint" identified by the Flint police department and/or its informant were: Michael Avey, Karen Ashley, Bill Ayers, Edward Benedict, Margaret Bennett, Douglas Bernhardt, Jeff Blum, Harvey Blume, David Chase, Peter Clapp, Judy Clark, Bernardine Dohrn, Diane Donghi, Linda Evans, Brian Flannigan, David Flatley, John Fuerst, Lynn Ray Garvin, Bert Garskof, Michele Garskoff, Mark Glasser, Theodore Gold, Lenny Handlesman, Ann Hathaway, Karen Hardiman, Daniel Hardy, Tom Hayden, Phoebe Hirsch, Arthur Hochberg, Anne Hodges, John J. J. Jacobs, Jeff Jones, Sam Karp, David Klafter, Dianne Kohn, Peter Kuttner, Bradford Lang, Stephen Lang, Karen Latimer, Jonathan Lerner, Naomi Lev, Bradford Long, Alan Maki, Eric Mann, Howard Machtinger, Carol McDermott, L.R. Meadows, Lisa Meisel, Jeff Melish, James Mellen, David Millstone, Russell Neufeld, Diana Oughton, John Pilkington, Edward Purtz, Jonah Raskin, Natalie Rosenstein, Dennis Roskamp, Mark Rudd, Karen Selin, Mark Shapiro, Janet Snider, Mike Spiegel, Jane Spiegelman, Marsha Steinberg, David Sole, Susan Stern, Clayton Van Lydegraf, Cathy Wilkerson and Mary Wozniak[2].
Jeff Jones drove to the meeting in a blue Volvo with Maryland plates (owned by Jeffrey David Blum) with Mark Rudd, Howard Machtinger and John Jacobs aboard.[3]
Weather Underground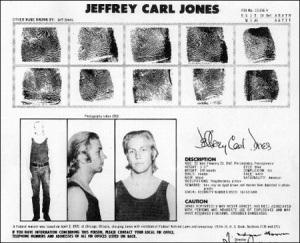 In the spring of 1970, Jones disappeared. As a leader of the Weather Underground, Jeff Jones evaded an intense FBI manhunt for more than a decade. In 1981, they finally got him. Twenty special agents battered down the door of the Bronx apartment where he was living with his wife and four-year-old son.
Praire Fire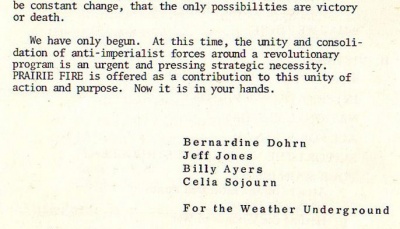 68/86 - Student Activism in the 60s and 80s - Columbia University 1986
"Panel discussion featuring '60s Student leaders
Wollman Auditorium, Columbia University
Sponsored by Columbia National Lawyers Guild and Barnard-Columbia Democratic Socialists of America
Source: Notice in the Guardian Calendar, issue of November 5, 1986, p. 10
Movement for a Democratic Society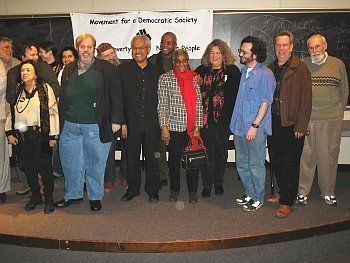 On February 17, 2007, the Movement for a Democratic Society held a well attended conferenceat New York City's New School University[4].
The event was held in the Graduate Center, 65 Fifth Avenue, and about 100 participants were in attendance. The meeting featured several speakers who are well known figures on the U.S. Left and an agenda that centered around electing a board of directors for MDS, Incorporated – the non-profit arm of MDS that was founded last August in Chicago, at the national Students for a Democratic Society convention.
Manning Marable was elected as Chair of the new Board.
The new board, elected by acclamation, included: Mark Rudd, David Graeber, Judith Malina, Jesse Zearle, Kate Khatib, Roderick Long, Al Haber, Manning Marable, Muhammed Ahmad, Charlene Mitchell, Starhawk, John O'Brien, Barbara Ehrenreich, Gideon Oliver, Jeff Jones and Bert Garskof.
Elected as officers, in addition to Marable as Chair, were three Vice Chairs: Paul Buhle, Judith Malina and Jesse Zearle[5].
Apollo Alliance
From at least 2007[6] to 2009 Jeff Jones was the New York state director of the Apollo Alliance.
According to Apollo's website-now scrubbed;
Jeff Jones campaigned to remove PCBs from the Hudson River, clean up toxic pollution in inner-city and rural neighborhoods and reverse global warming.
Mr. Jones has devoted much of his time to researching and confronting federal and state energy policies that contribute to global warming and catastrophic climate change.
From 1995-2005, he was the Communications Director of Environmental Advocates of New York. Previously, he was a reporter covering state politics and policy for a variety of news organizations.
In 2006, he represented the state Apollo Alliance on the governor's Energy and Environmental Transition Task Force. He serves on the boards of directors of several organizations, including the Healthy Schools Network, the Mohawk Hudson Land Conservancy and West Harlem Environmental Action (WeAct for Environmental Justice).
References