Jean Hardisty
From KeyWiki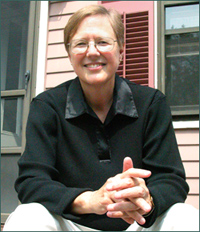 Jean V. Hardisty is the Founder and President Emerita of Political Research Associates, a Boston-based research center that analyzes right wing, authoritarian, and "anti-democratic trends" and publishes educational materials for the general public. A political scientist with a Ph.D. from Northwestern University, she left academia after eight years of teaching and researching conservative political thought to establish PRA in response to the emergence of the New Right in 1981. After 23 years, she retired from PRA in 2004 and is now a Senior Scholar at the Wellesley Centers for Research on Women at Wellesley College.[1]
Crossroads Fund founders
Founders of the Chicago based Crossroads Fund were[2];
Board members
Crossroads Fund board members circa 1981[3];
Activism
Dr. Hardisty is a widely published author and has been an activist for social justice issues, especially women's rights and civil rights, for over thirty years. She currently serves on the Board of Directors of the Center for Community Change, the Highlander Education and Research Center, and the Women's Community Cancer Project. Her book, Mobilizing Resentment: Conservative Resurgence from the John Birch Society to the Promise Keepers, was published by Beacon Press in October 1999 and is now available in paperback.[4]
WREE contact
Jean Hardisty, of Chicago, was on a May 2, 1985 mailing list for Chicago Women for Racial and Economic Equality - a front for the Communist Party USA.[5]
DSA Feminist Commission
In 1985 and 1986,[6] Jean Hardisty of Illinois was listed as a member of the Feminist Commission of the Democratic Socialists of America.[7]
Writing
Deepak Bhargava has written on "progressive" issues for a range of publications including The New York Times, The Washington Post, The Nation, and The American Prospect. His "groundbreaking article" co-authored with Jean Hardisty, "Wrong About the Right," influenced how many progressives think about the "strategies necessary to achieve lasting social change".[8]
Tribute to Golub and Montgomery
ON November 16, 1989, Jean Hardisty served on the Tribute Committee for the Chicago Committee to Defend the Bill of Rights Tribute to Leon Golub and Lucy Montgomery, held at the Congress Hotel, Chicago.[9]
DataCenter Donor
In 2007 Jean Hardisty was listed on the DataCenter's annual report as a donor to the organization. The Oakland, California based DataCenter is widely regarded as the intellegence wing of the United States Left and has close ties to Cuba.[10]
References