James Rucker
Jump to navigation
Jump to search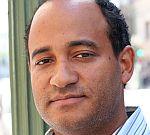 Template:TOCnestleft James Rucker is executive director of ColorOfChange.org Founded in the wake of Katrina, ColorOfChange.org is the leading online citizen lobby for African-Americans and their allies. Formerly, Rucker was director of grassroots mobilization at MoveOn.org.[1]
Stanford
James Rucker (B.S., 1991, Stanford University), co-founder, with Van Jones, of Color Of Change.
In 1988 James Rucker was photo editor of the Stanford Daily.
Activist history
James Rucker is the executive director of ColorOfChange.org, an online citizens' lobby of over 500,000 dedicated to "amplifying the political voice of Black America". He also serves as co-director of the Citizen Engagement Laboratory, an "incubator for new online organizing projects based on the model of ColorOfChange, largely focused on empowering currently underserved identity and issue based communities".
Prior to ColorOfChange, James Rucker served as Director of Grassroots Mobilization for MoveOn.org, where he played a lead role in technology and organizing strategy. He is also co-founder of Secretary of State Project, an "effort to elect progressive Secretaries of State at the state level", and Video the Vote, a citizen-journalism project that enables everyday people to serve as the eyes and ears for the public on Election Day.[2]
"A letter from the movement to the movement'
In September 2019 James Rucker was one of 100 black leaders, many affiliated with Liberation Road who signed A letter from the movement to the movement defending Maurice Moe Mitchell and Nelini Stamp of the Working Families Party for endorsing Elizabeth Warren instead of Bernie Sanders for the Democratic Party presidential nomination.
America's Future Now! 2010
SURJ Accountability Council
The Accountability Council is designed to engage leaders of color who offer feedback and counsel on SURJ's strategy, organizing and political direction.
Showing Up for Racial Justice Accountability Council as of 2015;[3]
References