James Cone
From KeyWiki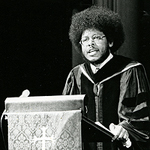 James H. Cone is a contributing editor of Sojourners.[1]
"White man is the Devil"
1969 book Black Theology and Black Power Cone announced: "The time has come for white America to be silent and listen to black people. . . . All white men are responsible for white oppression. . . . Theologically, Malcolm X was not far wrong when he called the white man 'the devil.'. . . Any advice from whites to blacks on how to deal with white oppression is automatically under suspicion as a clever device to further enslavement." Contending that the structures of a still-racist society need to be dismantled, Cone is impatient with claims that the race situation in America has improved. In a 2004 essay he wrote, "Black suffering is getting worse, not better. . . . White supremacy is so clever and evasive that we can hardly name it. It claims not to exist, even though black people are dying daily from its poison" (in Living Stones in the Household of God)."
Conference
DSA pamphlet
In 1990, Democratic Socialists of America was selling a list of pamphlets, mainly by members, including "The Black Church and Marxism", by James Cone[2]
Malcolm X conference
A conference, Malcolm X: Radical Tradition and a Legacy of Struggle was held in New York City, November 14 1990.
The panel "New Research on Malcolm X" consisted of;
Chairperson:
Panel:
William Sales, Seton Hall University, author of Southern Africa: Same Struggle, Same Fight
Bell Hooks, Oberlin College, author of Yearning: Critiques of Race, Gender, and Class
James Cone, Union theological Seminary, author of Martin and Malcolm: American Dream or Nightmare?
Black Liberation Theology
According to National rRview commentator Stanley Kurtz;[3]
James H. Cone, founder and leading light of black-liberation theology, is the Charles A. Briggs Distinguished Professor of Systematic Theology at Union Theological Seminary, New York. Wright acknowledges Cone's work as the basis of Trinity's perspective, and Cone points to Trinity as the church that best exemplifies his message. Cone's 1969 book Black Theology and Black Power is the founding text of black-liberation theology, predating even much of the influential, Marxist-inspired liberation theology that swept Latin America in the 1970s. Cone's work is repeatedly echoed in Wright's sermons and statements. While Wright and Cone differ on some minor issues, Cone's theology is the first and best place to look for the intellectual context within which Wright's views took shape.
The black intellectual's goal, says Cone, is to "aid in the destruction of America as he knows it." Such destruction requires both black anger and white guilt. The black-power theologian's goal is to tell the story of American oppression so powerfully and precisely that white men will "tremble, curse, and go mad, because they will be drenched with the filth of their evil." In the preface to his 1970 book, A Black Theology of Liberation, Wright wrote: "There will be no peace in America until whites begin to hate their whiteness, asking from the depths of their being: 'How can we become black?'"
So what exactly is "black power"? Echoing Malcolm X, Cone defines it as "complete emancipation of black people from white oppression by whatever means black people deem necessary." Open, violent rebellion is very much included in "whatever means"; like the radical anti-colonial theorist Frantz Fanon, on whom he sometimes draws, Cone sees violent rebellion as a transformative expression of the humanity of the oppressed. Drawing on existential theology, Cone defends those who looted during the urban riots of the late 1960s as affirming their "being," rather than simply grasping and destroying. Modifying Descartes, Cone explains the rioters' implicit message as "I rebel, therefore we exist."
External links
References