Jamala Rogers
From KeyWiki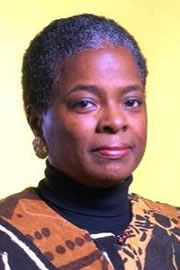 Jamala Rogers is a leading member of the Freedom Road Socialist Organization.
Early life
Jamala Rogers was born Terry Massey in 1950 in Kansas City, Missouri. She graduated from Central High School in 1968[1].
Early activism
An activist at Tarkio College, Rogers was a leader of the black student organization. She tried to join the Kansas City chapter of the Black Panther Party, during the time that its leader, Pete O'Neal, was leaving the country. After earning her B.S. degree in education in 1972, Rogers taught elementary school in her old Kansas neighborhood.
Rogers married ACTION member Percy Green and both became members of Congress of African People under the leadership of Amiri Baraka in the 1970s. There, along with Haki Madhubuti, Kalamu Ya Salaam, Jitu Weusi and others, Rogers practiced a version of Maulana Karenga's black nationalist Kawaida Theory. She was also involved in the African Liberation Support Committee and the National Black Political Assembly.
In 1974, Congress of African People dissolved, and she became a part of the RCL, also under the leadership of Baraka. In 1980, Rogers joined Herbert Daughtry, Conrad Worrill and other black activists to form the Black United Front. The Organization for Black Struggle (OBS) was founded in St. Louis, Missouri in 1980 by Rogers and other community activists, students and union organizers to help the black working class and extol the principles of Black Power. OBS programs include community civic, youth, education and cultural arts activities from the African oriented Rowan Community Center[2].
Recent activism
In 1993, Rogers was appointed director of the City of St. Louis' Office of Youth Development by Mayor Freeman Bosley, Jr. fostered serving until 2001. During this period, Rogers also served as chairperson of the St. Louis Black Leadership Roundtable.
In addition to being chairperson of OBS, Rogers is co-chair of the Coalition Against Police Crimes and Repression and sits on numerous boards of youth and education oriented agencies. Rogers is a prolific contributor to websites and blogs and is also a featured contributing writer for The St. Louis American and an editorial board member of the Black Commentator[3].
Her writing focuses on issues like Hurricane Katrina, the Jenna Six, police brutality and the environment.
FRSO
Jamala Rogers writes a weekly column for the St. Louis American, an award-winning Black newspaper in St. Louis, MO. She is also as of 2009, a member of Freedom Road Socialist Organization[4].
Black Radical Congress
In 1998, Rogers joined with Angela Davis, William Strickland and 20,000 other activists to form the Black Radical Congress (BRC) in Chicago. Rogers has served in a number of leadership capacities with the BRC, including as a coordinating committee member and as national conference coordinator.
In 2000 Jamala Rogers served on the Coordinating Committee of the Black Radical Congress.[5]
In 2006 Jamala Rogers was Executive Director of the Black Radical Congress[6].
Coalition Against Police Crimes and Repression
Members of the Coalition Against Police Crimes and Repression held a press conference in front of St.Louis City Hall June 13, 2006 to call attention what they claim are serious violations to the state's Sunshine Law by the St. Louis Police Board.
Jamala Rogers and John Chasnoff said that the version of a Civilian Review Board reflected in a General Order signed in May by Police Board President Chris Goodson is different from the one presented and approved at the board's April meeting.
The Coalition said these changes are significant, and that they were not made in an open meeting is a violation of Missouri's laws on open government.[7]
Venezuela
In 2007, Rogers was part of a U.S. delegation invited by Presidente Chavez to Caracas for the unveiling of the Dr. Martin Luther bust-Busto Martin Luther King Paselos Insignes. The delegation was organized by Joseph Jordan Director of the Sonja Haynes Stone Center for Black Culture and History (University of North Carolina-Chapel Hill).
I was able to see first hand the efforts of the Bolivarian Revolution, like the land reclamation projects. I was struck by the engagement of the people in their society, many of them carried their dog-eared Venezuelan Constitution in their pockets every day. And why not? They had helped to create it. They were genuinely excited about building futures. The knowledge of African and African American History as well as the Black Liberation Movement by the Venezuelan people was remarkable. We were treated like dignitaries while in the country and were given access to the people and to many of the country's programs like the Comités de Tierra Urbana (Urban Land Committees or CTU).
My comrade, Genevieve Williams Comrie, wrote a great piece for Al-Jazeerah.com about Chavez.[8]
Committees of Correspondence conference
At the 6th National Convention of the Committees of Correspondence for Democracy and Socialism (CCDS) at San Francisco's Whitcomb Hotel July 23-26 2009 a Symposium roundtable[9]conversation on "Building the Left and the Progressive Majority." featured CCDS leader Mildred Williamson, Judith LeBlanc of the Communist Party USA, Joe Schwartz of Democratic Socialists of America, Michael Rubin of Solidarity, Jamala Rogers of Freedom Road Socialist Organization, and Linda Burnham. The panelists discussed the importance of building the left within the current upsurge, working for left unity in struggle against the right, and the tactical issues that arise in uniting the progressive majority.
Black Commentator
As of 2009 Jamala Rogers was listed on the Editorial Board for the Black Commentator.[10]
Political connections
Writing in the St Louis American, March 14, 2013, Freedom Road Socialist Organization member Jamala Rogers, claimed to have a "long relationship with" both Missouri State Senator Jamilah Nasheed and Congressman William Lacy Clay, Jr..[11]
References