Jack Spiegel
Jump to navigation
Jump to search
Template:TOCnestleft Jack D. Spiegel was a Chicago socialist. He died in 2000. He was married to Ruth Spiegel.
Marching with MLK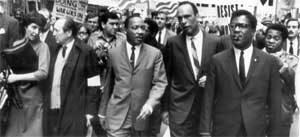 GI Civil Liberties Defense Committee
Circa 1969, Jack Spiegel, Chicago Peace Council , was listed as a sponsor of the Socialist Workers Party led GI Civil Liberties Defense Committee .[1]
Chicago Committee to Defend the Bill of Rights
In 1970, the Board of Directors of the then Communist Party USA front Chicago Committee to Defend the Bill of Rights consisted of Rev. Frederic E. Sau, Harry Barnard, Boris Brail, Edward Carey, Milt Cohen, Ernest DeMaio , Rev.William D. Faw, Richard Galloway, Prof. Charles H. George, Prof. Margaret Y. George, Ben Green, Pearl Hart, Dr. Hyman J. Hirshfield, David C. Jensen, Daniel Kaufman, Rev. S. Hunter Leggitt, Harry Mack, Rev. Daniel J. Malette, Lafayette Marsh, Rev. Francis J. McGrath, Akiro Makino , Ruth Muench, Isadore Pomerantz, Jesse Prosten, Don Rose, Norman Roth, Dr. Boris Rubenstein, Evelyn Salk, Thomas Slater, Walter Soroka, Jack Spiegel, Prof. William Starr, Lynward Stevenson, Edmonia Swanson, Gil Terry, Rev.C. T. Vivian, Otto Wander, Rabbi Burr Yampol, Dr. Quentin Young[2].
Communist Party member
On February 8 and 9, 1975, the Second National Conference in Solidarity with Chile was held at Concordia Teachers College in the Chicago suburb of River Forest. Known Communist Party USA members sponsoring the event included [3]
World Peace Council
In the late 1970s, the Information Centre of the Soviet front World Peace Council, Helsinki Finland, published a booklet naming members of the organization, worldwide.[4]
We publish in this booklet a list of members of the World Peace Council elected at the Council's Session in Warsaw in 1977.
U.S. members listed, included; Jack Spiegel, District President, United Shoe Workers; Co-chairperson, Chicago Peace Council.
Chicago Peace Council
In 1979 Jack Spiegel was co-chair[5]of the Chicago Peace Council with Ronelle Mustin.
Harold Washington for Mayor of Chicago
Circa late 1982, members of the Citizens Committee/Harold Washington for Mayor of Chicago (in formation) included Jack Spiegel.[6]
Ishmael Flory tribute
Illinois Communist Party USA leader Ishmael Flory was honored at Malcolm X College in Chicago, September 29, 1991, by more than 100 guests.
Margaret Burroughs, a board member of the Chicago Park District MCed the event.
"Ishmael Flory is a man for all seasons...He never gives up", said State Senator Alice Palmer.
Alderman Jesus Garcia of Chicago's 22nd ward cited Flory's role in fostering African-American and Latino unity , and in building multi-racial coalitions for social progress.
Prof. Robert Starks of the Free South Africa Movement said "Ishmael has never failed to compliment me on my speeches, but at the same time he has never failed to pull me aside afterwards, too point out how I could have been a little more "progressive."
Tributes came from Communist Party USA chairman Gus Hall and Illinois organizational secretary Mark Almberg.
Other speakers included Crystal Bujol for the Flory family, long time friend Christine Johnson, Jack Spiegel of the Amalgamated Clothing Workers Union, Ronelle Mustin, peace activist Sarah Staggs, Harold Rogers, who brought greetings from Rep. Charles Hayes, Gerry Oliver, and Carl Bloice of the Peoples Weekly World.[7]
CoC National Conference endorser
In 1992 Jack Spiegel, peace activist, Chicago endorsed the Committees of Correspondence national conference Conference on Perspectives for Democracy and Socialism in the 90s held at Berkeley California July 17-19.[8]
Committees of Correspondence
On February 26 1994 a Midwest Regional Meeting of Committees of Correspondence was held at West Lafayette Indiana.
Participants included Jack Spiegel, Chicago, Illinois.[9]
In 1994 Jack Spiegel, Chicago, was listed on a "Membership, Subscription and Mailing List" for the Chicago Committees of Correspondence, an offshoot of the Communist Party USA[10]
In 1995 Jack Spiegel was listed[11] as one of the "CoC members and friends" donating to Committees of Correspondence. He contributed $50.
88th birthday tribute
Chicago Committees of Correspondence held a tribute banquet to 88 year old member Jack Spiegel, on October 3, 19993, with 250 in attendance.
special guest included State Senator Jesus Garcia, Alderman Helen Shiller, Harold Rogers from the Coalition of Black Trade Unionists, Carole Travis from the UAW, Larry Reagan from the Amalgamated Clothing and Textile Workers Union, Bernice Bild from the Coalition for New Priorities, Camille Odeh, from the Coalition of Palestinian Women and Meca Sorrentini from the Puerto Rican Socialist Party
Keynote speakers CoC co-chair Manning Marable. Illinois CoC co-chairs Sandy Patrinos and Mildred Williamson presented the awards. Maggie Brown sang songs, some written by her father Oscar Brown.[12]
References
Template:Reflist Template:Endorsers of the Conference on Perspectives for Democracy and Socialism in the 90s