Jack Sheinkman
From KeyWiki
Jack Sheinkman...
Socialist Debs award
Every year since the mid 1960s the Indiana based Eugene V. Debs Foundation holds Eugene Debs Award Banquet in Terre Haute, to honor an approved social or labor activist. The 1985 honoree, was Jack Sheinkman.[1]
DSA member
In 1986, Jack Sheinkman was a member Democratic Socialists of America.[2]
New Directions conference
In May 1986, Democratic Socialists of America "supported" a New Directions conference in the Washington DC Convention Center. Conference organizer was Jo-Ann Mort of DSA.
The conference, supported by DSA, will bring together activists, analysts and elected officials to develop new directions for the Democratic Party and the broad democratic left.
Initial sponsors of the event included Reps. Charles Hayes and Barney Frank, labor leaders William Winpisinger and Jack Sheinkman (ACTWU), Joyce Miller (ACTWU and CLUW) and Jack Joyce, (Bricklayers), feminist leaders Gloria Steinem and Judy Goldsmith and policy analysts Robert Kuttner, Jeff Faux and Eleanor Holmes Norton.
National Rainbow Coalition 1990 conference
In May 3-6, 1990 the National Rainbow Coalition held a successful conference in Atlanta, attended by over 1,000.
Bernie Demczuk, national labor coordinator of the Rainbow, organized a contingent. Jack Sheinkman, president of the ACTWU, hosted a labor breakfast.
California Assemblywoman Maxine Waters, has been the strongest leader in the California Rainbow, also attended, as did Leslie Cagan, a Rainbow board member.[3]
Socialist International
Led by Bogdan Denitch, DSA's permanent representative to the Socialist International, the Democratic Socialists of America delegation to the October 1990 Socialist International meeting in New York, included DSA Honorary Chair, Cornel West, Pat Belcon, a DSA NPC member, Motl Zelmanowicz, a "DSAer active in the Jewish Labor Bund", Jo-Ann Mort, a DSA NPC member, Jack Sheinkman, president of ACTWU, NYC Commissioner of Finance, Carol O'Cleireacain, Terri Burgess, chair of the DSA youth Section, Skip Roberts, Chair of DSA's Socialist International Committee, welcomed the Council to the United States on behalf of Democratic Socialists of America.[4]
DSA Latin American leaders meeting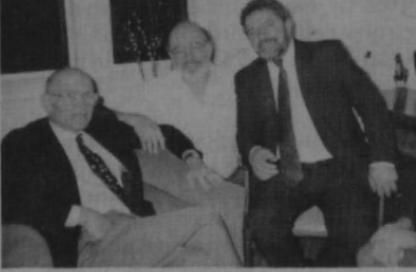 On April 17, 1993 Democratic Socialists of America hosted a reception for an "extremely distinguished delegation of democratic socialist leaders from Latin America". The guests, all of whom would be running for president of their respective countries within the next year, included Ruben Zamora of El Salvador, Cuauhtemoc Cardenas of Mexico, Antonio Navarro Wolff of Colombia, and Luis Ignacio Lula da Silva (Lula) of Brazil.
ACTWU President Jack Sheinkman, DSA NPC member Jose LaLuz and reception host Gene Eisner, participated.[5]
Campaign for America's Future
In 1996 Jack Sheinkman, Americans for Democratic Action President was one of the original 130 founders of Campaign for America's Future.[6]
References