Jack Egan
Jump to navigation
Jump to search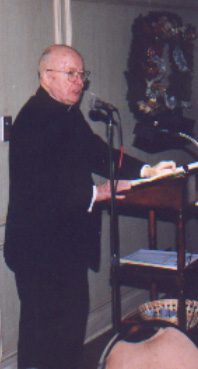 Template:TOCnestleft Monsignor John (Jack) J. Egan (1917-2001) was a socialist Chicago priest, a friend of Saul Alinsky and Studs Terkel.[1]
Early life
Born in New York City in 1916,Jack Egan came to Chicago as a child. After a few years of study at DePaul University, he entered the archdiocesan seminary and was ordained in 1943.
Radicalization
During his seminary years, Egan came under the influence of the legendary Msgr. Reynold Hillenbrand, who transformed seminary education in America. Hillenbrand in turn admired the work of the Belgian priest, Canon (later Cardinal) Joseph Cardijn, founder of the Young Christian Workers and Young Christian Students movements. Egan would serve both as chaplain.
Cardijn personally influenced Egan on Catholic social issues. The other main sources of personal inspiration that shaped Egan were Pat Crowley and Patty Crowley, founders of the Christian Family Movement and "community organizer" Saul Alinsky.
Egan and the Crowleys were products of the Catholic Action movement, brought together through the Pre-Cana and Cana Conferences and Egan's chaplaincy of both.[2]
Young Christian Workers
In the U.S., Cardijn's Young Christian Workers groups started in 1938, introduced by the Australian writer Paul McGuire and a number of social-action-oriented priests, most notably Donald Kanaly, Reynold Hillenbrand, Jack Egan, Louis Putz, and Henri Roy.[3]
Knowing Alinsky
Alinsky, contacted Egan through his friend, Jacques Maritain, the famous French convert and Thomist philosopher, who taught briefly at the University of Chicago.
Alinsky and Egan initiated a friendship that would last until Alinsky's death in 1972.
Alinsky strengthened Egan's resolve.
"Make up your mind, Jack," Alinsky said, "whether you want to be a priest or a bishop. All other decisions will flow from that one."[4]
Office of Urban Affairs
Jack Egan was the archdiocesan director of the Office of Urban Affairs from 1958 until 1969. Under Cardinals Samuel Stritch (1939-1958) and Albert Meyer (1958-1965) his work flourished. But when the autocratic Cardinal John Cody (1965-1982) arrived, Egan's budget dried up. He was assigned to the ailing Presentation Parish on Chicago's Westside.[5]
Alinsky in action
Support for Alinskyian organizing in the Catholic Church was given a boost in 1976. Catholic Bishops sponsored a Three day Call To Action conference in Detroit, Michigan. This conference brought together delegates from across the United States to ratify eight position papers. Saul Alinsky'sorganizers got involved. One position paper recommended that every parish, quote: "Support a competent ecumenical action group with diocesan resources used to train organizational leaders." Other position papers proposed that the church establish priorities for public policy, define major election issues, educate the laity on the moral dimensions of these public issues and implement these goals ecumenically. Still other position papers contained specific challenges to the discipline and doctrine of the Church. In the end, the conference approved such resolutions as the ordination of women, married men, female altar servers, the use of artificial birth control; in other words the first Call to Action conference laid down the agenda which continues to be pushed by today's Call to Action.
Key to these changes was Monsignor Jack Egan of Chicago, a long time friend of Saul Alinsky. Mon. Egan was trained with Alinsky and served on the board the Alinskyian Industrial Workers Foundation. Mon. Egan supported Alinsky's organizing efforts in Chicago. In addition, Mon. Egan served as co-chair to the 1976 Call to Action conference primary sessions, so the Alinskyian process that drove the conference in 1976 was far from accidental. Mon. Egan remained an outspoken supporter of Call to Action and its continued efforts to alter Church teaching until his death in 2001.[6]
Marching in Selma
In 1965, despite his doctor's orders to avoid stress to a damaged heart, Egan responded to the Rev. Dr.Martin Luther King, Jr.'s appeal to members of the clergy to march in Selma, Alabama.[7]
The picture of the two clergymen facing obvious danger inspired other clergy to join the ranks. "It was issues like that which kept me in the priesthood," he would recall years later.[8]
Contract Buyers League
During late 1960s, the Contract Buyers League of Lawndale, was led by Monsignor Jack Egan and a "determined Jesuit seminarian" named Jack Macnamara.[9]
Jack Egan involved religious cohorts from the Interreligious Council on Urban Affairs in both the contract buyers dispute and in appeals to local groups to accept neighborhood integration. "I can't believe the courage it took for you, an urban priest, a member of the establishment, to go into churches where people were terrified of losing their homes and preach integration," Rabbi Robert Marx told Jack Egan over dinner one evening at Marx's home. "I remember you and me and Edgar Chandler [Church Federation of Greater Chicago] spending countless evenings going as a team into churches, mostly Catholic, and telling them how life could be beautiful in a society where all people were equal. You took the lead in doing that."
Rabbi Marx, Jack Egan's loyal IRCUA ally, remembers first meeting Monsignor Egan at an IRCUA session shortly after Marx arrived in Chicago in 1962 as the head of the Union of American Hebrew Congregations. "There was this dynamic Catholic priest—bald even in those days—talking about community organizations." As a result of Jack Egan's work, Rabbi Marx "got into something which was to change my life directly." When Saul Alinsky called the attention of the Merrill Trust to the fine work Rabbi Marx was doing in The Woodlawn Organization, a vice president of the trust came to Marx's door with free good-doing grant money for the rabbi.
"Midas Muffler" man
John McKnight arranged the dinner meeting when Monsignor Jack Egan met Gordon Sherman of Midas Mufflers.
Jack was "so bushed"—his phrase—he didn't know whom he was supposed to be meeting. "I was tired. I just wanted to get out of there and get home." Then John McKnight, beckoned him across the nearly empty dining room. "Well, what is it you want of me?" Father Egan abruptly and uncharacteristically challenged the president of Midas Muffler when he was introduced. Gordon Sherman told Jack Egan he was the fourteenth person he'd talked to about putting a quarter of a million where it would do the most good for the people of the city. "Jack's mind immediately cleared. Two hundred and fifty thousand dollars! He had an immediate graphic vision of the Lawndale community organized, his people taught to take charge of their own lives, the very vision that had taken him that day to rouse the young Jesuit seminarians". He told Sherman how much he'd like to see Lawndale organized the way Woodlawn was, the work directed by Saul Alinsky. Now Sherman came to attention. "Do you know Saul Alinsky?" Sherman asked eagerly. "He's a dear friend of mine," Jack said.
Jack Egan intended that Alinsky should flesh out Jack Egan's aspirations for the people of Lawndale. He never dreamed that Alinsky would flesh out his own dreams, persuading Gordon Sherman that putting his quarter million in a training institute for community organizers was more desirable than funding a community organization in Lawndale. Egan's sop was the promise—never fulfilled—that he would get the first four black organizers. Initially furious, Jack "felt betrayed, I felt double-crossed." Egan soon forgave Alinsky because he loved the man. He even brought himself to suggest later that, "I knew Saul was right . . . because Alinsky had no black organizers to put in Lawndale. And that was 1969—months after King's death."[10]
CCHD
Jack Egan helped establish the Catholic Campaign for Human Development, which funded ACORN, Gamaliel, and the Industrial Areas Foundation, established by Alinsky. Egan sat on the IAF board.
Later career
In 1970, Holy Cross Fr. Theodore Hesburgh, president of the University of Notre Dame, invited Egan to South Bend, Indiana., where he served as an assistant to the president and director of the Institute for Pastoral and Social Ministry. When Cardinal Joseph Bernardin (1982-1996) was named archbishop, he asked Egan to return to Chicago. Egan served as director of the Office of Ecumenism and Human Relations until 1986. At 70, he retired from that office and went to DePaul to work on urban issues.
Egan served for two terms on the National Catholic Reporter board of directors, and was on numerous other boards until age and infirmity forced his retirement.[11]
Chicago Center for US/USSR Relations and Exchanges
As at May 13, 1988, John J. Egan, Director of Human Relations and Ecumenism, Archdiocese of Chicago served on the Board of Directors of the Chicago Center for US/USSR Relations and Exchanges.[12]
Tribute to Golub and Montgomery
On November 16, 1989, John J. Egan served on the Tribute Committee for the Chicago Committee to Defend the Bill of Rights Tribute to Leon Golub and Lucy Montgomery, held at the Congress Hotel, Chicago.[13]
Arise Chicago
Arise Chicago, formerly Chicago Interfaith Committee on Worker Issues, was founded by Monsignor Jack Egan, Rabbi Robert Marx, United Methodist Bishop Jesse DeWitt and Kim Bobo in 1991.[14]
With knowledge that the basic tenets of all faith traditions support the rights of workers, Arise Chicago organizes the religious community to bring about just resolutions to workplace injustice.
When workers wish to form a union, they are often met with intimidation and harassment. Arise Chicago organizes religious leaders through its Faith and Labor Solidarity program to support workers seeking unionization.
Interfaith Worker Justice
Interfaith Worker Justice was founded in 1996 with the mission of "engaging the religious community in low-wage worker campaigns and rebuilding partnerships with the labor movement."
Kim Bobo, IWJ Executive Director, founded the organization using her bedroom as an office and a $5,000 bequest left to her by her grandmother as the initial budget. Despite these humble origins, she had mighty helpers as part of her original Board of Directors. This founding group included Rabbi Robert Marx, Bishop Jesse DeWitt, Monsignor George Higgins, Monsignor Jack Egan, Rev. James Lawson, Rev. Joseph Lowery, Rev. Michael Rouse, Rev. Addie Wyatt, Rev. Dr. Paul Sherry, Bishop Howard J. Hubbard, Monsignor Phil Murnion, Rev. Wayne Stumme, Bishop James Malone, Sr. Nancy Sylvester, Rev. Jim Sessions, Ms. Evely Laser-Shlensky, Mr. Thomas Shellabarger and Mr. J. Chris Sanders.
In just eleven years, IWJ has organized a national network of more than 70 interfaith committees, workers' centers and student groups, making it the leading national organization working to strengthen the religious community's involvement in issues of workplace justice.[15]
References