Ira Grupper
Jump to navigation
Jump to search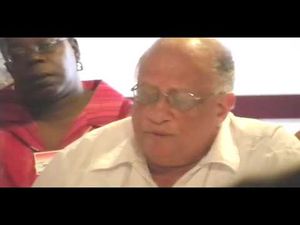 Template:TOCnestleft Ira Grupper is a Kentucky activist.
Background
Grupper first got involved in the "Movement" in the New York City housing project in which he lived, around 1959. Active in rent strikes, anti-racist activities, NYC school boycott (first arrest), and in support of the work in the South.
Hired by Ruby Doris Smith (Robinson) to work with SNCC in Atlanta. Then moved to Hattiesburg MS and, later, Columbia MS. Returned to NY, and became a union organizer, among other things.
Moved to Louisville to work with Carl Braden and Anne Braden on the staff of Southern Conference Educational Fund. Has been in Louisville ever since.[1]
Cuba
This chant meaning "Yes to Cuba!" "No to the blockade!" continuously broke out from the audience in support of the Cuban and guest speakers at the Anti-Imperialist Solidarity Conference for Democracy and Against Neo-Liberalism held in Havana between November 1st and 3rd 2019 that was attended by CCDS members Ira Grupper of Louisville, KY and Arn Kawano of the San Francisco Bay Area, CA. 1,332 representatives of 789 organizations, political parties, religious groups and intellectuals from 86 countries gathered to discuss ways to build international solidarity to oppose the illegal and immoral blockade by the US against Cuba, the longest against any country, and other acts of US imperialism and US support of neoliberal regimes in developing nations.
The closing session was attended by Army General Raul Castro, First Secretary of the Communist Party of Cuba, Cuban President Miguel Díaz-Canel and Venezuelan President Nicolas Maduro and the two presidents addressed the gathering. First President Maduro described the revival of the pink tide resistance to neoliberal governments throughout Latin America and decried the US-backed coup developing in Bolivia against its indigenous leader, President Evo Morales. President Díaz-Canel expressed gratitude to those in attendance for their solidarity with Cuba. In his speech, President Díaz-Canel said that "Cuba is the best demonstration of how much solidarity of people's can do." He then went on to give examples of Cuba's solidarity with progressive and developing countries. But that simple sentence describes the reason the US government is using the overt blockade and covert subversive measures to overthrow the Cuban socialist government.
The conference ended in the spirit of another chant often heard during the conference: "El pueblo unido, jamás será vencido!" "The people united will never be defeated!"[2]
Disability activism
In the 1970's Grupper was among the first group of disabled complainants in the United States to win a handicap employment discrimination complaint under the Rehabilitation Act of 1973, the predecessor to the ADA, the Americans With Disabilities Act.[3]
Activism
Former Vice-Chair of the Louisville & Jefferson County Human Relations Commission.
Grupper has been to the Middle East four times, once for 6 months, based in Jerusalem, spending time in the West Bank, Gaza Strip and Amman, Jordan. Currently: write a monthly newspaper column, and am active in the Kentucky Alliance Against Racist and Political Repression, Metro Disabilities Coalition, and the Committees of Correspondence for Democracy and Socialism.[4]
Grupper worked on a factory assembly line, from 1975 thru 1999. He was a union shop steward for 21 years, and represented his union on the Greater Louisville (Kentucky) Central Labor Council for eight years.[5]
New Jewish Agenda
Ira Grupper was the National Co-chair of New Jewish Agenda.[6]
People's Progressive Convention
In 1992, a "call" went out to leftist radicals and communist revolutionaries of various orientations to hold a national People's Progressive Convention in Ypsilanti, Michigan, August 21-23, 1992.
Endorsers included Ira Grupper - New Jewish Agenda.
1993 NCIPA National Steering Committee
As of Spring 1993, the National Committee for Independent Political Action Steering Committee included Ira Grupper.
The Ragged Edge
In the late 1990s The Advocado Press Inc. of louisville Kentucky produced a "diasabilities rights' magazine called "The Ragged Edge: The Disability Experience in America", edited by Mary Johnson. According to the Sept/Oct 1997 issue, the Advocado officers were; [7]
Committees of Correspondence
On February 26 1994 a Midwest Regional Meeting of Committees of Correspondence was held at West Lafayette Indiana.
Participants included Ira Grupper Louisville Kentucky.[8]
In 2006 members of the Committees of Correspondence for Democracy and Socialism National Coordinating Committee were[9];
Marilyn Albert, Mael Apollon, Carl Bloice, Barbara Blong, Barry Cohen, David Cohen, Otis Cunningham, Carl Davidson, Mort Frank, Todd Freeberg, Pat Fry, Marian Gordon, Ira Grupper, June Hemmingson, Ed Hemmingson, Fred Hicks, Duncan McFarland, Anne Mitchell, Maxine Orris, Ted Pearson, Gina Pesulima-Palencar, Edith Pollach, Marty Price, Merle Ratner, Jay Schaffner, Jae Scharlin, Mike Stein, Harry Targ, Walter Teague, Meta Van Sickle, Steve Willett and Mildred Williamson.
CCDS meeting
A Midwest Regional Meeting, of the Committees of Correspondence For Democracy and Socialism, was convened at Wesley Foundation, Indiana, November 13 2004.
Agenda:Reports and Discussion on CCDS activities and our role in 2004 election
New forms of struggle and organization were created in the movement to defeat Bush--how can we sustain them?
What are the most urgent foreign policy questions to be addressed now?
What are the strategic roles of the labor movement, youth movements, and racially and nationally oppressed communities?
What is effective organizing and what is not?
Speakers included:
Norm Childress,Indiana labor leader Mildred Williamson, Illinois Health Care Professional Ira Grupper, Kentucky Middle East Solidarity activist Carl Davidson, Illinois Peace and Justice Voter 2004 Marilyn Albert, Socialist Education Project (CCDS) Attieno Davis, CCDS National Office.[10]
Committees of Correspondence NCC
July 25 2009 Ira Grupper, Kentucky, was a candidate[11]for the Committees of Correspondence National Co-ordinating Committee at CCDS national conference in San Francisco-elected.
Grupper was chair of the CCDS Labor Committee.[12]
2013 CCDS National Coordinating Committee
Ira Grupper, Kentucky was elected in 2013 to the Committees of Correspondence for Democracy and Socialism National Coordinating Committee;[13]
Gaza
In late December 2009, Stephon Barbour, Ira Grupper, Ibrahim Imam and Sharon Wallace (all of Louisville), Russ Greenleaf (of New Albany) and Mateo Bernal (of New York City, previously from Louisville), were among the 1,300 Gaza Freedom Marchers who persisted tirelessly and nonviolently in an attempt to get into Gaza and march in solidarity with the victims of Israel's January 2009 bloody siege.
But under pressure from Israel, the Egyptian government refused to let us in. Despite our many appeals to the U.S. Embassy in Cairo, we were told that our own government is supporting Israel's blockade.[14]
Vietnam
Ira Grupper spent two weeks in Vietnam during January, 2009, where he visited Hanoi, Ho Chi Minh City and elsewhere. Under the auspices of the Committees of Correspondence for Democracy and Socialism, and the Vietnam Women's Union, Ira went there to observe economic development, the status of human rights, and how Vietnam is coping with the millions of victims of US bombings and Agent Orange. [15]
Havana conference
Grupper wrote a paper for delivery at an international conference in June 2013, at the University of Havana, in Havana, Cuba: The Relationship between the U.S. Labor Movement and the U.S. Civil Rights Movement: Past and Present.[16]
Fred Hicks' Friends and comrades
According to to his friend and "comrade" David Horvath, Committees of Correspondence member Fred Hicks' Louisville activist friends included Carla Wallace, Jan Phillips (a longtime friend and fellow activist), Suzy Post (President of the Kentucky ACLU), Fr. Jim Flynn, Eddie Davis, Black Caucus and Educational Outreach Kentucky Alliance Against Racist and Political Repression, K. A. Owens, Ira Grupper, Gracie Lewis, Barb Williams.[17]
Support for Bernie Sanders
Ira Grupper pledged support for Bernie Sanders through Labor for Bernie, a "nationwide network of labor activists, backing Bernie Sanders' 2016 presidential campaign."
2016 CCDS National Coordinating Committee
Ira Grupper, Kentucky, was elected in 2016 to the Committees of Correspondence for Democracy and Socialism National Coordinating Committee;[18]
GSA Conference" 'Globalization, Race and the New Nationalism'
More than 150 academics specializing in Global Students, as well as a number of political activists, gathered at Howard University June 6-8, 2018 to share papers, research and ideas. The overall theme was 'Globalization, Race and the New Nationalism'. It was the 17th year the GSA has met, and the organization now has about 2000 members in North America and the Caribbean.
A major keynote featured William I. Robinson from the University of California at Santa Barbara, and Jamala Rogers of the Organization for Black Struggle in St. Louis, Mo. Robinson discussed how globalization was bringing new forms of fascism into being, while Rogers presented her new book summarizing the lessons of the Ferguson rebellion.
CCDS organized a workshop entitled 'On Multi-Racial/Multi-National Unity: Theory and Practice,' where Harry Targ, Ira Grupper, Valeria Sinclair Chapman, and Carl Davidson made presentations. Carl Davidson, a founder of the GSA, spoke at the closing plenary, presenting his 'US Six-Party System Thesis 3.0' paper.[19]
CCDS Latin America Task Force
Report to Committees of Correspondence for Democracy and Socialism NCC on the work of the CCDS Latin America Task Force by Pat Fry, 1/13/19
Our Task Force, a sub-committee of the Peace and Solidarity Committee, was established in June amidst a violent coup attempt in Nicaragua - organized by right wing forces tied to U.S. NGOs, elements of the Catholic church, remnants of the contras, and the anti-Ortega leftists MRS now colluding with rightwing members of the U.S. Congress and the CIA. There has been much confusion and unclarity among the left and progressives in the U.S. about these events. It was for this reason that several of us in CCDS felt compelled to do what we could to counter a well-organized social media disinformation campaign.
We issued a statement last month titled, "Challenging US Imperialism in Latin America." It is in part a response to John Bolton's "Troika of Tyranny" speech in which he has called for regime change in Cuba, Venezuela and Nicaragua. Congress passed the NICA act which imposes economic sanctions on the Nica government, similar to the sanctions imposed on Venezuela - in the name of "humanitarianism and democracy."
Our task force meets every six weeks. We invite all to join. Some CCDS members are active in local committees organizing in defense of Venezuelan sovereignty. Duncan McFarland forwarded to us a statement by the Boston Venezuela Solidarity Committee. A committee is soon to be organized by our comrades in Corvallis, Oregon. In NY, a group of activists including myself met this past week and will continue to meet with the aim of getting accurate information out about the situation in Nicaragua. CCDS has been invited to participate in the 40th anniversary of the Sandinista revolution on July 19th.
Members who have attended meetings are Courtney Childs, Arn Kawano, Karl Kramer, Ira Grupper, Harry Targ, Jay D. Jurie, and Pat Fry.[20]
References