In These Times
Jump to navigation
Jump to search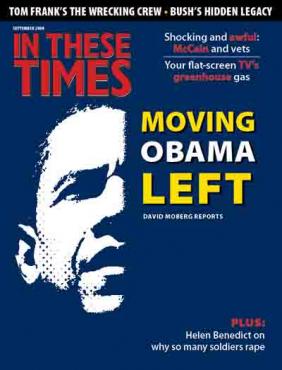 Template:TOCnestleft In These Times is a Chicago based socialist journal. In These Times was founded by members of the New American Movement and the Democratic Socialist Organizing Committee, which merged in 1982 to form DSA.[1]
History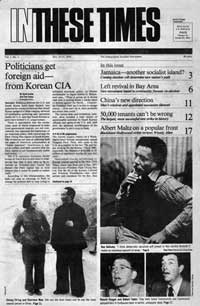 In 1976, author and historian James Weinstein founded In These Times with the mission to "identify and clarify the struggles against corporate power now multiplying in American society."
Weinstein was joined in establishing this independent magazine of news, culture and opinion by noted intellectuals Daniel Ellsberg, E.P. Thompson, Noam Chomsky, Barbara Ehrenreich, Julian Bond and Herbert Marcuse, all of whom were among the original sponsors of the magazine .
Three decades after its founding, In These Times remains committed to covering the controversial issues of our time. Through five presidential administrations, In These Times has adhered to the belief that to thrive, a progressive political movement needs its own media to inform, educate and orient itself.
In These Times has frequently scooped the mainstream media on stories ranging from the first coverage of global warming and extensive investigative reporting on the Iran Contra scandal in the '80s to early in-depth coverage of the genocide in the Sudan in 2004. Such reporting has earned In These Times more Project Censored awards than any other magazine.
"If it weren't for In These Times, I'd be a man without a country." —Kurt Vonnegut
A dedication to independent journalism based on progressive values is one of the primary characteristics separating In These Times from the conventional, corporate and increasingly embedded media. Over the last 28 years, In These Times has distinguished itself by producing high-quality journalism that treats women, communities of color, working people and other groups ignored by the mainstream media as legitimate audiences, sources and subjects for the news. Cheer Up, Blue America
Over the years, In These Times has published the work of a wide range of noted writers, including fiction by Alice Walker and Kurt Vonnegut; reporting by Clinton speechwriter David Kusnet, former New Republic editor Andrew Sullivan, and current Salon Editor-in-Chief Joan Walsh; and political commentary by former presidential candidate George McGovern, environmentalist Sandra Steingraber, the late Democratic Sen. Paul Wellstone of Minnesota, novelists Barbara Kingsolver and Dorothy Allison, and a number of contemporary members of the House of Representatives who contribute to the magazine's "House Call" column.
The late Sen. Paul Wellstone, one of the first subscribers to In These Times, put it this way: "Meaningful democracy cannot survive without the free flow of information, even (or especially) when that information threatens the privileged and the powerful. At a time of growing media concentration, In These Times is an invaluable source of news and information that the corporate media would too often prefer to ignore."
Founding sponsors
1976 founding sponsors were;
New American Movement
In 1981, In These Times congratulated NAM on the occasion of its 10th anniversary.[2]
DSA connections
In 1998 Democratic Socialists of America described In These Times as a DSA-ish publication[3]
DSA-ish Publications
That is, mags which express the range of our politics, from the revolutionary to the left liberal, and including some sympatico Candian and British mags.
In These Times - America's leading independent socialist weekly. Most of the editors are DSAers or DSA-fellow travelers, but unlike the Guardian the coverage is of progressive contemporary politics and not of the activist subculture. Reading ITT gives one a sense that, though the left may not wave a red flag in all its battles, we are out there fighting real battles.
Board and Staff
The following is a list of the board and staff of In These Times as at Dec. 21, 2009:[4]
Senior Editors
Contributing Editors
Editorial interns
Board of Editors
Web interns
Board of Directors
Publishing Consortium
References