Heather McGhee
From KeyWiki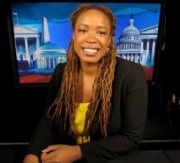 Heather C. McGhee is Director of Demos' Washington office,where develops and executes strategy for increasing the organization's impact on federal policy debates in Washington. Previously, she was the Deputy Policy Director, Domestic and Economic Policy, for the John Edwards for President 2008 campaign, and a Program Associate in Demos' Economic Opportunity Program.
Her writing and research on debt, financial services regulation, retirement and inequality have appeared in numerous outlets, including the Wall Street Journal, USA Today, the Detroit Free-Press and CNN. She is the co-author of a chapter on retirement insecurity in the book Inequality Matters: The Growing Economic Divide in America and its Poisonous Consequences (New Press, 2005).[1]
Education
McGhee holds a B.A. in American Studies from Yale University and a J.D. from the University of California at Berkeley School of Law.[2]
America's Future Now!
Heather McGhee was one of the 148 speakers who addressed the 2010 America's Future Now Conference.[3]
Americans for Financial Reform
McGhee served as the Chair of the Systemic Risk and Resolution Authority Policy Task Force for Americans for Financial Reform during the Dodd-Frank legislative debate.[4]
Fight Back Teach In

Fight Back Teach In held in New York City, a national teach-in on austerity, debt and corporate greed featuring Frances Fox Piven, Richard Trumka, and Cornel West on April 5, 2011
The following were featured speakers for the Teach In:[5]
RT broadcast
The Russia Today Moscow-funded propaganda channel, aired a special program on Tuesday February 22, 2012, on how progressives in the U.S. can "Take Back the American Dream" by defeating Republicans. The propaganda effort was broadcast throughout the United States and produced in collaboration with major liberal groups such as the Campaign for America's Future, MoveOn.org and Demos, all of them George Soros funded.
The host was Thom Hartmann, who regards himself as the nation's "number one" progressive radio talk-show host.
The "National Teach-In to Take Back the American Dream" featured Robert Reich, former U.S. Secretary of Labor; Heather McGhee of Demos; Leo Hindrey, a businessman and self-styled "Patriotic Millionaire;" Natalie Foster, the co-founder of Rebuild the Dream; and Robert Borosage of the Campaign for America's Future.
Nobody on the program, which also aired on DISH Network, DirectTV and the Free Speech TV Network, demonstrated any concern about appearing on a Moscow-funded channel to promote the "American dream."[6]
References