Harry Britt
From KeyWiki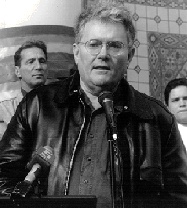 Harry Britt
Prominent DSOC member
According to Democratic Socialist Organizing Committee founder and chairman Michael Harrington, the influence of the group is disproportionate to its size because of the positions held by some DSOC members within the Democratic Party.
In 1980 prominent DSOC members included Rep, Ronald Dellums (D-CA); Hilda Mason, D.C. City Council, Harlan Baker, Maine state legislature; Jerry Nadler, New York state legislature, Perry Bullard, Michigan state legislature; Ruth Messinger, New York City Council; Harry Britt, San Francisco Board of Supervisors; Patrick Gorman, chairman of the board, Amalgamated Meatcutters; William Winpisinger, president, International Association of Machinists ; Irving Bluestone, vice president, United Auto Workers; Martin Gerber, vice-president, UAW, Sol Stetin, senior vice-president, Amalgamated Clothing and Textile Workers , Joyce Miller, national president, Coalition of Labor Union Women ; Dolores Huerta, vice-president, United Farmworkers, Cleveland Robinson, president, District 65, UAW; Victor Gotbaum, head of District Council 37, American Federation of State, County and Municipal Employees , New York, Mildred Jeffrey; Victor Reuther; James Farmer; Nat Hentoff; Gloria Steinem; Rosemary Reuther; Harvey Cox and Irving Howe.[1]
Democratic Agenda/Socialist Caucus
For groups and organizations seeking radical social change within the Democratic Party, the National Convention of 1980 had at least one historic first - formation of a Socialist Caucus of delegates. Organized by the Democratic Socialist Organizing Committee and by the Democratic Agenda which was DSOC's cadre and supporters within the Democratic Party and was based in DSOC' s New York office and at 1730 M Street, NW, Washington, DC. Some 31 delegates and alternates from twelve states and Democrats Abroad attended the Socialist Caucus.
As a preliminary to the convention's Socialist Caucus meeting, , indeed as a "building event" and as a continued show of support for Senator Edward Kennedy (D-MA), the Democratic Agenda sponsored a convention rally at New York's Town Hall. The speakers included Herman Badillo, Julian Bond, Fran Bennick, Harry Britt, Cesar Chavez, Rep. John Conyers (D-MI}, Douglas Fraser, Murray Finley, Michael Harrington, Terry Herndon, Ruth Jordan, Ruth Messinger, Eleanor Smeal, Gloria Steinem and William Winpisinger.
DSOC works within the Democratic Party, said Harrington, because of the party's relationships with organized workers, blacks, feminists, environmentalists and other "progressive groups."
The Socialist Caucus circulated a list of convention delegates who were caucus members, including;[2]
Alice Papon, AZ
Debbie Anderson, CA
Helen Barrios, CA
Harry Britt, CA
Mickey Flacks, CA
Vivial Hall, CA
Dolores Huerta, CA,
Amy King, CA
Ted Neima, CA
Mike Nye, CA
Raoul Teilhet, CA
Richard Sklar, CA
Pat Dillon, CT
Steve Ramirez, DC
Bill Simons, DC
Jerry Wurf, DC
Julian Bond, GA
Vivian Hall, MA
Brian Maranhoa, MA
Ms. Su Finkbinder, MI
Martin Gerber, MI
Millie Jeffrey, MI
Isabel Laluz, MI
Gerald Maginelli, MI
Bernice Selden, MI
David Selden, MI
Earl Bourdon, NH
Henry Berger, NY
Jim Chapin, NY
David Dinkins, NY
Elaine Drucker, NY
Ed Gray, NY
Patrick Kelly, NY
Ruth Messinger, NY
Libby Moroff, NY
Gerry Cohen, NC
Margaret Lynch, OH
Judy Watts, OR
Harold Rosenthal, PA
Sue Rosenthal, PA
Craig Murphy, TX
Ray Majerus, WI
Louise Uphoff, WI
David Fleishman (foreign)
DSOC 1981 Convention
At the Democratic Socialist Organizing Committee 1981 conference, gay activist Harry Britt was elected Vice Chair, as were Trudy Robideau, Marjorie Phyfe and Rosemary Ruether. Others elected included Mike Rivas, Chair of DSOC's Hispanic Commission and William Winpisinger, head of the Machinists Union.[3],
Democratic Socialists of America founding conference
San Francisco board of supervisors member Harry Britt, addressed a "special unity convention session" on day two of the Democratic Socialist Organizing Committee/New American Movement Unity Convention in Detroit March 21/22 1982, that resulted in the formation of Democratic Socialists of America[4].
DSA vice chair
In 1984 Democratic Socialists of America vice chairs were Harry Britt, Ron Dellums, Dorothy Healey, Irving Howe, Frances Moore Lappe, Manning Marable, Hilda Mason, Marjorie Phyfe, Christine Riddiough, Rosemary Ruether, Edwin Vargas Jr, William Winpisinger[5].
American Solidarity Movement
The American Solidarity Movement was announced in early 1984 by Democratic Socialists of America, as a vehicle to support American labor unions it considered under attack, or on strike and in need of support.
Members of the Initiating Committee for an American Solidarity Movement were: Michael Harrington (convenor), Stanley Aronowitz, Balfour Brickner, Harry Britt, Harvey Cox, Rep. Ron Dellums, Bogdan Denitch, Barbara Ehrenreich, Cynthia Epstein, Jules Feiffer, Rep. Barney Frank, Msgr. George Higgins, Irving Howe, Eleanor Holmes Norton, Frances Fox Piven, Jose Rivera, Ray Rogers, Gloria Steinem, Peter Steinfels, Ellen Willis.[6]
DSA National Board meeting
Over 90 delegates and observers attended the Democratic Socialists of America National board in San Fransisco, November 9-11, 1990. DSA vice chair and San Francisco Supervisor Harry Britt, "enlivened the event".[7]
DSA Elected Representatives, 1990

As of January 1990, Democratic Socialists of America members holding elected public office included;[8]
Ron Dellums, US Rep., California
Major Owens, US Rep., California
David Dinkins, NY Mayor
Jim Scheibel, St Paul, Minnesota Mayor
Ben Nichols, Ithaca (NY) Mayor
Larry Agran, Irvine (CA) Mayor
Jim Conn, Santa Monica Mayor
Niilo Koponen, Alaska State Legislator, Fairbanks
Beverly Stein, Oregon State Rep., Portland
Perry Bullard, Michigan State Rep., Lansing
Babette Josephs, Pennsylvania State Rep., Philadelphia
Ruth Messinger, Manhattan Borough President
Harry Britt, President, San Francisco Board of Supervisors
Maryann Mahaffey, President, Detroit City Council
Hilda Mason, Washington DC, City Councilor
David B. Sullivan, Cambridge (MA) City Councilor
David Scondras, Boston (MA) City Councilor
Anne Chandler, Berkeley (CA) City Councilor
Mildred Jeffrey, Wayne State University (Detroit) Governor
State Assembly campaign
From the Minutes of Jan 5, 2002 SF DSA Steering Committee meeting;[9]
Tom Gallagher gave a report on Harry Britt's history in SF politics (for 14 years the successor to Harvey Milk, narrowly defeated in a run for Congress by Nancy Pelosi) and DSA (he was a national Vice Chair for many years). Britt is running for state assembly. The candidate to beat is Mark Leno, who has the big bucks, though he has been moving to distance himself from Mayor Brown. Holly Their and Steve Phillips are also in the race; the first was initially thought to be Brown's candidate, though the latter seems to be.
The primary election is Mar 5 or 12, 2002. There will be a lot of items on the ballot. Every Sat and Sun there are literature drops, and phoning every evening. Next Sat at 10 am there will be an office opening party for the campaign at 2150 Market St. Next Fri at 6 PM there will be a labor fundraiser; Britt was endorsed by the SF Labor Council. He also has the surprise endorsement of Carol Migden. There is also an email newsletter.
Tom says the staff says Britt has rejoined DSA.
References