Harlan Baker
From KeyWiki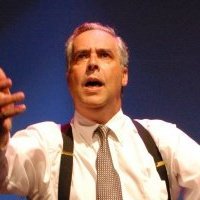 Harlan Baker was one of the founding members of the Democratic Socialist Organizing Committee.[1]
Baker is an adjunct lecturer for the Theater department for the University of Southern Maine where he has been teaching for the past 24 years. He is a former member of the Maine legislature, where he served on the Joint Standing committee on Labor. He is currently a member of the Part Time Faculty Association at the university, local 4593 of the American Federation of Teachers AFL-CIO. As an actor he has performed with numerous professional theater companies throughout New England most recently with the Mad Horse Theatre Company of Portland in their production of "The Late Henry Moss."[2]
State legislature
Baker served in the Maine State Legislature from 1979 -1988. He sponsored legislation dealing with worker owned cooperatives municipally owned power districts, and a State owned Bank. He was the sponsor of legislation to divest state pension money from business investing in South Africa during Apartheid.
Prominent DSOC member
According to Democratic Socialist Organizing Committee founder and chairman Michael Harrington, the influence of the group is disproportionate to its size because of the positions held by some DSOC members within the Democratic Party.
In 1980 prominent DSOC members included Rep, Ronald Dellums (D-CA); Hilda Mason, D.C. City Council, Harlan Baker, Maine state legislature; Jerry Nadler, New York state legislature, Perry Bullard, Michigan state legislature; Ruth Messinger, New York City Council; Harry Britt, San Francisco Board of Supervisors; Patrick Gorman, chairman of the board, Amalgamated Meatcutters; William Winpisinger, president, International Association of Machinists ; Irving Bluestone, vice president, United Auto Workers; Martin Gerber, vice-president, UAW, Sol Stetin, senior vice-president, Amalgamated Clothing and Textile Workers , Joyce Miller, national president, Coalition of Labor Union Women ; Dolores Huerta, vice-president, United Farmworkers, Cleveland Robinson, president, District 65, UAW; Victor Gotbaum, head of District Council 37, American Federation of State, County and Municipal Employees , New York, Mildred Jeffrey; Victor Reuther; James Farmer; Nat Hentoff; Gloria Steinem; Rosemary Reuther; Harvey Cox and Irving Howe.[3]
Bernie Sanders fundraiser
During the summer and fall of 2006 Democratic Socialists of America Political Action Committee helped DSA activists around the country, "from San Diego up to Maine" to host house parties to raise funds that helped Bernie Sanders become the sole Socialist in the U.S. Senate.
In Portland, Maine DSAer Harlan Baker and AFL-CIO officer Burt Wartell co-hosted a backyard veggie burger cookout that drew participants from the local Democrats. [4]
DSA contact
In 2009 Harlan Baker was Maine contact for Democratic Socialists of America[5].
He is also is a member of the Boston Democratic Socialists of America Speakers Bureau.[6]
Occupy Portland
Democratic Socialists of America member Harlan Baker performed a scene from his one man play, Jimmy Higgins, at Monument Square in Portland, Maine for the demonstration. Jimmy Higgins has long stood for the name of the rank-and-file union and socialist activist. During his performance at Occupy Portland, Baker performed a scene in which Jimmy Higgins listens to Eugene Debs give his famous 1918 speech in Canton, OH. During this speech, Debs urged those present to resist the military draft of World War I. He was arrested 14 days later on 10 counts of sedition, and later sentenced to ten years in prison, two of which he served.[7]
References