Hany Khalil
From KeyWiki
Hany Khalil is a long-time peace and justice organizer[1]who is the national coordinator for Racial Justice 9-11, People of Color Against the War.
Khalil is also a writer and the New York representative of War Times, the peace paper edited by Bob Wing, as well as NY coordinator of United for Peace and Justice.
Institute for Policy Studies
In 1993 Hany Khalil was listed among "former fellows, project co-ordinators and staff" of the Institute for Policy Studies, Washington DC.[2]
Opposing the "War on Terror"
In the immediate aftermath of 9/11 supporters[3]of STORM and the Bay Area Committees of Correspondence for Democracy and Socialism established Ad Hoc Committee 'On Poitical Strategy' to fight against Bush's war against terrorism.
The committee included Betita Martinez, Cindy Wiesner, Max Elbaum, Edget Betru, Harmony Goldberg, Clarissa Rojas, Roxanne Dunbar-Ortiz, John Trinkl, Hany Khalil and Bob Wing.
The group issued an October 5, 2001 statement to other activists;
As we immersed ourselves in the fightback to Bush's war against terrorism, we felt the need to get our political bearings as leftists. So we organized a discussion attended by 27 diverse left activists in the San Francisco Bay Area on Sept. 30.
September 11, and the Bush administration's reaction to it, is a defining historical moment, ushering in a new and dangerous period in international politics. Washington's agenda is to entrench the national security state and a new level of international dominance on the basis of a permanent war on terrorism--bringing the "new world order" to fruition.
The defining political axis of this new period is Washington's international war on terrorism--and the fight against it...The political and ideological balance of forces, demands, and outcomes of all struggles will be affected by this central issue, to one degree or another.
Given this, the fight for peace should be the central demand for the people's movements...However, peace is not a centrist, liberal demand, but in fact is central to an anti-imperialist agenda. Its main content is that of staying the hand of imperialist war and fighting U.S. militarism in all its forms.
War Times
In January 2002, a group of San Francisco leftists, mainly involved with STORM or Committees of Correspondence, founded a national anti-Iraq War newspaper[4] War Times.
Endorsers of the project included Hany Khalil.
YDS convention
At the August 2002 18th Young Democratic Socialists Summer Institute and National Convention at the University of Illinois at Chicago, Hany Khalil of the War Times Organizing Committee gave[5] an "excellent presentation of the history of the Israel/Palestine conflict from the original basis to both Intifadas via PowerPoint".
Communist Party election conference
In February 2004, the Communist Party USA convened a conference in New York to focus on the 2004 elections. Guests at "build unity, take back our country in 2004 - defeat Bush and the ultra-right" included NAACP NE regional youth coordinator Diallo Shabazz, New York City NOW president Rita Haley, United for Peace & Justice rep. Hany Khalil, New York Working Families Party co-chair Bertha Lewis and Massachusetts political aspirant Martina Cruz. poetry was read by two young women Naima Penniman and Alixa Garcia.[6]
Travelling with CODEPINK's "Fallujah Aid" Contingent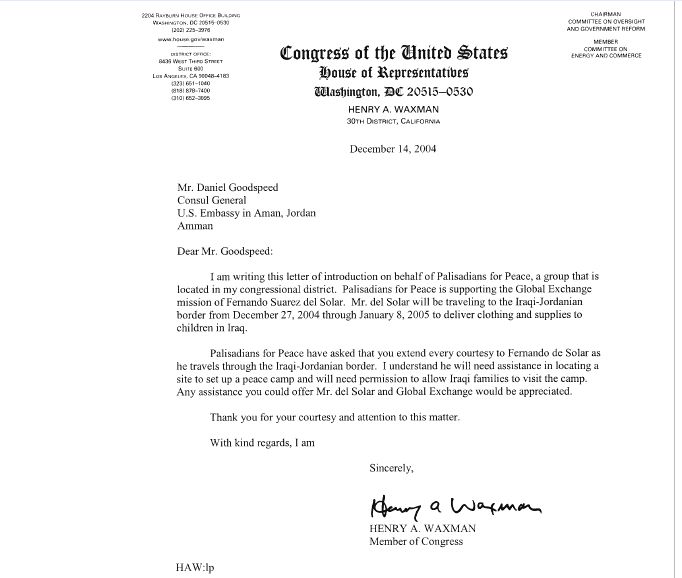 In December 2004, US Senators Barbara Boxer of California, Raul Grijalva of Arizona and Congressmen Dennis Kucinich of Ohio and Henry Waxman of California provided diplomatic courtesy letters to a contingent of anti-war groups and individuals desiring to Fallujah, Iraq. Among those travelling in the contingent were: Rosa Suarez del Solar and her husband Fernando Suarez del Solar; Jeffrey Ritterman, Physicians for Social Responsibility; Jodie Evans, co-founder of CodePink: Women for Peace; Medea Benjamin, co-founder of Global Exchange and CodePink; Hany Khalil, national organizer, United for Peace and Justice. The organizations sponsoring the tour were CodePink, Project Guerrero Azteca for peace, Global Exchange, the Middle East Children's Alliance, Physicians for Social Responsibility, Peace Action, United for Peace and Justice, and Voices in the Wilderness.[7]
Fernando Suarez del Solar stated that had it not been for the help of the two congressmen, the tour would have not seen the light due to obstacles laid by the Pentagon. The contingent traveled from December 27, 2004 through January 8, 2005.
The contingent delivered $100,000 in cash and and $500,000 in humanitarian aid. At the time the diplomatic courtesy letters were issued, Medea Benjamin had stated that the aid was intended for families of the "other side" in Fallujah.[8]
United for Peace and Justice Affiliation
In July 2007 Hany Khalil representing War Times/Tiempo de Guerras was affiliated to United for Peace and Justice.[9]
United for Peace and Justice
In Dec 2008 Hany Khalil, War Times was voted onto the Steering Committee for United for Peace and Justice[10]
War Times Staff
In 2009 voluntary War Times staff[11]included:
Jan Adams, Karolo Aparicio, Mariana Bustamante, Ruth Warner Carrillo, Jung Hee Choi, Max Elbaum, Arnoldo Garcia, Rebecca Gordon, Felicia Gustin, Hany Khalil, Rachel Kahn, Lynn Koh, Gerald Lenoir, Burton Li, Betita Martinez, Samuel Orozco, Ricardo Ortega, Sushawn Robb, Kerry Taylor and Bob Wing.
References