Gregory Meeks
From KeyWiki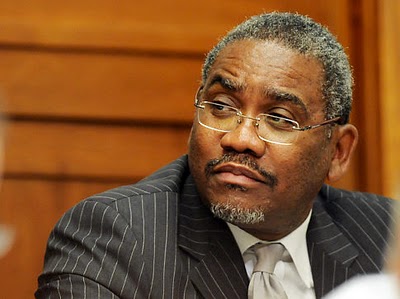 Gregory W. Meeks is a Democratic congressman representing the 5th District of New York.
Background
Congressman Meeks earned his bachelor's degree at Adelphi University and he received his law degree from Howard University. He is a member of the Allen AME Church in St. Albans New York and is a member of Alpha Phi Alpha Fraternity. He is married to Simone-Marie Meeks.[1]
Committees
Congressman Meeks is a senior member of the House Financial Services Committee, and is the former chairman of the Subcommittee on International Monetary Policy and Trade. He currently serves on the Subcommittee on Financial Institutions and Consumer Credit, and Subcommittee on Domestic Monetary Policy and Technology. A critical committee for the state of New York, the Financial Services Committee oversees all components of the nation's housing and financial services sectors including banking, insurance, real estate, public and assisted housing, and securities. The Committee continually reviews the laws and programs relating to the U.S. Department of Housing and Urban Development, the Federal Reserve Bank, the Federal Deposit Insurance Corporation, Fannie Mae and Freddie Mac, and international development and finance agencies such as the World Bank and the International Monetary Fund.
Congressman Meeks serves as a senior member of the House Foreign Affairs Committee where he is Ranking Member of the Subcommittee on Europe and Eurasia, and sits on the Subcommittee on Asia, the Pacific and Global Environment. At a time when the world is more interconnected than ever before, the Foreign Affairs Committee has an important role to play. The Committee is responsible for oversight and legislation relating to: foreign assistance; the Peace Corps; national security developments affecting foreign policy; strategic planning and agreements; war powers, treaties, executive agreements, and the deployment and use of United States Armed Forces; peacekeeping, peace enforcement, and enforcement of United Nations or other international sanctions; arms control and disarmament issues; the United States Agency for International Development; activities and policies of the State, Commerce and Defense Departments and other agencies related to the Arms Export Control Act, and the Foreign Assistance Act.[2]
Staffer's 2000 trip to Cuba
In February 2000, Faith Blackburne from the office of Congressman Gregory Meeks spent six days in Havana, Cuba, for the purpose of "improving US/Cuba relations". The trip cost $1,778.47 and was paid for by the Christopher Reynolds Foundation.[3]
Staffer's 2007 trip to Venezuela
Rep. Meeks sent Sophie Atlee King to Venezuela for 4 days in July 2007. The trip was courtesy of a $1,606.25 grant from the Institute for Policy Studies connected Center for Democracy in the Americas... "To examine U.S. policy toward Venezuela and to better understand how government policies are affecting foreign investment in the energy sector" .[4]
Cuban visit
The invitation for U.S. students to earn a free medical education in Cuba dates to June 2000, when a group from the Congressional Black Caucus visited Cuban president Fidel Castro. It was presided over by the then Caucus President James Clyburn, from North Carolina, and was made up of Bennie Thompson from Mississippi and Gregory Meeks from New York. Representative Bennie Thompson (D-Miss.) described huge areas in his district where there were no doctors, and Castro responded with an offer of full scholarships for U.S. citizens to study at ELAM. Later that year, Castro spoke at the Riverside Church in New York, reiterating the offer and committing 500 slots to U.S. students who would pledge to practice in poor U.S. communities. Castro opened the doors of the program to 500 U.S. students who began enrolling two years later.[5]
Castro's version
Writing in Granma April 7 2009, Fidel Castro gave his version of the Clyburn, Thompson, Meeks visit;[6]
In May 2000, another Caucus delegation visited us. It was presided over by the then Caucus President James Clyburn, from North Carolina, and was made up of Bennie Thompson from Mississippi and Gregory Meeks from New York. These congressmen were the first to learn from me of Cuba's disposition to grant a number of scholarships to low-income youths, to be selected by the Congressional Black Caucus, so that they could come to Cuba and study medicine. We made a similar offer to the "Pastors for Peace" NGO, which is presided over by Reverend Lucius Walker, who sent the first students to the Latin American School of Medicine (ELAM).
When the anti-Cuban pressures and activities of the Bush administration were intensified with respect to travel and the presence in Cuba of persons under U.S. jurisdiction, Black Caucus legislators addressed Secretary of State Colin Powell and managed to secure a license that legally allowed American youths to continue their medical studies – which they had already begun – in Cuba.
Another Cuba trip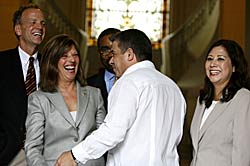 From Dec. 15 - Dec. 18, 2006, a Congressional Delegation of ten congressmen and women from the U.S. House of Representatives visited Havana, Cuba. Leading the delegation were Jeff Flake and Bill Delahunt. The other participants were Hilda Solis, Jo Ann Emerson, Jerry Moran, Michael Conaway, Jane Harman, Lincoln Davis, Gregory Meeks and Jim McGovern. The delegation met with Cuban Foreign Minister, Felipe Perez Roque and other communist officials. The delegation asked to meet with Raul Castro during their weekend visit to Cuba, but there was no word on whether such a meeting would take place.[7]
Congressional Black Caucus Detroit event
Over 5,000 jobseekers showed up at the Wayne County Community College in Detroit for a jobs fair and town hall meeting yesterday. More than 7,000 attended last week's event in Cleveland, the second stop on the Congressional Black Caucus's "For the People" tour.
Over 1,000 positions were offered at the fair.
The event was hosted by Democratic U.S. Reps. John Conyers and Hansen Clarke. Also present from the caucus were Maxine Waters of California, Emanuel Cleaver of Missouri and Gregory Meeks from New York.
Rep. Maxine Waters, noting the great love and admiration for President Obama in the African American community, called on the audience to "unleash us" to address the president on the jobs issue. "When you tell us it's alright and you unleash us and you tell us you're ready for us to have this conversation, we're ready to have the conversation. The Congressional Black Caucus loves the president too. We're supportive of the president but we're getting tired ya'll..." she said.
Rep. John Conyers called for a demonstration in front of the White House, "We should be in front, three to five, six thousand people the day before we open our 40th conference on Tuesday, September the 20th, in front of the White House, demanding jobs," Conyers said.[8]
Chavez's funeral
In March 2013, Queens Congressman Gregory Meeks announced he would officially represent the United States at former Venezuelan President Hugo Chávez's funeral, a country he's dealt with in the past as a senior member on the House Foreign Affairs Committee.
"I thought that the trip was very good," Mr. Meeks said. "I was welcomed there by both members of the opposition as well as people close to President Chávez. As you know, I got to know President Chávez quite well. I think that though controversial–there were many things that I disagreed with–that he did have his heart on the poor. When you look at the thousands upon thousands of people that were in the streets mourning his death, Venezuela is clearly a country that is in mourning."
Mr. Meeks further said he was impressed by the wide range of international leaders in attendance, leaving him optimistic about the region's future.
"It was an opportunity to hope that we have a better relationship with Venezuela in the future," he explained. "There were world leaders from many of our allies–Colombia, all of the Caribbean, and everyone who was there–so it was an opportunity to talk to them also about where we go from here and how we can improve relationships. …The hemisphere is important to us. So it was moving in seeing the hemisphere trying to come together and work in a collective basis. … It showed a significant difference in what's taken place in Latin America today as [opposed] to what has taken place in Latin America 20, 25 years ago. … Before Chávez was president poor people had no hope. Chavez gave them hope and that someone was on their side."
"I believe in democracy and the people of Venezuela elect its leaders just like we elect ours," he said. "So that's for the people of Venezuela to decide and move together. Chávez was democratically elected three times. So I would never disparage a people's choice for their president just like I don't want anyone to disparage the American people's choice for president. [9]
At Chavez's funeral
In the funeral hall, more than 30 political leaders including Cuba's Raul Castro and Iran's Mahmoud Ahmadinejad stood at attention before Chavez's flag-draped coffin. Many of them were welcomed by Nicolas Maduro, the vice president who will later be sworn in as interim president. The glass-topped coffin, which has been open since Wednesday, was shut for the funeral.
Congressman Gregory Meeks (D-NY) and former Congressman William Delahunt (D-MA) attended the Venezuelan leader's funeral. Hollywood actor Sean Penn and Reverend Jesse Jackson were also at the funeral. "We pray God today that you will heal the breach between the U.S. and Venezuela," Jackson said.[10]
Staff
The following are past and present staff:[11]
References