Grace F. Napolitano
From KeyWiki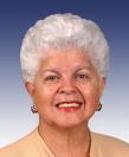 Grace Napolitanao is a former U.S. House of Representatives member from California.
IPS grades "progressive"
In 1998 fourteen new Members of Congress were elected who ran on progressive platforms.
The 14 were gauged "progressive" by the Institute for Policy Studies after comparing their campaign literature and past activities with the Progressive Challenge "Fairness Agenda for America." On issues ranging from shifting budgetary priorities from military spending and corporate giveaways to health care and education, to promoting worker and environmental rights, fair trade, and equality, these 14 candidates stood for the liberal values that recent polls show most Americans embrace. The 14 new progressive members included:
Grace Napolitano, a Democrat from California's 34th district, "served as chair of the Women's Legislative Caucus during her 6 years in the California State House, with a strong record on women's rights, worker and immigrant rights and has the strong support of the Sierra Club and other environmentalists. Napolitano is also a strong supporter of public education.".[1]
Supported "single payer"
The movement for universal single-payer healthcare is growing, announced Kentuckians for Single Payer Healthcare in December 2005. Six new co-sponsors added their names to John Conyers' "single payer" bill HR 676: Grace Napolitano (D-Calif.), Stephanie Tubbs Jones (D-Ohio), Corrine Brown (D-Fla.), Xavier Becerra (D-Calif.), Stephen Lynch (D-Mass.) and Michael Capuano (D-Mass.). The total number of co-sponsors was now 57.[2]
Woolsey/Sheinbaum fund raiser
Congresswoman Lynn Woolsey, the first Member of Congress to call on the President to bring our troops home, was be in Los Angeles on Saturday February 4th 2006, for a 'very exciting but critical fundraiser against the most well-known, well-financed challenger she's ever faced". woolsey was facing a primary challenge from a termed-out Assemblyman Joe Nation, a moderate Democrat who has been critical of her stand on the war and on bringing home our troops. He is raising money from people who have given money to Tom DeLay and Bush-Cheney and his legislative district covers 60+% of Congresswoman Woolsey's district. Congresswoman Woolsey is a "champion of equal rights, civil liberties, protecting the environment and fighting for single payer healthcare. Congresswoman Woolsey must be re-elected by the same victory margin she has had in the past to send a message to progressives everywhere that's it IS OK to be courageous, and to not back down on issues that matter."
The Host Committee for this fundraiser includes:
Ben Affleck; Ed Asner; Warren Beatty; Jodie Evans; James Cromwell; Matt Damon; Tom Hayden; Wendy Herzog; Mimi Kennedy; Norman Lear; Stephen Rohde; Susie Shannon; Stanley Sheinbaum & Betty Sheinbaum; Lorraine Sheinberg; Kathy Spillar; Gloria A. Totten; Peg Yorkin; Senator Barbara Boxer; Congressman Joe Baca; Congressman Xavier Becerra; Congresswoman Lois Capps; Congresswoman Jane Harman; Congresswoman Juanita Millender-McDonald; Congresswoman Grace Napolitano; Congresswoman; Lucille Roybal-Allard; Congresswoman Linda Sanchez; Congresswoman Loretta Sanchez; Congressman Adam Schiff; Congresswoman Hilda Solis; Congresswoman Maxine Waters; Congresswoman Diane Watson; Senator Sheila Kuehl and Assemblywoman Karen Bass.
The fundraiser was at the Stanley & Betty Sheinbaum residence in Brentwood. Both Sheinbaums have been members of Democratic Socialists of America.[3]
Fred Ross award campaign
In early 2013, mainly Democratic Socialists of America aligned activists, together with many elected officials across the United States came together to urge President Barack Obama to award posthumously the Presidential Medal of Freedom to the legendary organizer, Fred Ross, Sr.. The Saul Alinsky trained radical was the first to organize people through house meetings, a mentor to both Cesar Chavez and DSAer Dolores Huerta, and a pioneer in Latino voter outreach since 1949 when he helped elect Communist Party USA affiliate Ed Roybal as Los Angeles's first Latino council member, "Ross' influence on social change movements remains strong two decades after his death in 1992".
Congressional endorsers of the proposal included Grace Napolitano.[4]
EMILY's List
Napolitano was supported by EMILY's List during her campaigning.
References