Gerald Horne
From KeyWiki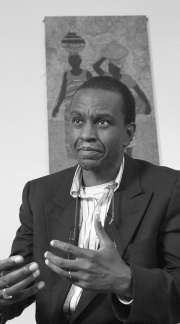 Gerald Horne is a U.S. writer, historian and activist.
Affirmative Action Coordinating Center
The AACC was formed in 1979 as a joint project of the National Lawyers Guild, National Conference of Black Lawyers and the Center for Constitutional Rights. Director Gerald Horne was aided by CCR director Marilyn Clement, lawyers Randolph H. McLaughlin and Doris Peterson, and legal worker Claudette Furlonge who serve as AACC board members and advisers.[1]
Black Studies
In 1989 Gerald Horne was Chairman of the Black Studies Department at the University of California, Santa Barbara.
Addressed Communist Party USA, front meeting
An ad/notice was placed in the Guardian, November 8, 1989, concerning an upcoming U.S. Peace Council national conference. The text of the notice was:
"End The Cold War Fund Human Needs" U.S. Peace Council's Tenth Anniversary National Conference - Boston, Mass., Nov. 10-12, 1989
Speakers Included:[2]
Socialist Scholars Conference 1990
The Socialist Scholars Conference 1990, held September 6-8, at the Hotel Commodore, New York, included panels such as:[3]
The Impact of Changes in Eastern Europe on the Economics and Political Movements in Africa and Latin America
Archie Singham, Political Science, CUNY Graduate Center
Gerald Horne, Black Studies, University of California SB
Tim Hector, Chair, Antigua Caribbean Liberation Movement
Socialist Scholars Conference
Sam Anderson, New School for Social Research; Abdul Alkalimat, Barbara Omalade, Center for Worker Education; Bill Sales, Gerald Horne, Horace Campbell, Jimmy Garrett, Muhammad Ahmad, Ron Bailey, Jim Turner and Mack Jones were speakers on the Curriculum of Inclusion or... Curriculum of Struggle? panel sponsored by the Antiracist Curriculum Collaborative and the Network of Black Organizations at the Tenth Annual Socialist Scholars Conference. The conference was held April 24-26, 1992 at the Borough of Manhattan Community College, New York City[4]
Conference on Perspectives for Democracy and Socialism in the 90s
The Conference on Perspectives for Democracy and Socialism in the 90s was the Committees of Correspondence's first national conference held in Berkeley, California July 17-19, 1992.[5]
Workshops that were held at the conference on Saturday, July 18 included:[6]
Globalization What are the implications for labor and the left of the scientific and technological revolution and globalization of capital and labor?
Jan Gilbrecht, Representative, California Nurses Association, Oakland
Gerald Horne, Professor, UC Berkeley, Dept. of Geography
Mike Eisenscher, former Silicon Valley union organizer, SF
Clark Everling, Professor, Empire State Labor College, NY
Carol Pittman, organizer, Local 1199, NY
Black Radical Congress
In March 1998 "Endorsers of the Call" to found a Black Radical Congress (BRC) included Gerald Horne, Professor of African-American Studies, University of North Carolina, Chapel Hill[7].
Horne was a participant in the BRC Workshop Sessions, June 19-21, 1998, held at the University of Illinois at Chicago, and was listed as a Co-coordinator for the workshop entitled "Global Issues Are Black issues: Framing Our Struggle as International and Anti-Imperialist"[8].
Nature, Society and Thought
In the late 2000s, Gerald Horne (African American studies, Univ. of Houston) was an assistant editor of University of Minnesota based Marxist journal Nature, Society and Thought[9];.
MDS Board member
Original members of the 2006 Movement for a Democratic Society board included[10];
Elliott Adams, Senia Barragan (Student Representative), David Barsamian, Noam Chomsky, Carl Davidson, Bernardine Dohrn, Bill Fletcher Jr, Bert Garskof, David Graeber, Tom Hayden, Gerald Horne, Mike James, Robin D G Kelley, Mike Klonsky, Ethelbert Miller, Charlene Mitchell, Michael Rossman, Mark Rudd, Howard Zinn.
On February 17, 2007, the Movement for a Democratic Society held a well attended conference[11]at New York City's New School University.
The business portion of the meeting followed with each board nominee introducing themselves to the conference. The board, a very diverse group, was voted in by acclamation... Board nominees where were not able to attend the conference were included in the appointment by acclamation. The list included Elliott Adams, Panama Vicente Alba, Tariq Ali, Stanley Aronowitz, David Barsamian, Rosalyn Baxandall, John Bracey, Jr., John Brittain, Robb Burlage, Noam Chomsky, Jayne Cortez, Carl Davidson, Angela Davis, Bernardine Dohrn, Barbara Epstein, Gustavo Esteva, Lawrence Ferlinghetti, Stephen Fleischman, Bill Fletcher Jr, Tom Hayden, Gerald Horne, Florence Howe, Mike James, Robin D G Kelley, Alice Kessler Harris, Rashid Khalidi, Mike Klonsky, Betita Martinez, Ethelbert Miller, Roxanne Dunbar-Ortiz, Barbara Ransby, Patricia Rose, Michael Rossman, Studs Terkel, Charlene Teters, Jerry Tucker, Immanuel Wallerstein, Cornel West, Leonard Weinglass and Howard Zinn.
Free Mumia Abu-Jamal
In 2008 Gerald Horne, Professor, University of Houston, Houston, TX signed a statement circulated by the Partisan Defense Committee calling for the release of convicted "cop-killer" Mumia Abu-Jamal.[12]
Communist Party connections
In 2009 Gerald Horne was a contributing editor and a member of the [13] of the Editorial Collective of Political Affairs, theoretical journal of the Communist Party USA. He is also listed as a sponsor[14] of the Niebyl-Proctor Marxist Library in Oakland California.
Science & Society
In 2009, the Editorial Board of Science & Society, a New York based "journal of Marxist Thought and Analysis", consisted of:[15];
2010 Chicago NAARPR awards
Democratic Socialists of America member Timuel Black received the Human Rights Award from the Chicago branch of the National Alliance Against Racist and Political Repression, on Saturday, April 17, 2010 at their annual Dinner. The organization also honored Charlene Mitchell, Mark Clements, and Bernardine Dohrn. Professor Gerald Horne was the keynote speaker.[16]
References