Eva Carrillo Dong
From KeyWiki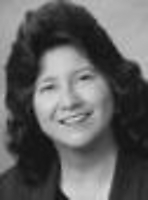 Eva Carrillo Dong is an Arizona education activist. She has been educator at the Pima County Juvenile Detention Center.
In 2011 Eva Carrillo Dong was serving her 3rd term on the Governing Board of the Sunnyside Unified School District.
On Grijalva's coattails
Arizona District Communist Party USA leader Joe Bernick wrote an article "Peoples campaign is a winning strategy" for the November 16, 2002 edition of People's World, covering the 2002 Raul Grijalva campaign.
A model peoples' campaign in Southern Arizona swept Raul Grijalva into Congress and helped elect Democrats Janet Napolitano as governor and Terry Goddard as attorney general.
Beginning in early summer, volunteers spread out through the neighborhoods, knocking on doors, registering new voters and talking about the importance of electing candidates who will represent the interests of working people.
The campaign for one of Arizona's two new congressional seats concentrated on the section of the district inside metropolitan Tucson consisting of the city's predominantly Chicano South and West sides and the predominantly white neighborhoods surrounding the University of Arizona.
Grijalva had represented much of this area for 10 years as County Supervisor, and for 12 years as member of the School Board. This area is home to a majority of the voters in the new district...
The Grijalva campaign energized volunteers and led to a much higher than usual voter turnout in minority neighborhoods. Arizona's newly elected Governor, Janet Napolitano, squeaked through on the strength of these new voters. She is the first Democrat elected as Governor of Arizona since Bruce Babbitt won 20 years ago. The campaign helped many other progressive candidates get elected. Richard Elias, who ran a joint campaign with Grijalva, managed a good primary victory to succeed Grijalva as a progressive County Supervisor. Elias faced no opposition in the general election...
In the Sunnyside School District, another large south side district, Eva Carrillo Dong and Tony Silvain were swept into office with the support of labor and the Grijalva campaign.
Recall effort
An effort to recall Louie Gonzales, Magdalena Barajas and Eva Carrillo Dong from their positions as members of the Sunnyside Unified School District school board failed when recall organizers did not turn in sufficient signatures by the signature deadline of May 24, 2010.
Sherrie Burdic was active in the recall effort. She felt that Gonzales, Barajas and Dong should be recalled because they supported district Sperintendent Manuel L. Isquierdo after an audit by Heinfeld & Meech revealed he had used the district's credit card to pay $12,545 in restaurant meals, car rentals and a hotel stay for his family. Isquierdo re-paid the credit card expenses after that audit determined that the expenses were not allowable.[1]
400 Coalition
A coalition of community organizations and citizens, including Tucson Police Officers Association, Tucson Fire Fighters Local 479, Tucson Police Commanders Association, Pima County Interfaith Council , AFSCME Local 449, Pima Area Labor Federation, Casa Maria, Pima County Democratic Party , Small Business Advocates, City of Tucson Retirees Association and JL Investments "want to Keep Tucson First when it comes to safety, quality of life and economic development and has formed the 400 Coalition to support Proposition 400, a half-cent sales tax increase that will raise $40 million a year for five years".
The temporary tax was recommended by an independent committee that spent two months analyzing the budget and previous cuts. The funds will be dedicated to city departments for public safety, parks and recreation and transportation, including street maintenance and graffiti removal. The funds will be audited by an independent citizens commission.
We've cut to the bone," said Eva Carrillo Dong, a Sunnyside School Board member and Chair of the coalition. "We believe that investing 50 cents for every $100 you spend in Tucson is a fair price to pay to keep Tucson a No. 1 city."[2]
Reception with communists
On Wednesday, 15 September 2010, a reception in support of Eva Carrillo Dong was held Rigo's Mexican Restaurant 2527 South 4th Avenue Tucson, AZ.
Key attendess included Salvador Barajas, Sunnyside School Board Member Magdalena Barajas, Rolande Baker, Joe Bernick, Mary Carmen Donaldson, Hon. Dan Eckstrom, County Supervisor Richard Elias, Tucson City Council Member Richard Fimbres, TUSD Board Member Adelita Grijalva, James Hannley, Rigoberto Lopez, Raul Nido, Laura Portillo, Manuel E. Portillo, Tucson City Council Member Regina Romero, Albert Siqueiros, Janet L. Valencia and Steve Valencia. Baker, Bernick, Hannley and both Valencias were all affiliated with the Arizona District Communist Party USA.[3]
Grijalva nomination
In November 2010 – Sunnyside School Governing Board member Eva Carrillo Dong was nominated by Congressman Raul Grijalva to be recognized as a Latina Leader in education.[4]
Salt of the Earth Labor College
September 24 2011, Eva Carrillo Dong, educator, and Sunnyside School board member, spoke at Salt of the Earth Labor College, Tuscon.
Right-wing legislators cut funds and then blame teacher's unions for the deteriorating educational system. How can we resist this onslaught against the future of our children and our society?
References