Eric Schneiderman
From KeyWiki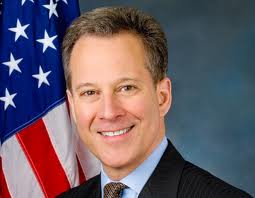 Eric Schneiderman is the 65th Attorney General of New York State and previous State Senator from New York. He has one daughter, Catherine.[1]
Education
Schneiderman grew up on Manhattan's Upper West Side where he attended Trinity School. [2] After earning a B.A. in English and Asian Studies at Amherst College, graduating in 1977 and Harvard Law School in 1982. [3]
Employment History
After graduating from college Schneiderman served for two years as a Deputy Sheriff in Berkshire County, Massachusetts, where he started the first comprehensive drug and alcohol treatment program at the Berkshire House of Corrections.[4] He previously spent 15 years in private practice as an attorney, and later as a partner at the firm of Kirkpatrick and Lockhart, where he handled complex litigation. He was also a public interest lawyer for many years, representing taxpayers in historic lawsuits against the Metropolitan Transit Authority (MTA), tenants trying to evict drug dealers from their buildings, and women seeking access to health clinics.[5]
New York Legislature
He was elected to the New York State Senate in 1998. From 2003-2006, Schneiderman served as the Senate Deputy Democratic Leader. In 2007, He was appointed to the New York State Commission on Sentencing Reform. In 2008, Senator Schneiderman became a national co-founder of Legislators Against Illegal Guns. Since January of 2009, Schneiderman served as the Chair of the Senate Codes Committee, which considers criminal and civil justice legislation in New York State. In addition to his committee assignments, he also served as the Senate Deputy Majority Leader for Policy. Standing Committee Assignments 2009: Codes (Chair); Children & Families; Environmental Conservation; Energy & Telecom; Higher Education; Judiciary; Cultural Affairs, Tourism, Parks & Recreation.[6]
2000 PWW award luncheon
On October 22, 2000 the Peoples Weekly World held its 4th annual celebration luncheon in New York, at the Henry Winston Auditorium.
Awardees were;[7]
Speakers included City Councilmembers Bill Perkins and Christine Quinn, Assemblymember Richard Gottfried, State Senator Tom Duane, Larry Moskowitz of the Communist Party USA and Working Families Party and Elena Mora for the Communist Party.
US Rep. Charles Rangel sent greetings and State Senator Eric Schneiderman sent a letter of commendation to the honorees.[8]
2000 WFP Convention
The New York Working Families Party 2000 Convention was held at the Desmond Hotel, March 26.
Attendees included;
Jim Duncan, WFP co-chair and statewide political director of the United Auto Workers
Bertha Lewis, WFP co-chair and chair of New York ACORN
Bob Masters, WFP co-chair and statewide political director of the Communication Workers of America
State Senator Eric Schneiderman
Chris Silvera, Treasurer of Teamsters local 808
Dennis Hughes, president New York Federation of Labor
Jose Velazquez, Lithographers local 1 organizer
Karen Scharff, executive director of Citizen Action New York
Maude Hurd, national chair of ACORN
Bradley Erck, a rep. on the Niagara County legislature and UAW Local 686, legislative committee chair
Larry Handley, President Amalgamated Transit Union
Arthur Cheliotes, president of Communication Workers of America local 1180
Scheiderman told the convention - There's been an incredible explosion of wealth...the two parties have presided over this shift, in which the rich have kept all the money".
Scheiderman added that due to tax cuts for the wealthy "there won't be any money for people's needs'.
There were sizable delegations from ACORN and Citizen Action.[9]
"Progressive Democrat"
Communist Party USA members Elena Mora and Gabe Falsetta wrote a report for the People's World, of November 19 2004 "Many positives in N.Y. elections," commenting on the gains made by "progressive" candidates.[10]
The big gains were at the state level. State Senate seats were won by some progressive Democrats:
Tom Duane, David Paterson, Eric Schneiderman, and Liz Kruger, all of Manhattan, all retained their Senate seats. Brian McLaughlin, president of the New York City Central Labor Council, won a seat in the Assembly.
Supported Progressive Health Care Reform
In late 2009, Eric Schneiderman was one of more than 1,000 state legislators to sign a letter entitled "State Legislators for Progressive Health Care Reform". The letter was a project of the Progressive States Network and was developed in consultation with national health care reform advocates, including the AFL-CIO, AFSCME, Community Catalyst, Families USA, Herndon Alliance, National Women's Law Center, Northeast Action, SEIU, and Universal Health Care Action Network. The letter reads in part,[11]
"Failure to pass national comprehensive health reform now will further jeopardize state and local budgets, undermining public services like education, public safety, and transportation infrastructure... We, the undersigned, call on President Obama and the Congress to enact bold and comprehensive health care reform this year – based on these principles and a strong federal-state collaboration – and pledge our support as state legislators and allies in pursuit of guaranteed, high quality, affordable health care for all."
Prison gerrymandering bill
The Rev. Al Sharpton, Senator Eric Schneiderman and Assemblyman Hakeem Jeffries joined forces with a statewide coalition Jan, 28, 2010, to announce a new organizing campaign plan to end prison-based gerrymandering in New York State before the 2010 Census.
The coalition's goal was to organize across the state to pass Senator Schneiderman's bill that would require New York State to count incarcerated persons in their home communities--rather than in the districts where they are incarcerated--for purposes of drawing legislative district lines. If passed, it would be the first law in the nation to count prisoners in their home communities for districting purposes.
"It's an absolute injustice that New York currently counts people in the districts where they are incarcerated, rather than in their home communities. I am proud to be here to join forces with Sen. Schneiderman, Assm. Jeffries and this coalition to end this unconstitutional practice. If we do not act soon, it will be 10 long years for another opportunity to right this wrong. We cannot afford to wait," said Rev. Al Sharpton.
"Equal representation under the law benefits everyone," said Senator Eric T. Schneiderman, the lead sponsor of the bill to end prison-based gerrymandering. "The practice of counting people where they are incarcerated undermines the fundamental principle of 'one person, one vote' - it's undemocratic and reflects a broken system. This legislation is as simple as it is fair: it requires that legislative districts at every level of government contain an equal numbers of residents. The time to act is now."
Assemblyman Jeffries was the bill's lead sponsor in the Assembly.[12]
New York Attorney General 2010
Schneiderman was elected the 65th Attorney General of New York State on November 2, 2010.[13]
References