Emile Schepers
From KeyWiki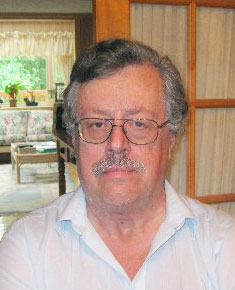 Emile Schepers is a veteran civil and immigrant rights activist. Emile Schepers was born in South Africa and has a doctorate in cultural anthropology from Northwestern University. He has worked as a researcher and activist in urban, working-class communities in Chicago since 1966. He is active in the struggle for immigrant rights, in solidarity with the Cuban Revolution and a number of other issues. He now writes from Northern Virginia[1].
Schepers joined the Communist Party USA in in November 1987,and has been an acive member since.
Endorsed Communist Party Call
On March 30 2002 the Communist Party USA paper People's Weekly World called for a national holiday in honor of late Farm Workers Union leader Cesar Chavez. The article was followed by a long list of endorsers[2]including Emile Schepers, Almost all endorsers were confirmed members of the Communist Party USA.
Communist Party USA
In September 2006 the Peoples Weekly World[3]listed several members of the Communist Party USA.
Aaron Moss, Alan Donohue, Andre Brochu, Annie Fox, Barbara Samuelson, Barbara Collins, Barry Weinstein, Carol Sorflaten, CT Weber, Delmer Berg, Dorothy Kohl, Doug Smiley, Earl Harju, Emile Schepers, Everett Hoagland, Fay Bussell, Gregory King, Jack Bussell, James Thompson, Jerome Moss, Joe Bernick, John Falchi, John Smith, June Dennis, Karl Dennis , Karl Sorg, Karl Weichinger, Lee Dlugin, Lewis Lubka, Mark Jordan, Michele Artt, Pat Barile, Raymond Tate and Robert Jastad
Honoring Frank Wilkinson
Chicago Committee to Defend the Bill of Rights organized a "Celebration of the The Dynamic Life of Frank Wilkinson (1914-2006)" on Sunday October 29, 2006. Wilkinson had been a leader of the Communist Party USA, the New American Movement and Democratic Socialists of America[4].
Honoring Committee members included Emile Schepers .
Peoples World personnel
As at December 2010, personnel of the Communist Party USA paper, Peoples World, ;[5]
Editorial Board
Bureau Chiefs and National Contibutors, Juan Lopez (N. Calif.), Rossanna Cambron (S. Calif.), Joelle Fishman (Conn.), John Bachtell (Ill.), John Rummel (Mich.), Tony Pecinovsky (Mo.), Dan Margolis (N.Y.), Rick Nagin (Ohio), Libero Della Piana, Scott Marshall, Elena Mora, Emile Schepers, Jarvis Tyner, Sam Webb
International Secretary
In 2011, Emile Schepers is international secretary for CPUSA.[6]
References