Elena Mora
From KeyWiki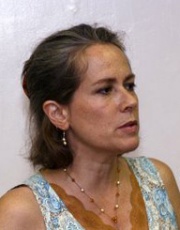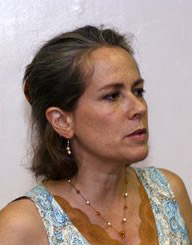 Elena Mora is a "community activist" in the Bronx, where she lives in one of the oldest cooperative housing developments in the country. She is currently the development director for Longview Publishing Inc. and the Fund for Progress[1].
YCL
In the mid 1980s Elena Mora was a leader of the Young Communist League USA[2]
CPUSA Organization Commission
As at March 1994, the following were members of the Organization Commission of the Communist Party USA: Sam Webb, chair; Pat Barile; Judith LeBlanc; Carole Marks; Elena Mora; Esther Moroze; and Joe Sims.[3]
2000 PWW award luncheon
On October 22, 2000 the Peoples Weekly World held its 4th annual celebration luncheon in New York, at the Henry Winston Auditorium.
Awardees were;[4]
Speakers included City Councilmembers Bill Perkins and Christine Quinn, Assemblymember Richard Gottfried, State Senator Tom Duane, Larry Moskowitz of the Communist Party USA and Working Families Party and Elena Mora for the Communist Party.
US Rep. Charles Rangel sent greetings and State Senator Eric Schneiderman sent a letter of commendation to the honorees.[5]
Endorsed Communist Party Call
On March 30 2002 the Communist Party USA paper People's Weekly World called for a national holiday in honor of late Farm Workers Union leader Cesar Chavez. The article was followed by a long list of endorsers[6]including Elena Mora, Almost all endorsers were confirmed members of the Communist Party USA.
Communist Party
In 2009 Elena Mora was a contributing editor and a member of the [7] of the Editorial Collective of Political Affairs, theoretical journal of the Communist Party USA.
Peoples World personnel
As at December 2010, personnel of the Communist Party USA paper, Peoples World, ;[8]
Editorial Board
Bureau Chiefs and National Contibutors, Juan Lopez (N. Calif.), Rossanna Cambron (S. Calif.), Joelle Fishman (Conn.), John Bachtell (Ill.), John Rummel (Mich.), Tony Pecinovsky (Mo.), Dan Margolis (N.Y.), Rick Nagin (Ohio), Libero Della Piana, Scott Marshall, Elena Mora, Emile Schepers, Jarvis Tyner, Sam Webb
2011 Better World Awards banquet
Local People's World readers and contributors held their annual Better World Awards banquet May 29, focusing on the fight for quality public education.
Pioneering civil rights activist Dorothy Burnham was warmly received with a standing ovation after she received her award. At 96 years old, the program was not long enough to mention all her life's work, which began in the 1930s with the American Student Union and continued in the 1940s with the Southern Negro Youth Congress in Birmingham. She has long been active in women's and peace organizations, and is currently she is president of the Louis E. Burnham Awards Fund.
Elena Mora, a union grievance representative, hosted the event. At one point, Mora asked all those who are present or former educators to stand and be recognized. To everyone's surprise, a third of the audience stood and received a loud ovation. The audience was a multiracial full house of all ages.
Awards were also given to Bronx Parent Association leader Michael Arney and Bob Greenberg, co-chair of the United Federation of Teachers Social and Economic Justice Committee.[9]
References