Eleanor Holmes Norton
From KeyWiki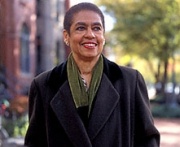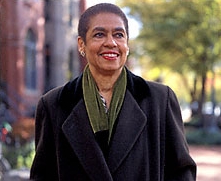 Eleanor Holmes Norton is a far left Democratic Delegate of the United States House of Representatives, representing the District of Columbia.
Congresswoman Holmes Norton, now in her eleventh term as the Congresswoman for the District of Columbia, is the ranking member of the House Subcommittee on Economic Development, Public Buildings, and Emergency Management. She serves on two committees: the Committee on Oversight and Government Reform and the Committee on Transportation and Infrastructure.
Before her congressional service, President Jimmy Carter appointed her to serve as the first woman to chair the U.S. Equal Employment Opportunity Commission. She came to Congress as a national figure who had been a civil rights and feminist leader, tenured professor of law, and board member at three Fortune 500 companies. Congresswoman Norton has been named one of the 100 most important American women in one survey and one of the most powerful women in Washington in another. [1]
Background
The Congresswoman, who taught law full time before being elected, is a tenured professor of law at Georgetown University, teaching a course there every year. After receiving her bachelor's degree from Antioch College in Ohio, she simultaneously earned her law degree and a master's degree in American Studies from Yale University. Yale Law School has awarded her the Citation of Merit for outstanding alumni, and Yale Graduate School of Arts and Sciences has awarded her the Wilbur Cross Medal for outstanding alumni, the highest awards conferred by each on alumni. She is the recipient of more than 50 honorary degrees.
Before being elected, Congresswoman Norton served as a trustee on a number of public service boards, including the Rockefeller Foundation, and the Board of Governors of the D.C. Bar Association, as well as, served on the boards of civil rights and other national organizations.
The Congresswoman is a third-generation Washingtonian, and is the mother of John Holmes Norton and Katherine Felicia Norton.[2]
According[3]to Boston Democratic Socialists of America member Bette Denich, Michael Harrington;
...recruited her friend and future roommate Eleanor Holmes to the Young Socialist League during one of his speaking tours at Antioch College in the late 1950's
Eleanor Holmes (Norton) went on to be a longtime activist in the civil rights movement before becoming the District of Columbia's elected Congressional delegate.
The Young Socialist League, or Young Peoples Socialist League was the youth wing of Socialist Party USA.
Civil Rights activism
While in college and graduate school, Holmes was active in the civil rights movement and an organizer for the Student Nonviolent Coordinating Committee. By the time she graduated from Antioch, she had already been arrested for organizing and participating in sit-ins in Washington, D.C., Maryland, and Ohio. While in law school, she traveled to Mississippi for the Mississippi Freedom Summer and worked with civil rights stalwarts like Medgar Evers. Her first encounter with a recently released, but physically beaten Fannie Lou Hamer forced her to bear witness to the intensity of violence and Jim Crow repression in the South. Her time with the SNCC inspired her lifelong commitment to social activism and her budding sense of feminism.[4]
Black Woman's Manifesto
In the early 1970s, Eleanor Holmes Norton was a signer of the Black Woman's Manifesto, a classic document of the Black feminist movement.[5]
National Conference of Black Lawyers
Holmes Norton was a founding member of the National Conference of Black Lawyers.[6]
According to the National Conference of Black Lawyers website[7];
In 1968, young people of African descent in America were growing impatient with the slow pace of social change. Despite modest advances brought on by two decades of non-violent resistance, from one end of the country to the other, the cry for Black Power was raised in the midst of a sea of clinched fists. At the same time, this new militant spirit had moved many to don black berets and carry rifles. On street corners in practically every Black community, passers-by heard demands for Nation Time and Power to the People!
The National Conference of Black Lawyers and its allied organization, the National Lawyers Guild are the U.S. affiliates of the International Association of Democratic Lawyers.[8]
The IADL, was a "front" for the former Soviet Union and is still dominated by communist and socialist lawyers and legal organizations.
Cablegram to Portugese Socialists and the M.F.A.
In 1974, after a pro-communist military coup in Portugal;
More than eighty Americans, all identified with opposition to the Vietnamese war and with various radical and liberal causes, sent on August 9 a cablegram to to the Portugese Armed Forces Movement, to Portugese president francisco da Costa Gomes and to portugese socialist leader Mario soares expressing the hope that "democratic freedoms"...will continue to grow in Portugal".
Michael Harrington, the national chairman of the Democratic Socialist Organizing Committee, organized the effort with help from 5 "Initiators" - Lawrence Birns (writer), Sissy Farenthold (past president National Women's Political Caucus), Congressman Michael J. Harrington, Martin Peretz (chairman, editorial board New Republic), Cleveland Robinson (vice president, Distributive Workers of America), Leonard Woodcock (president United Auto Workers, Jerry Wurf (president AFSME).
Eleanor Holmes Norton signed the cablegram.[9]
Institute for Policy Studies
Eleanor Holmes Norton has been involved with Institute for Policy Studies since its earliest days.[10]
20th Anniversary Committee
Eleanor Holmes Norton was a member[11]of the Institute for Policy Studies 20th Anniversary Committee, which organized an April 5, 1983, reception at the National Building Museum, Washington DC attended by approximately 1,000 IPS staffers and former staff.
30th Anniversary speaker
In October 2, 1993, the Institute for Policy Studies celebrated its 30th anniversary by holding a conference "Progressive Thought in the Post WWII Era" featuring discussions about a wide range of public policy issues. The panelists discussed a progressive approach to public policy issues since World War II. A key part of the conference was a panel consisting of Garry Wills, Northwestern University history Professor; Eleanor Holmes Norton, member of the House of Representatives; Marian Kramer, President of the National Welfare Rights Union. It was moderated by IPS founder Richard Barnet.[12]
American Solidarity Movement
The American Solidarity Movement was announced in early 1984 by Democratic Socialists of America, as a vehicle to support American labor unions it considered under attack, or on strike and in need of support.
Members of the Initiating Committee for an American Solidarity Movement were: Michael Harrington (convenor), Stanley Aronowitz, Balfour Brickner, Harry Britt, Harvey Cox, Rep. Ron Dellums, Bogdan Denitch, Barbara Ehrenreich, Cynthia Epstein, Jules Feiffer, Rep. Barney Frank, Msgr. George Higgins, Irving Howe, Eleanor Holmes Norton, Frances Fox Piven, Jose Rivera, Ray Rogers, Gloria Steinem, Peter Steinfels, Ellen Willis.[13]
Supported DSA conference
In May 1986, Democratic Socialists of America "supported" a New Directions conference in the Washington DC Convention Center. Conference organizer was Jo-Ann Mort of DSA.
The conference, supported by DSA, will bring together activists, analysts and elected officials to develop new directions for the Democratic Party and the broad democratic left.
Initial sponsors of the event included Reps. Charles Hayes and Barney Frank, labor leaders William Winpisinger and Jack Sheinkman (ACTWU), Joyce Miller (ACTWU and CLUW) and Jack Joyce, (Bricklayers), feminist leaders Gloria Steinem and Judy Goldsmith and policy analysts Robert Kuttner, Jeff Faux and Eleanor Holmes Norton.
Paying tribute to Michael Harrington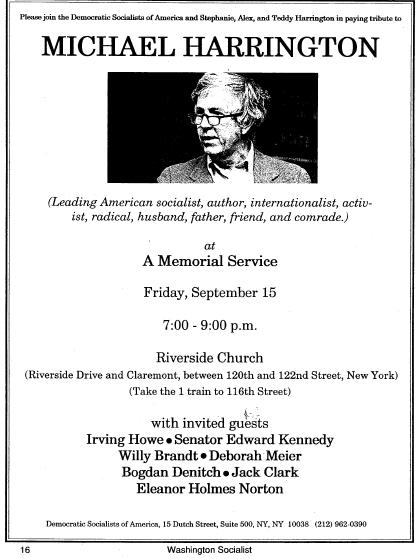 On Friday September 15, 1989, a tribute service was held to commemorate the recently deceased leader of Democratic Socialists of America, Michael Harrington.
Invited guest speakers were Irving Howe, Senator Edward Kennedy, Willy Brandt, Deborah Meier, Bogdan Denitch, Jack Clark and Eleanor Holmes Norton.[14]
DSA interview
In 1991, Suzanne Crowell of Democratic Socialists of America interviewed Eleanor Holmes Norton for Democratic Left, March/April issue , page 9 "On Prospects for Black/White Coalitions".
Employed Gwen McKinney
Gwen McKinney was press secretary for Rep. Eleanor Holmes Norton during her successful election campaign to the U.S. Congress between June and September of 1990. McKinney assisted in crisis management, advertising, and general public relations[15].
Anti Clarence Thomas delegation
In October 1991 Patricia Schroeder led a delegation of fellow congresswomen, including Louise Slaughter, Barbara Boxer, Eleanor Holmes Norton, Nita Lowey, Patsy Mink and Jolene Unsoeld to the Senate to urge a delay of the vote on the nomination of Clarence Thomas to the supreme court.[16]
"Living Wage, Jobs for all Act"
In 1995, Nancy Pelosi, Bernie Sanders, David Bonior, Eleanor Holmes Norton, Cynthia McKinney, Maurice Hinchey, Major Owens, Nydia Velasquez, John Conyers, Bob Filner, Alcee Hastings, Lane Evans, Edolphus Towns, Jim McDermott, supported Democratic Socialists of America member rep. Ron Dellums' "Living Wage, Jobs for all Act"
Congressional Black Caucus
Eleanor Holmes Norton is a member of the Congressional Black Caucus for the 113th Congress:[17]
Congressional Progressive Caucus
In 1998 Eleanor Holmes Norton Democrat was listed as a member of the Congressional Progressive Caucus.[18]
As of February 20 2009 Eleanor Holmes Norton was listed as a member of the Congressional Progressive Caucus.[19]
Endorsed by Democratic Socialists of America
The DC/MD/Northern VA. Democratic Socialists of America local "plunged into the electoral fray" on June 12 1990 with a meeting to choose candidates for DSA's endorsement in that year's D.C. elections. Receiving the local's endorsement in September's Democratic Primary were Eleanor Holmes Norton for Congressional Delegate; Jim Nathanson for City Council, Ward 3; and Harry Thomas for City Council from Ward 5.
The local also endorsed DSA National Vice-Chair and Statehood Party member Hilda Mason for re-election to her at-1arge Council seat, the only general election endorsement made.[20]
In July 1996, the Democratic Socialists of America Political Action Committee endorsed Eleanor Holmes Norton, DC, AT Large in that year's Congressional elections.[21]
In 2000 Democratic Socialists of America[22]made an exception on supporting Green Party candidates to endorse Holmes Norton and her Democratic Party running mate Florence Pendleton .
The DC/MD/Northern VA Local held a meeting for endorsements in DC races. The endorsed slate included many candidates from the Green Party which pushed progressive ideas (but lost).
The local also endorsed two Democrats, who won easily:
Eleanor Holmes Norton as delegate to Congress (serves on committees and speaks but cannot vote) and Florence Pendleton as shadow senator (in essence a lobbyist).
Gay rights victory
In 2002 hundreds of District of Columbia activists joined Mayor Anthony Williams, Congresswoman Eleanor Holmes Norton and members of the DC Council to celebrate the removal of Congressional restrictions on the District's domestic partnership program after a decade-long struggle.
Even though the Council passed a 1992 act permitting any unmarried partners—gay or straight—to register with the city (DSA National Vice Chair and DC Council member Hilda Mason was one of the original backers), right-wing members of Congress blocked implementation of the program by placing a rider on the District's budget.
The District, like Puerto Rico and other territories, is subject to budgetary and legislative oversight by Congress. Congress must approve the annual DC appropriations bill, and it uses this power to impose restrictions on the District.
Gay-rights organizations, such as ACT-UP DC and the Gay and Lesbian Activists Alliance, and the movement for DC democracy joined together to fight the ban, with DC/MD/Northern VA. Democratic Socialists of America and its members playing a significant role in the victory. DSA member Judy Nedrow chaired a local commission that developed strategy for the domestic partnership struggle, and Nedrow's partner Christine Riddiough, former DSA Political Director, also played an important role on the commission. Riddiough was also former chair of the Gertrude Stein Democratic Club, a local gay-lesbian Democratic organization instrumental in convincing the District government to take up the issue.
The Stand Up for Democracy in DC Coalition, of which the DSA local was a member, conducted an annual campaign against this and other budget riders, holding rallies and walking the halls of Congress. Several of Stand Up's members were arrested engaging in civil disobedience during congressional votes.
The local campaign finally gained the support of openly gay Rep. Jim Kolbe (R-Ariz.), who in 2001 was instrumental in having the ban removed. "This is a real step forward both in the domestic partnership fight and for DC sovereignty," Riddiough said.[23]
EMILY's List
Holmes Norton has been supported by EMILY's List during her campaigning.
Lawyers' Committee For Civil Rights Under Law
BLAH serves on the Lawyers' Committee For Civil Rights Under Law Board of Trustees, as of March 10, 2010.[24]
Anti-Fracking legislation endorser
On March 14, 2013, Rep. Jared Polis (D-CO) and Rep. Matt Cartwright (D-PA) have introduced the Bringing Reductions to Energy's Airborne Toxic Health Effect (BREATHE) Act, and the Focused Reduction of Effluence and Stormwater runoff through Hydraulic Environmental Regulation (FRESHER) Act, in order to ensure that the hydraulic fracking industry follows the same rules that other industries do in preserving our natural resources. This legislation is focused on ensuring the safety and the health of the communities where the hydraulic fracturing, or fracking, process is already taking place.
The BREATHE Act would ensure that we close the oil and gas industry's loophole to the Clean Air Act's aggregation provision, in addition to adding hydrogen sulfide—a chemical associated with nausea, vomiting, headaches, and irritation of the eyes, nose, and throat—to the Clean Air Act's federal list of hazardous air pollutants.
The BREATHE Act has the following original co-sponsors including: Reps. Rush Holt, Jr., Raul Grijalva, John Sarbanes, James Moran, Michael Quigley, Earl Blumenauer, Gerald Connolly, Zoe Lofgren, Michael Honda, Paul Tonko, Barbara Lee, David Price, Carolyn Maloney, Michael Capuano, Mark Pocan, Jim McDermott, Eleanor Holmes Norton, Alcee Hastings, Keith Ellison, Niki Tsongas, William Keating, Adam Smith, Jim Langevin, Chellie Pingree, Judy Chu, Louise Slaughter, Jerrold Nadler, Grace Meng, Jan Schakowsky, Nita Lowey, Jared Huffman, Gary Peters and Alan Lowenthal.
The following organizations have endorsed this legislation and are actively working to garner support within Congress and throughout the country: Physicians for Social Responsibility, Natural Resources Defense Council, Earthjustice, Alliance of Nurses for Healthy Environments, Sierra Club, Earthworks, Breast Cancer Action, Clean Water Action, Environment America, Greenpeace, Nature Abounds, Oil Change International, Citizens for a Healthy Community, Citizens for Huerfano County, Clean Water Action Colorado, Erie Rising, Grassroots Energy Activist Network, Holy Terror Farm, San Luis Valley Ecosystem Council, SOS Foundation, Western Colorado Congress of Mesa County, Western Slope Conservation Center and Wilderness Workshop.[25]
Lifting travel ban on Cuba
A May 03, 2013 Press release from the radical controlled and Institute for Policy Studies affiliated Latin America Working Group's Cuba Team stated:
Due to your action/emails/phone calls we have 59 signatures from House representatives urging President Obama to support travel to Cuba by granting general licenses for ALL current categories of travel.
By eliminating the laborious license application process, especially for people-to-people groups, that is managed by the Office of Foreign Assets Control (OFAC), the majority of the bureaucratic red tape that holds up licensable travel to Cuba would disappear and actually facilitate what the President wanted to see in 2011, liberalized travel regulations.
Signatories included Rep. Norton.[26]
Staff
The following are past and present staff:[27]
External links
References