Ed Sadlowski
Jump to navigation
Jump to search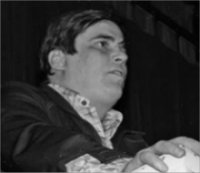 Template:TOCnestleft Edward Sadlowski is a Chicago based labor and socialist activist.
Nat'l Conference for a drastic cutback in military spending
The Communist Party USA controlled Chicago Peace Council convened a "Nationall conference for a drastic cutback in military spending" in Chicaqo, April 5 & 6, 1975.
The purpose of the National Conference is to mount a national campaign and a vigorous program of action which will speak to the hundreds of thousands who were part of the inspiring resistance to the war in Indo- china. The people of the U.S. can and must turn this country around.
Speakers at the Conference included Congressman Abner Mikva, Robert Johnston (regional Director, UAW), Richard Criley (Exec. Dir. Chicago Committee to Defend the Bill of Rights), Norman Roth (Fres. Local 6, UAW), Fr. Gerard Grant S.J. (Loyola University); Ed Sadlowski (Regional Director, United Steel Workers Union) and Frank Rosen (Intl. V-P, U.E.)[1].
"Democracy '76"
Democratic Socialist Organizing Committee organized a Democracy '76 seminar in Chicago in June 1976.
It featured John Conyers, Bob Mann, Ann Ladky, Day Creamer, Ed Sadlowski and Robert Eisner.
"Raise Hell with Chicago Democratic Socialists"
In 1992, Chicago Democratic Socialists of America members published a six-page leaflet, "Raise Hell with Chicago Democratic Socialists", welcoming progressives into membership. It features comments by United Steelworkers leader Ed Sadlowski; Dr. Ron Sable, the Illinois chair of the Physicians for a National Health Program; Vicki Starr, who appeared in the film Union Maids; political scientist Jane Mansbridge;and theologians Rosemary Reuther and Michael Eric Dyson.[2]
Socialist Scholars 1993
Members of the Socialist Scholars Conference 1993 "Labor and Politics' panel were;
DSA member
In 2006 Ed Sadlowski was a member[4]of Chicago Democratic Socialists of America.
Association for Union Democracy
In 2008 Ed Sadlowski was listed on the Advisory Board for the Association for Union Democracy[5].
Socialism
At a December 2009 USW Local 1010 meeting in Chicago, Sadlowski re-affirmed his commitment to socialism;
Ed Sadlowski, former district director of the Chicago and Gary region of the USW, spoke of the many challenges facing the labor movement today. And to thunderous applause he warned that as we make the fight for health care reform, labor rights and other labor programs, the right-wing, anti-labor crowd will start to call it all socialistic. "Well I hope it is," Sadlowski said, "there is nothing wrong with democratic socialism. That's the direction we really have to go in."
References