Ed Reyes
From KeyWiki
Ed Reyes
The Next Agenda Conference
Progressive LA: The Next Agenda Conference was held On October 20, 2001 in Los Angeles at the California Science Center.
The Progressive Los Angeles Network (PLAN) and the Institute for America's Future "will co-sponsor an important conference -- the Next Agenda Conference -- designed to celebrate recent victories, build upon Los Angeles' progressive momentum, and link local issues with a national progressive agenda. The conference will also help solidify a more strategic and integrated progressive movement in Los Angeles".
Speakers included Los Angeles City Council freshmen Eric Garcetti, Jan Perry and Ed Reyes, also spoke.[1]
Presentation to Obama's sister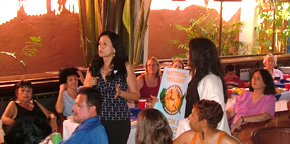 In June 2008, Communist Party USA leader and Executive Director of Cesar E. Chavez National Holiday, Evelina Alarcon presented a poster from the organization to Barack Obama's younger sister Maya Soetoro-Ng at a gathering in East Los Angeles[2].
Addressing a largely Latino audience in East Los Angeles yesterday, Dr. Maya Soetoro-Ng shared stories about her childhood with her older brother, Barack Obama, and the effect he has had on her life. Held in El Sereno's Hecho en Mexico restaurant, the event drew more than a hundred enthusiastic community activists, local elected officials, and regular citizens...
Clearly "designed to draw support to her brother's presidential candidacy" from two key voting blocs—women and Latinos— the event was organized by State Senate Majority Leader Gloria Romero, State Senator Martha Escutia (ret.), State Board of Equalization Chair Judy Chu, Los Angeles City Controller Laura Chick, Los Angeles City Councilmember Ed Reyes, and Los Angeles Unified School District Vice President Yolie Flores-Aguilar[3].
"Latinos Need Barack Obama"
Rep. Linda Sanchez posted an article on the Huffington Post blog September 17, 2012, co-signed by several leftist California activists, and legislators, supporting Barack Obama for president;
We support comprehensive immigration reform and we believe President Obama is on the right track. He favors an immigration policy that rewards hard work and responsibility and lifts the shadow of deportation from young people who were brought here as children, through no fault of their own, and grew up as Americans. And given congressional inaction, the President and the DHS implemented a stop-gap measure that temporarily lifts the shadow of deportation from DREAMers.
The economic recovery is not yet complete, but we recognize President Obama's work to help our communities. From the Latina back in school thanks to expanded Pell Grants to the family that can now afford health care for their child with a preexisting condition, all Latinos need a leader that will stand by his word and respect their pursuit of the American Dream.
Sadly when Mitt Romney speaks to Latinos today he will not answer our Grito de Verdad y Liderazgo because he stands on the wrong side of every Latino voter priority. Latinos know that what we need is a President who will lead our community with respect and value our contributions and that the contrast between Romney's campaign rhetoric and four years of action from this administration is clear: the man we need to lead us is Barack Obama.
References