Don Giljum
From KeyWiki
Don Giljum is business manager for the International Union of Operating Engineers at Ameren UE in St. Louis. Missouri.
Communist Party event
According to the Communist Party USA journal Political Affairs Jorge was keynote speaker at a People's Weekly World function in St Louis in April 2009.
Honorees included Lara Granich, Don Giljum and Maida Coleman.
17th Annual Hershel Walker 'Peace & Justice' Awards Breakfast Missouri/Kansas Friends of People's Weekly World St Louis, MO April 25, Sat., 9:30 a.m.
Keynote speaker: Margarida Jorge, Nat'l Field Dir HCAN (Health Care for America Now!). Awardees: Lara Granich, Exec Dir Missouri Jobs with Justice, Don Giljum, Bus Mgr Operating Engineers Local 148, VP of St. Louis Central Labor Council, Maida Coleman, former 5th Dist Sen & current candidate for mayor.
Contact for the event was Tony Pecinovsky of the Communist Party USA[1].
Labor Campaign for Single Payer
In 2009 Don Giljum, served on the Steering Committee of Labor Campaign for Single Payer.
Communist Party Herschel Walker award event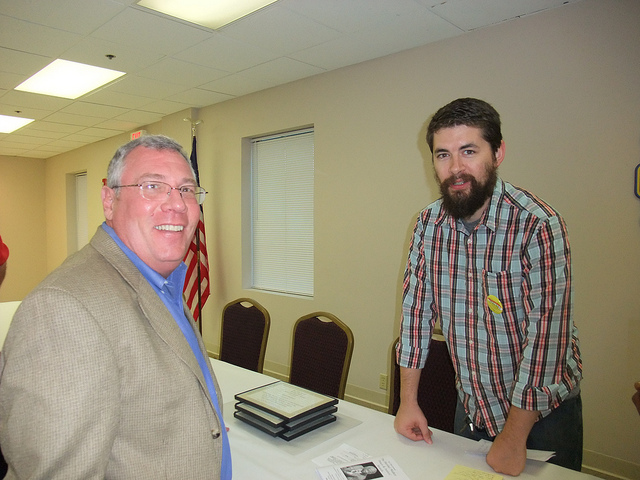 The Missouri Communist Party USA's Friends of the People's World hosted their 18th annual 'Hershel Walker Peace and Justice Awards Breakfast' Saturday, May 8, 2010, at the CWA Local 6300 Union Hall, 2258 Grissom Drive (in the Westport area), St. Louis.
Newspaper Guild International President Bernie Lunzer was the main speaker for the event.
The honorees were:
The awards honor the memory of late Communist Party USA member Hershel Walker, a Missouri labor and civil rights activist, who died in 1990 at the age of 81. Walker's life – which spanned 60 years of activism – ended tragically when hit by a car on his way to deliver petitions to save 4,000 jobs at the Chrysler Plant.[2]
Known attendees included Communist Party USA affiliates, Tony Pecinovsky, Jim Wilkerson, Zenobia Thompson, Lew Moye, Glenn Burleigh, Julie Terbrock, John Bowman, Joe Thomas, Jeanette Mott Oxford, Democratic Socialists of America member Joan Suarez, plus Mahrya Monson, Don Giljum, Jessica Pace, Jason Kennedy, Jennifer Rafanan, Solveig Paulson, Dr. Greg Miday, Roosevelt Stewart, Michael Vossler, Maria Chappelle-Nadal, Richard Von Glahn, Shannon Duffy and State Rep. James Morris. [3]
References