Dennis Kucinich
Jump to navigation
Jump to search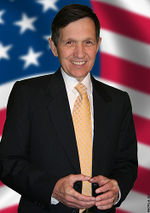 Dennis John Kucinich was a Democratic member of the United States House of Representatives, representing the 10th district of Ohio. Kucinich was defeated by fellow Democratic incumbent Marcy Kaptur in the 2012 Primary for the 9th congressional district of Ohio.[1]
Early life/education
Kucinich was born in Cleveland, Ohio on October 8, 1946. He is the eldest of 7 children of Frank and Virginia Kucinich. He and his family lived in twenty-one places by the time Kucinich was 17 years old. Kucinich graduated with a Bachelor of Arts and a Masters in Speech Communications from Case Western Reserve University, Cleveland, Ohio in 1974.
Kucinich has held many jobs outside of politics including being a hospital orderly, newspaper copy boy, teacher, consultant, television analyst and author[2].
Cleveland politics
Dennis Kucinich was elected to the Cleveland, Ohio City Council at age 23 and was elected mayor in 1977 at the age of 31. At the time, he was the youngest person ever elected to lead a major American city[3].
Congressional record
Since being elected to Congress in 1996, Kucinich has been a:
...tireless advocate for worker rights, civil rights and human rights.
In Congress, Kucinich has authored and co-sponsored legislation to create a national health care system, preserve Social Security, lower the costs of prescription drugs, provide economic development through infrastructure improvements, abolish the death penalty, provide universal prekindergarten to all 3, 4, and 5 year olds, create a Department of Peace, regulate genetically engineered foods, repeal the USA PATRIOT Act, and provide tax relief to working class families.
Kucinich has been honored by Public Citizen, the Sierra Club, Friends of the Earth and the League of Conservation Voters.
Kucinich has twice been an official United States delegate to the United Nations Convention on Climate Change (1998, 2004) and attend the 2002 World Summit on Sustainable Development in Johannesburg, South Africa.
In his district, Kucinich has been recognized by the Greater Cleveland AFL-CIO as a
...tireless advocate for the social and economic interests of his community.
Kucinich is a current member of the International Alliance of Theatrical Stage Employees, Moving Picture Technicians, Artists and Allied Crafts of the United States (IATSE), an AFL-CIO affiliated union[4].
Congressional Progressive Caucus
In 1998 Dennis Kucinich Democrat was listed as a vice chair of the Congressional Progressive Caucus.[5]
On November 19 2008 the Congressional Progressive Caucus announced its elected leadership in for the 111th Congress:[6]
Co-Chairs are Congressman Raul Grijalva (AZ) and Lynn Woolsey (CA)
Whip Diane Watson
Vice-Chair Liaison to Black Caucus Sheila Jackson-Lee
Vice-Chair Liaison to Women's Caucus Hilda Solis
Vice-Chair Liaison to Asian Pacific American Caucus Mazie Hirono
Vice-Chair Liaison to LGBT Equality Caucus, Dennis Kucinich
As of November 16, 2009, Kucinich was listed as a Vice Chair[7]of the Congressional Progressive Caucus.
Progressive Caucus SOTU Address
On Thursday, January 27 2000, from 3:30pm to 5:00pm in 2253 of RHOB, the Congressional Progressive Caucus held its 3rd Annual Congressional Progressive Caucus' State of the Union Address. This event was also sponsored by the Institute for Policy Studies' Progressive Challenge coalition whose Fairness Agenda for America is endorsed by 200 public interest groups nationally.
Caucus Chair Rep. Peter DeFazio(D-OR) stated "The Progressive Caucus Alternative State of the Union will provide a much needed reality check to politicians who would rather ignore the priorities of Americans left out of the economic boom -- priorities like access to quality health care and education, repairing crumbling schools, addressing the growing gap between the rich and poor, and creating a sustainable global economy that works for everyone, not just the corporate architects."
Anticipated speakers included: Peter DeFazio (D-OR), House Minority Whip David Bonior (D-MI), Earl Hilliard (D-AL);Dennis Kucinich (D-OH); Cynthia McKinney (D-GA);. Major Owens (D-NY)Bernie Sanders (I-VT). Tammy Baldwin (D-WI);. Maurice Hinchey (D-NY);Barbara Lee (D-CA); Jerrold Nadler (D-NY); and Lynn Woolsey(D-CA). John Cavanagh, director of the Institute for Policy Studies also made some remarks regarding public interest groups support of a progressive agenda.[8]
The Congressional Progressive Caucus, Chaired by Rep. Peter DeFazio (D-OR), consists of over a quarter of the House Democrats, one Independent and Senator Paul Wellstone. The Caucus will be releasing position papers on Health Care and Income Inequality, with reports on the Alternative Federal Budget, Social Security, Minimum Wage, Education and the Global Economy.
Supported by Council for a Livable World
The Council for a Livable World, founded in 1962 by long-time socialist activist and alleged Soviet agent, Leo Szilard, is a non-profit advocacy organization that seeks to "reduce the danger of nuclear weapons and increase national security", primarily through supporting progressive, congressional candidates who support their policies. The Council supported Dennis Kucinich in his successful House of Representatives run as candidate for Ohio.[9]
Department of Peace
Speaking to a crowd of 200 peace activists March 11, in Oakland California, Reps. Barbara Lee (D-Calif.) and Dennis Kucinich (D-Ohio) took the occasion to condemn the Bush administration's plans to target seven nations with nuclear weapons.
"To think that the nuclear option is on the table as a viable strategy is terrifying," said Lee. "We must keep peace out there as an option."
Kucinich declared, "We have a crisis in the country – a crisis in the the lack of belief in the power of peace. The Bush plan," he said, "challenges America morally. It raises the question of what America stands for." Both statements were warmly applauded by the audience gathered to hear about a proposed Cabinet-level Peace Office initiated by Lee and Kucinich.
They were joined in their stand by Communist Party USA affiliated activist Jackie Cabasso, spokesperson for the Peoples Non-Violent Response Coalition, organizer of the event, who said, "The U.S. position needs to be condemned today, immediately! We need a Department of Peace, but we need some interim measures in the meantime." The PNVRC was formed in the wake of the events of Sept. 11 to promote non-violence as the answer to terrorism.
The bill (HR-2459) that would set up the Department of Peace was introduced in Congress on July 11, 2001 by Kucinich; at that point there were 61 co-sponsors, including Lee.
The bill would order the federal government to set up a $3 billion a year agency with a Secretary of Peace who would be a member of the President's Cabinet, and seven assistant secretaries. The mission of the Department would include: hold peace as an organizing principle; endeavor to promote justice and democratic principles to expand human rights; develop policies that promote national and international conflict prevention, non-violent intervention, mediation, peaceful resolution of conflict, and structured mediation of conflict.
A national "Peace Day" would be declared as an occasion to urge all citizens to create peace.
The forum was moderated by leftist Oakland City Councilmember Nancy Nadel. Oakland teacher Jessica Wright, also spoke of the need to involve young people in peace work.[10]
Health Care Access resolution
John Conyers promoted House Concurrent Resolution 99 (H. Con Res. 99) Directing Congress to enact legislation by October 2004 that provides access to comprehensive health care for all Americans. IN THE HOUSE OF REPRESENTATIVES April 4, 2001.
Sponsors:John Conyers (for himself), Jan Schakowsky, John Tierney, Barbara Lee, Donna Christensen, David Bonior, Dennis Kucinich, Earl Hilliard, Maurice Hinchey, Jerry Nadler, Donald Payne Chaka Fattah, Peter DeFazio, John Lewis Tammy Baldwin, Stephanie Tubbs Jones, Barney Frank, Henry Waxman, Cynthia McKinney, Jim Langevin, George Miller Alcee Hastings, Patsy Mink, John Olver , Bennie Thompson, Pete Stark, Julia Carson, and Mike Capuano submitted the following concurrent resolution; which was referred to the Committee on Energy and Commerce;[11]
Resolved by the House of Representatives (the Senate concurring), that the Congress shall enact legislation by October 2004 to guarantee that every person in the United States, regardless of income, age, or employment or health status, has access to health care..
HR 3000
On September 3, 2003 Congresswoman Barbara Lee (D-CA) introduced H.R. 3000, the United States Universal Health Service Act, which would provide health coverage for all Americans. H.R. 3000 would establish a United States Health Service (USHS), which would eliminate profit issues from health care because it would be owned and controlled by the public and administered primarily at the local level.[12]
According to the Communist Party USA's People's World, initial supporters of HR 3000 were Julia Carson, (D-Ind.), Donna Christensen (D-Va.), John Conyers (D-Mich.), Elijah Cummings (D-Md.), Danny Davis (D-Ill.), Jesse Jackson, Jr. (D-Ill.), Dennis Kucinich (D-Ohio), Major Owens (D-N.Y.), Donald Payne (D-N.J.), and Lynn Woolsey (D-Calif.).
The World went on to say;[13]
We will not win the United States Health Service without a massive, prolonged struggle by working people against the corporate defenders of the current for-profit health care industry.
A.N.S.W.E.R.
Links to Communist Party
Cleveland connections
Dennis Kucinich has reportedly been close to the Communist Party USA since his days in Cleveland Ohio council politics in the 1960s[14].
Take Kucinich first. As mayor of Cleveland in the late 1960s, he represented one of the most "left" elements in the Democratic Party during the heyday of the radical protest movement. He was closely allied with the Stalinists of the CPUSA, who still had significant influence in the working class of Cleveland, particularly in such unions as the UE and UAW. With the collapse of the protest movement and the shift to the right in American bourgeois politics, Kucinich was driven out of political life for two decades, before returning to office as a state legislator and ultimately winning a congressional seat.
Ohio State Senate victory
In 1994 Kucinich won a seat in the Ohio State Senate, with strong labor backing, especially from the International Brotherhood of Electrical Workers local 30, who canvassed door to door, in two Cleveland neighborhoods.[15]
Commenting on the victory in the People's World of December 3 1994, Ohio state Communist Party USA chair Rick Nagin wrote;
Kucinich not only motivated people to vote - he motivated an army of 1000 volunteers, drawn in considerable measure from labor and grassroots organizations...The Kucinich election shows the tremendous potential for working class and labor candidates. It shows that big business, even with their vast resources can be decisively beaten..."
Communist controversy
During Kucinich's 1996 Congressional run, there was considerable controversy over his ties to Communist Party USA member Rick Nagin.
Writing in the Communist Party USA paper People's Weekly World Ohio Communist Party chairman, Rick Nagin, detailed the campaign which led to Kucinich's election to Congress:[16]
The election of Dennis Kucinich in Ohio's 10th Congressional District was a ground-breaking event demonstrating the powerful political potential of a mass, grassroots coalition led by labor.
Trade unionists and seniors provided the largest numbers of some 5,000 volunteers but many others came from Hispanic, environmental, peace and other organizations.
According to the campaign staff, the volunteers canvassed at least 600 of the district's 750 precincts, some as many as four times. They turned the western half of Cuyahoga County and especially the west side of Cleveland into a sea of 15,000 bright yellow yard signs reading "Light Up Congress! Elect Dennis Kucinich" -
Many organizations also issued their own literature and did their own mailings including the AFL-CIO's Labor '96, the UAW CAP Council, the Sierra Club, Peace Voter '96, gay rights and senior groups. The United Auto Workers and the Steelworkers did plantgate distributions. The Ohio Council of Senior Citizens distributed 12,000 pieces with the positions of Kucinich and his opponent, incumbent Martin Hoke, on senior issues to senior buildings, nutrition sites and bingo games.
Then First Lady Hillary Clinton, Congressmen Louis Stokes, Joe Kennedy and Barney Frank also helped out.
The coalition embraced many political viewpoints: Democrats, independents, Greens, socialists, Communists, members of the Labor Party, even some disgruntled Republicans. Democratic Party figures, including First Lady Hillary Clinton, Congressmen Louis Stokes, Joseph Kennedy and Barney Frank visited Cleveland to help in the effort.
But it was the grassroots, labor-community coalition that Kucinich had in mind on election night when he gave his impassioned victory speech with jubilant leaders of organized labor standing behind him, their right fists held high, chanting, "We are the party of the people! We are the party of the people!" The coalition was inspired by both Kucinich's personality and his program.
The Republicans reacted with fury to this open challenge to their decades of labor-baiting bully tactics. Kucinich's program, Republican county chairman Jim Trakas announced, is "very similar to the Communist Manifesto" and is "what Lenin stood for." Kucinich blasted this reversion to "McCarthyism."
The smears were endlessly propagated by a right-wing talk show host who made it his mission three hours every morning to stop Kucinich. The poisonous attacks, aimed at suppressing voter turnout, caused the race to tighten considerably. In the final week before the election the focus of the Hoke campaign shifted to virulent red-baiting directed at this writer.
In what was probably a first since the beginning of the Cold War, Kucinich refused to knuckle under, calmly stating that I was one of 5,000 volunteers and declaring, "It's Halloween and Hoke is dressing up as Joe McCarthy. Karl Marx is not running my campaign but apparently Harpo Marx is running his."
On Nov. 5 Hoke was defeated by a vote of 108,000 to 102,000 with 10,000 going to a candidate of the Natural Law Party. It was a stunning rebuke to Hoke's shameful attempt to whip up hatred and hysteria. Although he spent a million dollars - over twice as much as Kucinich - he could not shake the solid majority of voters who showed outstanding maturity.
Later, the Communist Party USA itself contradicted Kucinich's claim that Nagin was merely "one of 5,000 volunteers."
In 2005 Rick Nagin campaigned unsuccessfully in his own right for City Council, and was heavily criticized over his Communist Party ties. Nagin had resigned as chairman of the Ohio Communist Party (but had remained a member) to take a position as executive assistant to Nelson Cintron Jr, the first Latino in City Council and a protoge of Kucinich's
According to the People's Weekly World[17];
Nagin was continuously targeted as a member and former chairman of the Ohio Communist Party, yet his strong showing was impressive and stemmed from a number of factors....
Nagin also had seven and a half years of experience as executive assistant to Nelson Cintron Jr. who represented an adjacent ward. Furthermore, he had been a key organizer for Dennis Kucinich's campaigns for Congress and president and for the 2004 John Kerry presidential campaign.
Supported by Bruce Bostick
Communist Party USA activist and Steel Mill worker, Bruce Bostick endorses Kucinich in the 2008, video to the right.
Kucinich and communists, kindred spirits?
The Communist Party USA appears to see Dennis Kucinich as a man worthy of support and someone who can be relied on to push the correct agenda in Congress.
In a 2004 report to the CPUSA National Board, the Party's Political Action Committee chair, Joelle Fishman wrote a report on Party work in the U.S. Presidential elections. She included a comment on Dennis Kucinich and the Democratic Party National Convention[18].
Dennis Kucinich's 50 delegates to the national Democratic convention, will be presenting a platform plank for a Department of Peace, voted favorably by four state conventions, including dramatically in Texas just this week. The efforts of Kucinich together with Jesse Jackson and others, to bring forward more advanced demands, will make an important contribution to the convention. A very special contribution will be made by an expectedly large number of labor union delegates who will work together in one bloc to get a strong platform for jobs, health care, and pensions.
The Communist Party USA would also be at the convention;
We project our role at the convention as distribution of the Peoples Weekly World/Nuestro Mundo and literature to delegates and in free speech areas, and participation in the Kucinich-led issue events. We hope to have reporters inside the convention, we hope to speak with any labor delegates we know in their home states before the convention, and to participate in the Boston Social Forum which will be held the weekend prior to the convention".
In a July 2007 report to the CPUSA's National Committee, Party chairman Sam Webb urged fellow communists to "have a positive attitude toward the candidacy of Congressman Dennis Kucinich," characterizing the latter as "a leading voice of the broad people's coalition." "The more he [Kucinich] speaks to audiences of the core forces," said Webb, "the better positioned the movement will be to win in 2008 and to fight the good fight in 2009."
Still working with Communists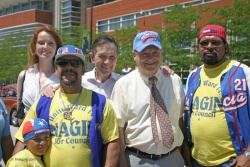 Rick Nagin of the Communist Party USA was Labor Coordinator for Dennis Kucinich's 2008 primary campaign[19].
Dennis Kucinich, (center rear), endorsed Rick Nagin (second from right) in his 2009 City Council race[20].
I've known Rick Nagin for more than 30 years. He's honest, hard-working and conscientious. The people of Ward 14 have a chance to elect a Councilman who will be totally dedicated to them. What more can you ask for?
I'm proud to join with the AFL-CIO in supporting Rick Nagin
Dennis Kucinich, Congressman, 10th District
Communist memorial
In August 2012, about 20 people spoke at Ohio Communist Party USA member Judy Gallo's memorial. They included her surviving husband and their two sons, Jesse Gallo and Nick Gallo . Others were labor and community leaders including Harriet Applegate, executive secretary of the Cleveland AFL-CIO, representatives of Reps. Dennis Kucinich and Betty Sutton, State Rep. Nickie Antonio and East Cleveland Councilwoman Barbara Thomas, the former president of AFSCME Local 3360 at MetroHealth.[21]
Cleveland club, CPUSA
The Cleveland club of the Communist Party USA supported Dennis Kucinich's campaign for governor. Unfortunately, he lost, but the club developed good relationships with his volunteers. One joined the "Better World's Birthday Party" reading club that meets weekly to discuss Rick Nagin's new book, "A Better World in Birth: Principles of Scientific Socialism/ A Handbook for Revolutionary Change". The reading club was organized by one of the club members, mostly in their 20's. They meet every Sunday and has grown to 15 participants. This could become the basis for forming a new party club. This discussion is building understanding of the importance of grass roots movements, being active in the elections as well as the need for socialism.[22]
Nagin backing
Rick Nagin backed Dennis Kucinich in his 2018 Governor of Ohio race. Dennis Kucinich March 28, 2018 ·
DSA connections
DSA support for Vaccines Compensation Bill
Democratic Socialists of America backed Dennis Kucinich nationally with his 2002 HR2459 Vaccines Compensation bill.
According to the minutes of a January 5, 2002 SF DSA Steering Committee meeting;[23]
According to a (fundraising) call from DSA, supporting HR2459 is a national DSA project. The idea is to contact representatives about co-sponsoring the bill, which comes from Dennis Kucinich and is supported by the progressive caucus. Everyone said they would contact their rep (neither Pelosi nor Lantos has signed on; Woolsey and Lee are co-sponsors).
This led to the question of the best way to contact Congress post anthrax scare. The feeling was regular mail might not get through, and probably a phone call would have the greatest impact. e-mail is another option.
Take Back America Conferences
Dennis Kucinich was on the list of 129 speakers at the 2003 Take Back America conference, which was organized by the Institute for Policy Studies, and Democratic Socialists of America dominated Campaign for America's Future.[24]
He was back in 2007.
DSA support in 2004
Ohio Democratic Socialists of America backed Kucinich in his difficult 2004 Congressional race.[25]
Ohio Progressive Dennis Kucinich is working hard to keep his West Cleveland 10th CD seat after his presidential primary campaign failed to catch fire, and DSAers are committed to returning the firebrand veteran politician and Progressive Caucus co-chair to Congress.
Kucinich and Howard Dean were top priorities for DSA in the 2004 elections, according to a report on the 2003 Democratic Socialists of America conference in Detroit[26];
The business sessions of the Detroit convention were characterized by cooperation, a sense of everyone working together on projects. Most of the discussion dealt with the 2004 presidential election and the urgency of getting George W. Bush out of the White House. While DSA members are working for various Democratic candidates (especially Howard Dean and Dennis Kucinich), the general consensus was that our organizational priority must be supporting any reasonable candidate against Bush, while at the same time helping to build a broad progressive coalition that can pressure the next president to address our issues.
DSA event
In 2006 Neil Abercrombie and Dennis Kucinich spoke at a Democratic Socialists of America Political Action Committee event in Washington DC at the home of Stewart Mott, for Bernie Sanders[27].
The questions and comments actually had to be cut off to let Bernie get to the plane.
He flew to Washington and the next day attended the Washington, D.C., DSA PAC party at the home of Stewart Mott. Not only did Bernie Sanders speak; so did members of Congress Neil Abercrombie (HI) and Dennis Kucinich (OH). Christine Riddiough, former DSA National Director, served as host/ moderator
Ohio Conference on Fair Trade commendation
On June 5, 2008, the Ohio Conference on Fair Trade, led by president Simone Morgen, of Columbus Jobs with Justice, and Democratic Socialists of Central Ohio, commended Sen. Sherrod Brown and five members of Ohio's congressional delegation for co-sponsoring the Trade Reform, Accountability, Development and Employment (TRADE) Act, introduced by Sen. Brown and Rep. Mike Michaud the day before in Washington D.C.
Representatives Marcy Kaptur, Dennis Kucinich, Tim Ryan, Betty Sutton and Charlie Wilson were among over fifty original House and Senate co-sponsors joining labor, environmental, family farm and faith groups in support of new consensus legislation which offers a positive vision for future U.S. trade policy.
Said OCFT President Simone Morgen.. "We have the opportunity for a new beginning that can spread the benefits of fair trade to the widest possible number of people. This is change we can really believe in!"[28]
DSA support on healthcare
According to the September 2009 Greater Detroit Democratic Socialists of America newsletter;[29]
There have been two positive developments with respect to health care reform in Congress. First, Representative Dennis Kucinich (D-Ohio) and other progressives on the House Labor and Education Committee were able to insert an amendment into HR 3200 allowing states to opt out of the public option in favor of a state single-payer plan. Secondly, Representative Anthony Weiner (D-New York) was able to persuade Speaker of the House Nancy Pelosi to schedule a vote on HR 676 in September (The Weiner Amendment would replace HR 3200 with HR 676.) in return for voting HR 3200 out of the House Commerce and Energy Committee.
In light of these developments, we ask DSA members to participate in the following activities on behalf of health care reform:Call your member of Congress. Demand that he or she support a strong public option, oppose stripping the Kucinich Amendment from the final bill, and support the Weiner Amendment. March with the Health Care for All contingent at the Detroit Labor Day Parade on Monday, September 7th.
Institute for Food and Development Policy/Food First
Dennis Kucinich is on the list of Congressional Representatives who have participated in hearings/briefings since 1998, with the very radical Institute for Food and Development Policy/Food First, founded by Frances Moore Lappe (Democratic Socialists of America, Institute for Policy Studies) and Joseph Collins (Institute for Policy Studies), authors of the book "Food First".[30]
Carpenter connection
Socialist activist Tim Carpenter cut his teeth on campaigns that recognized the connection between transforming politics and transforming the country: as a kid working "behind the Orange Curtain" (in then hyper-conservative Orange County) for George McGovern in 1972 and for the remarkable radical intervention that was Tom Hayden's 1976 US Senate bid. Carpenter was a trusted aide to the Rev. Jesse Jackson's 1988 "Rainbow Coalition" run for the presidency, an inner-circle strategist for Jerry Brown's 1992 presidential run (addressing that year's Democratic National Convention and urging delegates to "Save Our Party" from ideological compromises and corporate influence), a key figure in Dennis Kucinich's antiwar presidential campaign of 2004.[31]
"Andean Region Contractor Accountability Act"
April 25, 2001 Rep. Jan Schakowsky introduced the following bill; which was referred to the Committee on International Relations
To prohibit the United States Government from providing financing for nongovernmental organizations or individuals to carry out military, law enforcement, armed rescue, or other related operations in the countries of the Andean region, including any operations relating to narcotics control efforts.
This Act may be cited as the `Andean Region Contractor Accountability Act'.
In this Act, the term `countries of the Andean region' means the Republic of Bolivia, the Federative Republic of Brazil, the Republic of Ecuador, the Republic of Colombia, the Republic of Panama, the Republic of Peru, and the Bolivarian Republic of Venezuela. [32]
The Bill was co-sponsored by Reps Tammy Baldwin, Dennis Kucinich, Jim McGovern, Jose Serrano and Cynthia McKinney.
"WAKE UP DEMOCRATS! Take Back the Country"
"WAKE UP DEMOCRATS! Take Back the Country" Conference, with Rob Reiner, Robert Reich, Robert Rosendahl, Rep. Hilda Solis, Rep. Henry A. Waxman, Rep. Jesse Jackson, Jr., Rep. Dennis Kucinich, Ed Begley, Jr., Robert Borosage, Vincent Bugliosi, Warren Beatty, Susan Lerner, Rep. Maxine Waters, Roy Ulrich, Medea Benjamin, S. David Freeman, Peter Navarro, Hon. Jackie Goldberg, Harold Meyerson, Hon. Antonio Villaraigosa, Amy Wakeland, Bob Erlenbush, Hon. Eric Garcetti, Tom Hayden, Aqella Sherrills, Parke Skelton, & Lila Garrett. Sponsored by SCADA. L.A., CA, 6/24/01.[33]
Presidential nomination attempt
In 2004, Kucinich also made a shortlived attempt to gain the Democratic Party's U.S. presidential nomination. Kucinich ran as a hard left, "peace" candidate in the Democratic Presidential primary in 2004 and attracted strong socialist support. Leading endorsers of his campaign included;
Tim Reynolds of the Dave Matthews Band, Ani DiFranco, Michelle Shocked, Willie Nelson, Pete Seeger, Joaquin Phoenix, Shelley Morrison, Staceyann Chin, Danny Glover, Ed Asner, James Cromwell, Mimi Kennedy, Hector Elizondo, Roy Scheider, Elliot Gould, Howard Zinn, Studs Terkel and Barbara Ehrenreich[34], Wendell Berry, Jack Nelson-Pallmeyer and Michael Males.
Ambassador John W. McDonald, longtime U.S. and international diplomat, also thrown his support behind Kucinich[35].
Global Day of Action
More than 250 U.S. cities took part in the March 20, 2004 Global Day of Action protesting Pentagon wars and occupations. The biggest demonstration was in New York, where 100,000 people marched and rallied.
The event was initiated by the International ANSWER--Act Now to Stop War and End Racism--Coalition, and United for Peace and Justice.
During the ANSWER segment of the rallies, Brian Becker, a co-director of the International Action Center and member of the ANSWER Steering Committee, applauded the courage of the Muslim community in turning out for the march, given the current repression, surveillance and raids.
Palestinian flags flew, and speakers in this segment included Ihab Darwish, Free Palestine Alliance; Lamis Deek, Al-Awda Palestine Right to Return Coalition; Imam Asharaf Uz Zaman, Islamic Circle of North America; Ismail Kamal, Muslim Student Association; Mahdi Bray, Muslim American Society and Freedom Foundation; and Waleed Bader, Arab Muslim American Federation/National Council of Arab Americans.
Teresa Gutierrez of the International Action Center appealed to the crowd to boycott Coca-Cola, implicated in the assassination of workers unionizing its Colombian plants.
Brenda Stokely, chair of New York City Labor Against the War and president of AFSCME District Council 1707, vowed, "We're going to bring down the imperialist powers who think they have the right to slaughter our children!" Larry Holmes of the International Action Center spoke and a taped message from political prisoner Mumia Abu-Jamal urged resistance to racist oppression, police occupation and imperialist oppression.
In the UFPJ segment of the rallies, speakers included Suheir Hamma of Def Poetry Jam; Sinan Antoon, an Iraqi filmmaker; David Cline, national president of Veterans for Peace; and Todd Ensign of Citizen Soldier. Fernando Suarez del Solar of Military Families Speak Out said: "Bush lied. Who died? My son."
Also featured were Tony Benn, former member of the British Parliament, representing Stop the War UK; New York City Councilmember Bill Perkins; and U.S. Rep. Major Owens. Rep. Dennis Kucinich, Dorothy Zellner, a Jewish activist, advocated an end to Israeli occupation, and Ziad Abu Rish of SUSTAIN--Stop U.S. Tax Aid to Israel Now--supported Palestinian self-determination.[36]
Colombia Support Network letter
In 2002, the Colombia Support Network organized a :dear colleague" letter to President Andres Pastrana Arango, of Colombia, through Ned Steiner, a staffer in Rep. Sam Farr's office.
The letter called on President Pastrana to end a military blockade on the Colombian town of San Jose de Apartado, a sister community of Madison Wisconsin, where the Colombia Support Network is based.
We write to you to bring your attention to the humanitarian crisis facing the civilian population of the Peace Community San Jose de Apartadó and its outlying settlements.
We urge the appropriate authorities of your government to dismantle the paramilitary checkpoint on the road between San Jose and Apartadó, ensure the continued safety of the road, and fully investigate recent threats and attacks on the Peace Community.
The Peace Community San Jose de Apartadó and its settlements, including the village of La Union, receive the permanent accompaniment of international organizations.
These include Peace Brigades International (PBI), as well as the U.S. Fellowship of Reconciliation (FOR), which currently has two US citizens in La Union. We support the work of these two respected organizations as well as the Peace Community in its effort to build a non-violent alternative to the conflict.
Representatives who signed the Colombia Support Network inspired letter in 2001 included Dennis Kucinich. [37]
2006 letter to Condoleezza Rice on Colombia
Alleged Colombian Army killings prompted Fellowship of Reconciliation to work with Representative Sam Farr to forge a response that would impact the 17th Brigade, the unit allegedly responsible for the violence against San José de Apartadó and communities throughout northwestern Colombia.
As a result, Reps. Sam Farr and Jim McGovern, wrote a letter to their colleagues in Congress urging them to join in calling on Secretary Condoleezza Rice to cut funding for the Colombian military.
Letter to Secretary of State Condoleezza Rice
(Deadline for Congressional representatives to sign: February 22)
We applaud the decision, noted in your certification letter of August 2005, that the US "will not consider providing assistance to the 17th Brigade until all significant human rights allegations involving the unit have been credibly addressed." Because the Brigade is a component of the Colombian Armed Forces' command structure and has been implicated in the above referenced human rights violations, we implore you to abide by both the letter of the law and the spirit of the law by withholding human rights certification for Colombia until the following conditions are met:
Signatories included Dennis Kucinich.[38]
2009 letter on Colombia
From November 6th through December 7th 2009, a letter calling for change in U.S. policy towards Colombia was circulated through the House of Representatives. This letter called for a decrease in U.S. aid for Colombia's military and an increase in support for human rights and humanitarian efforts. The initiators of this letter were —Representatives James McGovern, Jan Schakowsky, Donald Payne, and Mike Honda.
Dear Secretary of State Clinton,
The FY 2011 budget will contain the twelfth year of a major aid package to Colombia—an aid package originally slated to phase out after six years.
After eleven years, it is time to scale down assistance for Colombia's military and more systematically "Colombianize" such programs, within both the State Department and Defense Department budgets.
Signatories included Dennis Kucinich.[39]
Posada letter
In 2005 several far left Congressmembers wrote to President Bush urging him to extradite alleged terrorist Luis Posada Carriles to Venezuela to face justice.
We are writing to urge you to oppose the application for asylum by Luis Posada Carriles, and to support the request for extradition to Venezuela, where he is a fugitive from justice.
Signatories were; Dennis Kucinich, Barbara Lee, Cynthia McKinney, John Olver, James McGovern, Donald Payne, Lane Evans, Carolyn Maloney, Tammy Baldwin, Lynn Woolsey, Jose Serrano, Raul Grijalva, Maurice Hinchey, Bobby Rush, Edolphus Towns, Sam Farr, Bennie Thompson, Ed Pastor, Sheila Jackson Lee, Maxine Waters.[40]
Anti US-South Korea FTA briefing
On Wednesday, June 7, 2006, the Institute for Policy Studies allied Korea Policy Institute co-organized, with the Oakland Institute, a press briefing in Congress, sponsored by Congressman Dennis Kucinich. Speakers included Congressman Kucinich, Congresswoman Marcy Kaptur, Assemblymember Kang Ki Kap of Korea's Democratic Labor Party, Kim Tae Il, the General Secretary of the Korean Confederation of Trade Unions, Lee Heung Se of the Korean Advanced Farmers Federation, Lee Kang Sil of the Korean Hospital and Medical Workers Union, Chris Townsend of United Electrical Workers, and Kathy Ozer of the National Family Farm Coalition. All spoke of their deep misgivings over the proposed Korea-US FTA.[41]
Assisting CODEPINK's "Fallujah Aid"
In December 2004, US Senators Barbara Boxer of California, Raul Grijalva of Arizona and Congressmen Dennis Kucinich of Ohio and Henry Waxman of California provided diplomatic courtesy letters to a contingent of anti-war groups and individuals desiring to Fallujah, Iraq. Among those travelling in the contingent were: Rosa Suarez del Solar and her husband Fernando Suarez del Solar; Jeffrey Ritterman, Physicians for Social Responsibility; Jodie Evans, co-founder of CodePink: Women for Peace; Medea Benjamin, co-founder of Global Exchange and CodePink; Hany Khalil, national organizer, United for Peace and Justice. The organizations sponsoring the tour were CodePink, Project Guerrero Azteca for peace, Global Exchange, the Middle East Children's Alliance, Physicians for Social Responsibility, Peace Action, United for Peace and Justice, and Voices in the Wilderness.[42]
Fernando Suarez del Solar stated that had it not been for the help of the two congressmen, the tour would have not seen the light due to obstacles laid by the Pentagon. The contingent traveled from December 27, 2004 through January 8, 2005.
The contingent delivered $100,000 in cash and and $500,000 in humanitarian aid. At the time the diplomatic courtesy letters were issued, Medea Benjamin had stated that the aid was intended for families of the "other side" in Fallujah.[43]
Progressive Caucus
In 2000 Dennis Kucinich took his plan for single payer to the Democratic Platform Committee with a group of people from California including Gloria Allred, Tom Hayden, Lila Garrett. They were called the Progressive Caucus.
The plan was rejected.[44]
Backing Barack Obama
In 2008, rather than making a serious bid for the presidency himself, Dennis Kucinich urged his supporters to back Barack Obama.
According to the Communist Party USA's Political Affairs editors Blog;
Polling about 1% in Iowa just a day before the Iowa Caucuses, Rep. Dennis Kucinich (D-OH) urged his supporters to back him, but in places where they do not have enough votes to make an impact, to throw their support behind Sen. Barack Obama (D-IL).
Kucinich was quoted in the Baltimore Sun as saying:
"I strongly encourage all of my supporters to make Barack Obama their second choice. Sen. Obama and I have one thing in common: Change."
To which Obama replied:
"I have a lot of respect for Congressman Kucinich, and I'm honored that he has done this because we both believe deeply in the need for fundamental change. He and I have been fighting for a number of the same priorities -- including an end to the war in Iraq that we both opposed from the start."
In 2004, Kucinich served as a pole to unite left left wing voters behind his campaign-which he then delivered to John Kerry.
Kucinich did the same for Barack Obama in 2008. That is, run for the Democratic presidential nomination. Consolidate a base of left wing support, then stand aside, handing that support base to another leftist Democrat with more chance of success.
The Communist Party USA seems to have foreseen and approved of this scenario.
Communist Party Chairman Sam Webb, wrote in a July 2007 report to the Party's National Committee[45];
Finally, we should have a positive attitude toward the candidacy of Congressman Dennis Kucinich. Despite the efforts of the media to sideline him, Kucinich is emerging as a leading voice of the broad people's coalition. He brings consistent anti-right, anti-corporate, pro-peace positions to the presidential primaries and debates. None of the other candidates can make the same claim. The more he speaks to audiences of the core forces, the better positioned the movement will be to win in 2008 and to fight the good fight in 2009.
Supporting Coalition of Immokalee Workers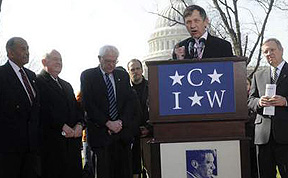 .
The Coalition of Immokalee Workers' petition drive to end sweatshop conditions in Florida's tomato fields received a warm welcome in Washington, DC. Senator Dick Durbin joined Senator Bernie Sanders, Representatives Dennis Kucinich and John Conyers, AFL-CIO President John Sweeney and representatives from dozens of human rights, religious, labor, and student organizations joined the CIW's call to end sweatshops and slavery in the fields.
Senator Sanders decried the "desperate conditions, conditions that in some cases are so extreme that even the Bush Administration has brought slavery charges," in Florida's fields, and announced that a hearing into those conditions is scheduled for April 15th.
Senator Durbin announced that a letter had been sent to "seven companies -- Wal-Mart Stores, Inc., Winn-Dixie Stores Inc., Kroger Co., Publix, Safeway Inc., US Food Service, Supervalu Inc., and Sysco Corp. -- asking them to join McDonald's and Yum Brands in the extra penny a pound program."[46]
Syria
Bassam Khawam, a former executive director and current board member of the Arab American Community Center for Economic and Social Services (AACCESS-Ohio), said that Tulsi Gabbard's 2017 trip to Syria wasn't the first trip his Cleveland-based organization has coordinated for U.S. lawmakers to the Middle East. Founded in 1991 to serve the Arab American community in Ohio, AACCESS has organized three trips to the region for Dennis Kucinich, the former Democratic congressman from Ohio, between 2006 and 2011; Khawam said the group did the same for Gabbard, a two-term Democratic congresswoman from Hawaii, because of her expressed interest in the region.[47]
Haiti Bill
In 2009, Barbara Lee and 10 other members of the House of Representatives have introduced a bill requesting an investigation into the Bush administration's role in the 2004 "destabilization campaign and invasion" of Haiti. The original proposed legislation, called the Truth Act, has been submitted annually to the House Committee on Foreign Affairs by Congressperson Lee.
Lee stated in 2004: "We do not teach people to overthrow our U.S. government, and the Bush administration must not participate in the overthrow of other democratically-elected governments. The United States must stand firm in its support of democracy and not allow a nascent democracy like Haiti to fall victim to the Bush administration's apparent policy of regime change."
"Regime change takes a variety of forms, and this looks like a blatant form of regime change to me," Congressperson Lee told Noriega. The bill, now known as H.R. 331, could make the congressional calendar for review in 2009.
The bill's co-sponsors included Corrine Brown (Fla.), Chaka Fattah (Pa.), Michael Honda (Calif.), Eddie Bernice Johnson (Texas), Dennis Kucinich (Ohio), Eleanor Holmes Norton (D.C.), Donald Payne (N.J.), Charles B. Rangel (N.Y.), Jan Schakowsky (Ill.) and Maxine Waters (Calif.).[48]
Voted against cutting funding for ACORN
In September 2009, following the lead of their Senate colleagues, the House of Representatives voted overwhelmingly to cut off funds to ACORN. the vote was 345-75. All of the 75 were Democrats, and included Dennis Kucinich. [49]
Russia Caucus
Congressmen Dennis Kucinich (D-OH) and Tom Price (R-GA) announced September 22, 2009, the formation of a bipartisan caucus to address issues that areof mutual concern to Russia and the United States and to examine "ways to improve friendship, dialogue and international exchange between the two nations". The announcement comes as Russian President Dmitry Medvedev arrives inthe United States tonight forthe G-20 summit in Pittsburghon September 24-25.
"The relationship between the United States and Russia has influenced the path of global development and the course of world politics. Today we announce the bipartisan Congressional Russia Caucus to help make sure that the relationship we share with Russiais equitable and friendly. I look forward to working with Congressman Price and other members who share our goals of ensuring that the future of American-Russian relations is strong and peaceful," said Kucinich.
"Few matters in the international arena can be discussed today without giving due consideration to Russia's influence in global affairs," said Rep. Price. "By opening a dialogue and engaging in diplomatic fact-finding, we hope to advance a stronger understanding of Russian policy and how it affects the United States and its allies. Congressman Kucinich's breadth of knowledge of foreign affairs is considerable, and I look forward to working together to move the U.S.-Russia relationship in a more productive and principled direction."
The Russia Caucus will "serve to maintain an open and constructive relationship between lawmakers from both countries by encouraging dialogue and the free exchange of ideas".[50]
Russian connections
In late April 1999, Representative Curt Weldon took a congressional delegation including Dennis Kucinich, Bernie Sanders, Roscoe Bartlett and others to Kosovo. The purpose of this delegation was to negotiate a Kosovo peace agreement. The negotiations involved our delegation, a group of Russian Duma members, and people close to genocidal dictator Slobodan Milosevic. Russia also sent Russian Mob connected Victor Chernomyrdin as its envoy to Kosovo.
David Swanson was Kucinich's Press Secretary in 2004. He would go on to write for the Ron Paul Institute, and attend friendship tours with Russia as recently as 2017. He was even approached by Russian Intelligence at one point. He also interviewed Jill Stein about her platform in the 2016 election.
At the 2008 World Russia Forum, Putin propagandist Edward Lozansky introduced Kucinich as a congressman who was close to Russia, whereupon Kucinich gave an eight-minute presentation about how we should be friends with Russia. This speech was his second appearance at this forum, and was delivered shortly after Andranik Migranyan, the man who ran the New York office of Putin's Think-Tank the "Institute for Democracy and Cooperation."
Reportedly IDC was an invention based on conversations had between Paul Manafort, Dmitri Simes, Oleg Deripaska and/or Gleb Pavlovsky.
The Discovery Institute is a conservative think tank which co-sponsored the World Russia Forum beginning in 2009. Kucinich had a speaking slot at the 2010 World Russia Forum. The Russian Orthodox Church sent its emissaries there, as well as Russian Alexander Torshin.
Ed Lozansky, Daniel McAdams, and Dennis Kucinich were all listed as contact points by the Mark Saylor Company lobbying by the Putin backed, break away Republics of of Abkhazia and South Ossetia in 2010. These Republics were created as ways for Putin to weaken former Soviet States around him in order to gain control over them.
Former Representative Kucinich started off 2013 by signing on as a Fox News Contributor. He spent the rest of Obama's presidency criticizing his foreign policy — on Fox News and Russia Today.
In April 2013, Kucinich joined the Ron Paul Institute which is a libertarian Republican think tank, and was working on defending the Russian spy Edward Snowden, at the time.
The Ron Paul Institute has a curiously pro-Putin bent, and is led by a contributor to the Russia's top propaganda website which was forced by the US Department of Justice to register as an agency of the Kremlin.
The Ron Paul Institute's Executive Director is Daniel McAdams, Russia Today Contributor and Fellow at the Dr Edward Lozansky's American University in Moscow. John Laughland is on the board with Kucinich, but his central role is to run the Putin funded Paris office of the think tank the Institute of Democracy and Cooperation.
The IDC was founded as an effort to "repair Russia's damaged image in the US and Europe and at the same time extend the reach and influence of the [Government of Russia]," according to a U.S. State Department cable published by Wikileaks.
Laughland, McAdams, and RPI academic board member Mark Almond also worked for the now-defunct British Helsinki Human Rights Group, a pro-Kremlin NGO that defended dictators against human rights abuse charges.
In 2011, Ron Paul Institute Executive Director registered a website called the Daily Putin. McAdams has been very outspoken in his criticism of US foreign from a Russia centric point of view.
By any account, Kucinich has joined the chorus of Pro-Putin people in the United States by blaming the United States for Russia's invasion of Crimea, advocating for Georgian Breakaway regions with McAdams and Lozansky and his constant attempts to ensure Assad stays in power in Syria.
More recently, Kucinich has touted the Conventional Kremlin line, siding with Trump. He called the Trump campaign's infamous meeting with Russian agents "nothing," praised Trump's inauguration speech as "unifying" and "great," and has spouted the Trump lines about the Deep State trying to destroy his presidency. His twitter reads like any right wing talk show hosts would when talking about the election.[51]
Committee to Stop FBI Repression delegation
In mid November 2010, a delegation from the Committee to Stop FBI Repression ( returned home from several days of bringing the "issue of the FBI raids and grand jury subpoenas of people doing international solidarity work and anti-war organizing to the U.S. Capitol". Three supporters of the Marxist-Leninist Freedom Road Socialist Organization/FightBack!, Deb Konechne of the Committee to Stop FBI Repression, Anh Pham, who is facing a reactivation of her subpoena and Joe Iosbaker, whose home was raided, spent two days meeting with U.S. Representatives on the issue. The delegation asked each Congressperson to sponsor a "Dear Colleague" letter condemning the raids and grand jury subpoenas. In the two days, the delegation met with either the Congressional Representative's staff or the Representative themselves fro[[m the following 16 offices: Tammy Baldwin (WI), John Conyers (MI), Danny Davis (IL), Keith Ellison (MN), Raul Grijalva (AZ), Luis Gutierrez (IL), Mike Honda (CA), Jesse Jackson, Jr. (IL), Dennis Kucinich (OH), Barbara Lee (CA), Jim McDermott (WA), Jim McGovern (MA), Bobby Rush (IL), Linda Sanchez (CA), Jan Schakowsky (IL), Maxine Waters (CA). The "meetings were positive, with all the offices expressing genuine concern about the situation. In some cases, because of the outpouring of calls from around the country, the U.S. Representatives were aware that the delegation was in Washington D.C. and the offices made time on their schedules to meet with the delegation. This reinforces the continuing importance of the solidarity work taking place around the country."
Rep. Conyers (MI), chair of the Judiciary Committee, directed the Counsel of the Judiciary Committee to meet with the delegation. Also, Rep. Ellison (MN) and his Congressional staff met directly with the delegation for a significant amount of time. rep. Ellison sent a letter to U.S. Attorney General Eric Holder, expressing concern over the situation and is continuing to work on options to support his constituents affected. The delegation also received face-to-face meetings with Rep Gutierrez and Rep Davis from Chicago. Rep. Grijalva's (AZ) office set up a meeting between the delegation and the Executive Director of the Congressional Progressive Caucus in the Congress of which rep. Grijalva is the chair. In addition, the office of Jan Schakowsky (IL) and Maxine Waters (CA) gave the delegation significant time and attention.
"It was clear that progressive Representatives of the Congress are very concerned about the FBI investigation. Overall, they were very thankful for our visit and for the information and analysis given to them The level of awareness about the raids and grand jury was varied, from little to full awareness, but the delegation certainly changed that. After the two days, our presence and purpose definitely created a stir in the halls of Congress. "The fact that we were able to interact with 16 legislative aides or Congress people themselves, during an extremely busy time of restructuring leadership in the Congress, exemplifies the attention this matter is receiving", stated Joe Iosbaker.[52]
The Progressive
Kucinich has been a contributor to the liberal magazine, The Progressive.
Parliamentarians for Nuclear Non-proliferation
The following were, as of 2011, vice presidents of Parliamentarians for Nuclear Non-proliferation and Disarmament :[53]
Qaddafi Offers Kucinich Trip to Libya to Broker Peace
Rep. Dennis Kucinich, who was been one of the most outspoken critics of the Obama administration's military intervention in Libya, confirmed that he was invited to visit the North African nation in an attempt to end months-long conflict between the Qaddafi regime and the rebel forces who have been aided by NATO air strikes.
The Guardian first reported that the Qaddafi regime offered Ohio Democrat an all-expense paid trip Tripoli as part of a hastily arranged "peace mission."
But Kucinich, who was worried about security, declined the offer and visited Syria instead.
In a statement, Kucinich said he was contacted by both sides seeking a peaceful solution to the conflict."During my communication with parties to the conflict, I made it clear that I could not negotiate on behalf of the administration, but that I was ready to listen and to communicate to members of Congress ideas for how the conflicts could be resolved peacefully," he said in a statement. "I also notified administration officials of what was communicated to me on several occasions."
Kucinich proposed a peace plan in June that called for an immediate ceasefire and offered a framework to achieve reconciliation and national unity.
"As we reach almost a half a year in Libya, we know that the use of force and ultimatums that neither side will accept will not end the bloodshed or bring about a just political settlement," Kucinich said. "As a strong proponent of the use of diplomacy instead of the use of military force, I believe it is my obligation and my right to participate in speech and debate over these critical matters."
Kucinich authored multiple resolutions to end the Libya mission or handcuff the administration as it pertains to Libya, and he is now suing the administration for going to "war" without seeking proper congressional approval.[54]
Shilling for Qaddafi
Democratic U.S. Rep. Dennis Kucinich and a former top State Department official aided Moammar Qaddafi right up to the time that rebels overran the Libyan dictator's Tripoli compound, papers discovered there have disclosed.
The staunchly anti-war Kucinich disputes the notion that he provided such assistance. But a letter found in the rubble shows that he talked to a senior Qaddafi official asking for evidence of corruption within the rebel Libyan National Transitional Council so he could use the information to try to persuade the White House to remove support for NATO airstrikes…
And David Welch, President George W. Bush's assistant secretary of state for near eastern affairs, told two senior Qaddafi officials that many in Washington would support the idea of the dictator's stepping aside "but not necessarily relinquishing all power."
A letter to Gadhafi's son, Saif al-Islam, detailing the Kucinich conversation was discovered in the bombed-out Bab-al-Aziziya compound by Al-Jazeera journalist Jamal Elshayyal, who had been invited inside by rebels.
The eight-term Ohio congressman, who ran for president in 2004 and 2008, said he also was looking for links between the rebels and al-Qaida that would help his cause, Elshayyal reported.
Kucinich quickly denied that he had given support to Qaddafi. "My questions about the legitimacy of the war, who the opposition was, and what NATO was doing, were well known and consistent with my official duties," he said in a statement.
"Any implication I was doing anything other than trying to bring an end to an unauthorized war is fiction."
The support given by Welch, who now works for the multinational company Bechtel, appears to go further, according to minutes of a meeting he had in Cairo, which Elshayyal smuggled out of the compound. Welch brokered the deal to restore diplomatic relations with Tripoli in 2008.
According to the papers, he met two senior Qaddafi officials, Abubakr Alzleitny and Mohammed Ahmed Ismail, in the Four Seasons hotel in Cairo on Aug. 2. On that same day Saif, who was considered the Libyan strongman's heir apparent, appeared on Libyan television to urge his countrymen to continue the fight against the NATO-backed rebels.
According to the minutes, Welch advised the two men how to win the propaganda war against the rebels, and suggested several "confidence-building measures."
"The documents appear to indicate that an influential US political personality was advising Qaddafi on how to beat the US and NATO," reported Elshayyal.
According to his report, one of the documents read. "Any information related to al-Qaida or other terrorist extremist organizations should be found and given to the American administration but only via the intelligence agencies of either Israel, Egypt, Morroco, or Jordan . . America will listen to them . . . It's better to receive this information as if it originated from those countries..."
Welch also advised the tottering regime to take advantage of the unrest in Syria. "The importance of taking advantage of the Syrian situation particularly regarding the double-standard policy adopted by Washington . . . the Syrians were never your friends and you would lose nothing from exploiting the situation there in order to embarrass the West," the ex-diplomat is reported as saying.
Welch, who was ambassador to Egypt before becoming assistant secretary of state in 2005, promised that he would "convey everything to the American administration, the Congress and other influential figures."[55]
HR 365
HR 365 was introduced by Michigan Democratic Rep. Hansen Clarke, in 2011, in a YouTube video posted on the representative's page, he said "We need to cut, cap, and forgive student loan debt," and that "That is the true debt that is burdening American families. We cut student loan debt we'll have a freer more prosperous country."
The bill has been sponsored by House Representatives Dennis Kucinich of Ohio, Keith Ellison of Minnesota John Conyers of Michigan, and Elijah Cummings of Maryland.[56]
FightingBobFest speaker
Dennis Kucinich has been a guest speaker at Wisconsin's annual progressive Fighting Bob Fest, in 2002, and 2011. [57]
Poverty Tour 2.0
Tavis Smiley and Cornel West, professor of Philosophy and Christian Practice at Union Theological Seminary, kick off "The Poverty Tour 2.0: A Call to Conscience" in Cleveland, OH.
The co-hosts of the nationally syndicated public radio program Smiley & West, from Public Radio International (PRI), hit the road September 12-15 2012 to host six town hall events that are FREE and open to the public.
"The Poverty Tour 2.0," sponsored in part by AARP Foundation and HuffPost Live, will visit the key battleground states of Ohio, Virginia, Pennsylvania, and Florida. In addition, one town hall event will be held in the state of Delaware. Smiley and West intend to push the moderators of the upcoming presidential debates to ask the candidates about America's poverty problem, and to urge legislators to support public policy and implement programs that will alleviate poverty.
"These new Census numbers will underscore what we've been saying for a long time — poverty is the new American norm," said Smiley. "The time is now to force poverty on the agenda; our leaders can't simply continue to be quiet on this issue."
Confirmed guests include: Peter Edelman, former member of the Clinton administration and co-founder of the Children's Defense Fund; Dolores Huerta, co-founder of the United Farm Workers; Ralph Nader, consumer advocate and former presidential candidate; Congresswoman Marcy Kaptur (D-OH); Congresswoman Marcia Fudge (D-OH); Congressman Chaka Fattah (D-PA); Congressman Dennis Kucinich (D-OH); and Jill Stein, Green Party USA candidate for president. All presidential and vice presidential candidates have been invited to participate.
"We're putting the spotlight on our precious fellow citizens who don't have access to a decent job, decent housing, and decent healthcare," said West. "We want to hear solutions that can be duplicated and adapted in communities across the country."[58]
Highlights from the first stop on The Poverty Tour 2.0 in Cleveland, OH with Congresswoman Marcy Kaptur, Congressman Dennis Kucinich, Cleveland City Councilman Brian Cummins, Justice for Janitors organizers Laurie Couch and Sandra Ellington, Chris Cooper from Kent State University's Ohio Employee Ownership Center, Green Clean Co-op worker-owner Mary Vel Vera, and Green Party presidential candidate Jill Stein.[59]
No Cuts to Social Security, Medicare and Medicaid
A broad coalition says national debt should be reduced through cuts to military spending, bank bailouts and corporate loopholes and end to Bush era tax cuts.
A Rally and March will take place on Saturday, December 10, 2011 in Downtown Cleveland calling for No Cuts to Social Security, Medicare, and Medicaid. The event coincides with International Human Rights Day. The rally will begin at Public Square in Cleveland at Noon. A march will follow to the Federal Building on E. 9th street.
The rally and march is sponsored by the December 10 Mobilizing Committee, a broad coalition of community, religious, labor and health care organizations.
Speakers at the rally will be US Representatives Dennis Kucinich, Marcia Fudge and Betty Sutton. Other speakers will include Harriet Applegate, North Shore AFL-CIO Federation of Labor; Rev. Tony Minor, Metropolitan Lutheran Church; Becka Hawkins, Occupy Cleveland; Khalid Samad, Peace in the Hood; Wynne Antonio, Senior Voice Retiree Council; Nina McLellan, Peace Action; Amy Hanauer, Policy Matters; Debbie Kline, Jobs with Justice; April Stoltz, National Association of Letter Carriers (ret,); David Anthony, Akron Education Association; Rachel DeGolia, Universal Health Care Action Network; Greg Coleridge, Northeast Ohio American Friends Service Committee; and Jerry Gordon, Emergency Labor Network.[60]
Progressive Democrats of America
In 2012, Dennis Kucinich served on the Advisory Board of Progressive Democrats of America.[61]
Praising CAIR
"In my home state of Ohio, CAIR has helped make my district a more inclusive and welcoming place for American Muslims." - Rep. Dennis J. Kucinich (D-Ohio) (September 2011). [62]
Tristan Rader supporters
Tristan Rader November 11, 2017 near Lakewood, OH ·
Thank you, Kristine Pagsuyoin, Matt Kuhns, Deb Bysak Sweeney and Donna Kolis. I think everyone who had any involvement in this past election will attest... without you, none of this would have happened and we would NOT have won. Know how much I appreciate all of you!! There are so many others deserving of thanks and praise... Bonny, Pat, Art Pagsuyoin, Susan E. Bradley, Tim, Tim Collingwood, Eric, Charles Milsaps, Erin L. Rader, Matt Marton, Mark Sweeney, Mike Deneen, Mike Foley, Michael Berler, Michael Skindell, Kevin Young, Jennifer Scott, Greg Murray, Lain Pierce, Steve Holecko, Steven Stringer, Brad Presutto, David Nader, Kristin Sullivan Warzocha, Brian Taubma, Lauren Whittingham-Bonse, Laura Rodriguez Carbone, Sarah Kolberg, Stanley D. Austin, Vonni Rubin, Rosemary Palmer, Chris Feighan, Kate McCarthy, Lorita Green, Veronica Cole, Kathy Sinatra-Curran, Casey Davis, Bill Grulich, DL Meckes, Pam Wetula, Dan Alaimo, Dan Ramos, Jeanette Riffle, Keith Mundy, Marc Dann, Dennis Kucinich, Nina Turner... And so many others!! AND of course, my beautiful and supportive wife Caitlin Rader, I love you and thank you!!
Radical state organizing director
Aramis Malachi-Ture Sundiata, was the Dennis Kucinich/Tara Samples campaign's state organizing director in 2018.[63]
Staff
The following have worked as staff members for Dennis Kucinich:[64]
External links
References