David Wu
From KeyWiki
David Wu was a Democratic member of the United States House of Representatives, representing the 1st district of Oregon.
Wu resigned in 2011 following allegations that he made unwanted sexual advances on a friend's teenage daughter.[1]
Supported by Council for a Livable World
The Council for a Livable World, founded in 1962 by long-time socialist activist and alleged Soviet agent, Leo Szilard, is a non-profit advocacy organization that seeks to "reduce the danger of nuclear weapons and increase national security", primarily through supporting progressive, congressional candidates who support their policies. The Council supported David Wu in his successful House of Representatives run as candidate for Oregon.[2]
Creamer connection
David Wu for Congress has been a client of Robert Creamer's Strategic Consulting Group.[3]
Committee of 100, welcomes Luo Zhijun
Luo Zhijun, Governor and Party Secretary for Jiangsu Province, and his economic development delegation were hosted at a dinner in the home of H&Q Asia Pacific Chairman and Founder Ta-lin Hsu on July 17, 2011, in Atherton, California. A number of Committee of 100 members and members of Congress, and other special guests, attended. The delegation, representing the one of the wealthiest Chinese provinces, included members of the Jiangsu government as well as Jiangsu-based entrepreneurs including the CEO of the solar energy company Suntech, Shi Zhengrong. Governor Luo gave a brief talk introducing Jiangsu's economic advantages, which was extensively covered in the Chinese press.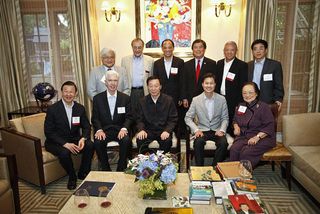 Hsu, along with members David Chang and Roger Wang, also assisted the delegation by introducing the delegation to Silicon Valley companies. Attending the dinner were U.S. Representatives Judy Chu, Mike Honda and David Wu, as well as former California Governor Gray Davis, Committee Chair Dominic Ng, C-100 members Pehong Chen, Wu-Fu Chen, Andrew Cherng, John Chiang, Weili Dai, Kenneth Fong, Doreen Woo Ho, George Koo, Stewart Kwoh, Li Lu, Dennis Wu, Jay Xu, Linda Tsao Yang, and Executive Director Angie Tang and Program Associate Alice Lin.[4]
External links
References