David Price
From KeyWiki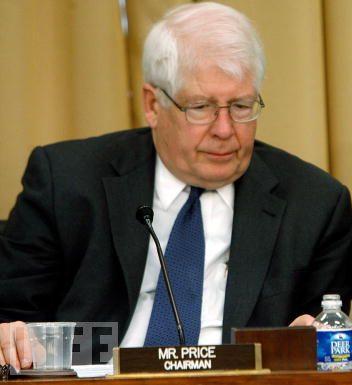 David E. Price is a Democratic member of the United States House of Representatives, representing the 4th district of North Carolina.
Supported by Council for a Livable World
The Council for a Livable World, founded in 1962 by long-time socialist activist and alleged Soviet agent, Leo Szilard, is a non-profit advocacy organization that seeks to "reduce the danger of nuclear weapons and increase national security", primarily through supporting progressive, congressional candidates who support their policies. The Council supported David Price in his successful House of Representatives run as candidate for North Carolina.[1]
Staffer's 2001 trip to Cuba
In May 2001, Jodi Keyserling from the office of Congressman David Price spent seven days in Havana, Cuba on a "fact finding trip". The trip cost $1,922.40 and was paid for by the Christopher Reynolds Foundation.[2]
Calling on Israeli Govt. to lift Gaza Travel Ban
On Dec. 22, 2009, thirty-three U.S. Representatives wrote to Secretary of State Hillary Clinton, calling on her to request that the Israeli Government end the ban on student travel from Gaza to the West Bank. David Price was one of the signatories of the letter.[3] The entire letter together with a complete list of signatories can be read by clicking here.
Anti-Fracking legislation endorser
On March 14, 2013, Rep. Jared Polis (D-CO) and Rep. Matt Cartwright (D-PA) have introduced the Bringing Reductions to Energy's Airborne Toxic Health Effect (BREATHE) Act, and the Focused Reduction of Effluence and Stormwater runoff through Hydraulic Environmental Regulation (FRESHER) Act, in order to ensure that the hydraulic fracking industry follows the same rules that other industries do in preserving our natural resources. This legislation is focused on ensuring the safety and the health of the communities where the hydraulic fracturing, or fracking, process is already taking place.
The BREATHE Act would ensure that we close the oil and gas industry's loophole to the Clean Air Act's aggregation provision, in addition to adding hydrogen sulfide—a chemical associated with nausea, vomiting, headaches, and irritation of the eyes, nose, and throat—to the Clean Air Act's federal list of hazardous air pollutants.
The BREATHE Act has the following original co-sponsors including: Reps. Rush Holt, Jr., Raul Grijalva, John Sarbanes, James Moran, Michael Quigley, Earl Blumenauer, Gerald Connolly, Zoe Lofgren, Michael Honda, Paul Tonko, Barbara Lee, David Price, Carolyn Maloney, Michael Capuano, Mark Pocan, Jim McDermott, Eleanor Holmes Norton, Alcee Hastings, Keith Ellison, Niki Tsongas, William Keating, Adam Smith, Jim Langevin, Chellie Pingree, Judy Chu, Louise Slaughter, Jerrold Nadler, Grace Meng, Jan Schakowsky, Nita Lowey, Jared Huffman, Gary Peters and Alan Lowenthal.
The following organizations have endorsed this legislation and are actively working to garner support within Congress and throughout the country: Physicians for Social Responsibility, Natural Resources Defense Council, Earthjustice, Alliance of Nurses for Healthy Environments, Sierra Club, Earthworks, Breast Cancer Action, Clean Water Action, Environment America, Greenpeace, Nature Abounds, Oil Change International, Citizens for a Healthy Community, Citizens for Huerfano County, Clean Water Action Colorado, Erie Rising, Grassroots Energy Activist Network, Holy Terror Farm, San Luis Valley Ecosystem Council, SOS Foundation, Western Colorado Congress of Mesa County, Western Slope Conservation Center and Wilderness Workshop.[4]
External links
References