Dirk Struik
From KeyWiki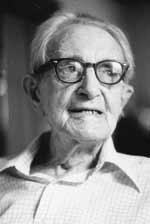 Professor Dirk J. Struik of Massachusetts
American Youth for Democracy
In the late 1940s, American Youth for Democracy was the youth wing of Communist Party USA.
In 1944 Dirk Struik was a national sponsor of American Youth for Democracy.[1]
Scientific and Cultural Conference for World Peace
Dirk J. Struik was a sponsor of the Scientific and Cultural Conference for World Peace which ran from March 25 - 27, 1949 in New York City. It was arranged by a Communist Party USA front organization known as the National Council of the Arts, Sciences, and Professions. The conference was a follow-up to a similar gathering, the strongly anti-America, pro-Soviet World Congress of Intellectuals which was held in Poland, August 25 - 28, 1948.[2]
American Committee for Protection of Foreign Born
In the late 1960s Dirk Struik was listed as a Sponsor of American Committee for Protection of Foreign Born[3].
Herbert Aptheker Testimonial Dinner
On April 28, 1966 Dirk Struik was a speaker at the Herbert Aptheker Testimonial Dinner. The dinner was held on the occasion of Herbert Aptheker's 50th birthday, the publication of his 20th book, and the 2nd anniversary of the American Institute for Marxist Studies. It was held in the Sutton Ballroom, The New York Hilton, Avenue of the Americas, 53rd to 54th Street, New York City. Most speakers, organizers and sponsors were known members or supporters of the Communist Party USA.
Struik was also a sponsor of the event.[4]
"A letter to Congress" on North Korea
In 1974, approximately 50 prominent, mainly Communist Party USA aligned leftists, signed a "Letter to Congress" on the situation regarding North Korea.
"For a quarter of a century the people of all Korea have needed such a peace agreement. The American People are ready for it. The People of the world deserve it. Peaceful coexistence must replace war and the threat of war. Negotiations must replace confrontation."
"Therefore, we the undersigned, concerned about the dangerous conditions in Korea earnestly appeal to you, and to all peace-minded Americans to join together in combining our reason and our political influence to secure the peaceful resolution of this problem."
The letter to Congress was in response to a March 25th, 1974 letter from the Supreme Peoples Assembly of the Democratic Peoples Republic of Korea to the United States Congress.
The signatories which included Dirk Struik urged Congress to act on North Korea's Concerns.[5]
We Will Make Peace Prevail!
On March 28, 1982 the New World Review organized a gala luncheon "We Will Make Peace Prevail! Disarmament Over Confrontation, Life Over Death", at the Grand Ballroom, Hotel Roosevelt, New York City. Virtually all participants were identified as Communist Party USA.
Dirk Struik was listed on the Committee of Sponsors.[6]
Massachusetts May Day
In May 1995 the Communist Party USA newspaper Peoples Weekly World published a May Day supplement. Included was a page offering May Day greetings to Massachusetts Communists Lew Johnson, Laura Ross, and Ann Timpson. Endorsers of the greeting included Dirk Struik.[7]
References