Chuck Hagel
Jump to navigation
Jump to search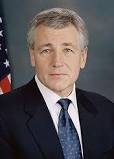 Template:TOCnestleft Charles Timothy "Chuck" Hagel is a former United States Senator from Nebraska. A member of the Republican Party, Hagel was first elected to the Senate in 1996. He was reelected in 2002 and then retired in 2008.
He has also served as chairman of the Atlantic Council and co-chairman of the President's Intelligence Advisory Board since 2009.
Background
A fourth generation Nebraskan, Hagel was born in North Platte, Nebraska on October 4, 1946. He graduated from St. Bonaventure High School, Columbus, Nebraska, the Brown Institute for Radio and Television, Minneapolis, Minnesota, and the University of Nebraska at Omaha. Hagel and his wife, Lilibet, have a daughter, Allyn, and a son, Ziller.
Prior to his election to the U.S. Senate, Hagel worked in the private sector as the President of McCarthy & Co., an investment banking firm based in Omaha, Nebraska, and served as Chairman of the Board of American Information Systems (AIS). Before joining McCarthy & Co., Hagel was President and Chief Executive Officer of the Private Sector Council (PSC) in Washington, D.C.; Chief Operating Officer of the 1990 Economic Summit of Industrialized Nations (G-7 Summit); and President and Chief Executive Officer of the World USO.
In the mid-1980's, Hagel co-founded VANGUARD Cellular Systems, Inc., a publicly traded corporation. In 1981, President Ronald Reagan nominated Hagel to serve as Deputy Administrator of the Veterans Administration, a nomination unanimously confirmed by the United States Senate. Hagel also served as Deputy Commissioner General of the United States for the 1982 World's Fair. From 1977 through 1980, Hagel was Manager of Government Affairs for The Firestone Tire & Rubber Company in Washington, D.C. From 1971 to 1977, he was Chief of Staff to Congressman John Y. McCollister (R-Nebraska). In 1969, Hagel worked as a newscaster and talk show host with radio stations KBON and KLNG in Omaha, Nebraska.[1]
Vietnam
Hagel served in Vietnam with his brother Tom in 1968. They served side by side as infantry squad leaders with the U.S. Army's 9th Infantry Division. He earned many military decorations and honors, including two Purple Hearts.[2]
Service
Chuck Hagel is a distinguished Professor at Georgetown University. He serves on the Boards of Directors of Chevron Corporation and Zurich's Holding Company of America; the Advisory Boards of Corsair Capital, Deutsche Bank America, M.I.C. Industries and is a Senior Advisor to Gallup. He is Co-Chairman of the President's Intelligence Advisory Board and a member of the Secretary of Defense's Policy Board. He also serves as Chairman of the Atlantic Council, Chairman of the United States of America Vietnam War Commemoration Advisory Committee, and is a member of the Public Broadcasting Service board of directors and the Systemic Risk Council.
He currently serves on the advisory boards of many institutions including: Bread for the World, Bonnie J. Addario Lung Cancer Foundation, Center for the Study of the Presidency, Dwight D. Eisenhower Memorial Commission, George C. Marshall Foundation, Georgetown's Institute for the Study of Diplomacy, Global Strategy Forum, Global Zero, Hamilton Project, Initiative for Global Development, Lung Cancer Alliance, International Center for the Study Of Radicalization and Political Violence, National Bureau of Asian Research's Next Generation Leadership Board, Ploughshares Fund, U.S. Global Leadership Coalition, U.S. Institute of Peace Middle East Senior Working Group, U.S. Middle East Project, America Abroad Media, American Security Project, and The Washington Center. He is co-chairman of the Vietnam Veterans Memorial Fund Corporate Council.
In the early 1990's, Hagel served on the Board of Trustees of Manville Personal Injury Settlement Trust, and in the 1980's served as Chairman of the $240 million Agent Orange Settlement Fund.
His past participation in civic, educational, and charitable organizations has included membership on the boards of directors of: the Greater Omaha Chamber of Commerce; Chairman, 10th Anniversary Vietnam Veterans' Memorial; the Friends of the Vietnam Veterans Memorial; the Arlington National Cemetery Historical Society; Chairman of the Board of No Greater Love, Inc.; the USO's World Board of Governors; the Private Sector Council; the Ripon Society; and the American Red Cross. He is a member of the Council on Foreign Relations and a life member of the American Legion, Veterans of Foreign Wars, Vietnam Veterans of America, Disabled American Veterans, and the Military Order of the Purple Heart.
Hagel holds Honorary Doctorate Degrees from Georgetown University; the College of William and Mary; Marymount University; Creighton University; Bellevue University; Doane College; Midland Lutheran College; and North Central College.[3]
Political career
Hagel served two terms in the United States Senate (1997-2009) representing the state of Nebraska. Hagel was a senior member of the Senate Foreign Relations; Banking, Housing and Urban Affairs; and Intelligence Committees. He Chaired the Foreign Relations International Economic Policy, Export and Trade Promotion Subcommittee; and the Banking Committee's International Trade and Finance, and Securities Subcommittees. Hagel also served as the Chairman of the Congressional-Executive Commission on China and the Senate Climate Change Observer Group.[4]
Writing
Hagel is the author of the book, America: Our Next Chapter, a straight-forward examination of the current state of our nation that provides substantial proposals for the challenges of the 21st century. Alan Greenspan says, "America: Our Next Chapter should be required reading;" former World Bank President James Wolfensohn declares the book, "a must read." Journalist and author Tom Brokaw states, "this is a book for people who care about their country," and General Colin Powell says that Hagel "writes with insight, expertise, authority, and with the credentials that come from his dedicated service in war and peace." Hagel was the subject of a 2006 book by University of Nebraska professor Charlyne Berens entitled, Chuck Hagel: Moving Forward.[5]
DREAM Act
In 2005 the DREAM Act, a narrowly tailored, bipartisan measure that Dick Durbin sponsored with Senator Chuck Hagel (R-NE) and Senator Richard Lugar (R-IN), would permit undocumented students to become permanent residents if they came to the US as children, are long-term U.S. residents, have good moral character, and attend college or enlist in the military for at least two years.[6]
IAPAC money
Senator Chuck Hagel received money from the Iranian American Political Action Committee during the 2006 election cycle.[7]
Praise from CAIR
The radical Council on American-Islamic Relations has had nothing but praise for Chuck Hagel. Below is a screenshot from CAIR's website on August 1, 2006:

In 2006, the Iranian-backed terrorist group Hezbollah fired countless rockets from Lebanon into Israel, then attacked an Israeli patrol on the Israeli side of the Israel-Lebanon border. Three soldiers were killed and two others taken hostage. Five more Israelis were killed in a failed rescue attempt.
As Israel Defense Forces attempted to stop the rocket fire, search for its missing soldiers and remove the Hezbollah threat, then Senator Hagel demanded an immediate cease-fire. This won praise from CAIR Executive Director Nihad Awad, who once said "I am a supporter of the Hamas movement."
CAIR also endorsed Hagel as a possible 2008 Presidential candidate, issuing this statement on August 28, 2006:
Potential Presidential candidates for 2008, like Hillary Clinton, John McCain, Joe Biden and New Gingrich, were falling all over themselves to express their support for Israel. The only exception to that rule was Senator Chuck Hagel ....
The above was reported by the National Jewish Democratic Council on their website on March 12, 2007.
Supporting increased ties to Saudi Arabia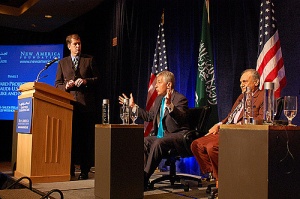 Chuck Hagel , advocated for closer U.S.-Saudi Arabia ties at a 2009 New America Foundation conference on U.S.-Saudi ties.
Obama Secretary of Defense contender
In December 2012, Chuck Hagel emerged as President Barack Obama's top candidate for defense secretary. Hagel has a personal relationship with Obama, forged when they both were in the Senate and strengthened during overseas trips they took together.
Wounded during the Vietnam War, Hagel backed the Iraq war, but later became a fierce and credible critic of the Bush administration's war policies, making routine trips to Iraq and Afghanistan. He opposed President George W. Bush's plan to send an additional 30,000 troops into Iraq — a move that has been credited with stabilizing the chaotic country — as "the most dangerous foreign policy blunder in this country since Vietnam, if it's carried out."
While Hagel supported the Afghanistan war resolution, over time he has become more critical of the decade-plus conflict, with its complex nation-building effort.
Often seeing the Afghan war through the lens of his service in Vietnam, Hagel has declared that militaries are "built to fight and win wars, not bind together failing nations." In a radio interview 2012, he spoke broadly of the need for greater diplomacy as the appropriate path in Afghanistan, noting that "the American people want out" of the war.
If nominated, Hagel would succeed Defense Secretary Leon Panetta who had made it clear he intended leave early in 2013. but has not publicly discussed the timing of his departure. He took the Pentagon job in July 2011.
The former senator shares many of the same ideals of Obama's first Pentagon leader, Republican Robert Gates. When Obama became president in 2009, he asked Gates to remain as defense secretary, the only Cabinet holdover from the Bush administration. Both Hagel and Gates talk of the need for global answers to regional conflicts and an emphasis on so-called soft power, including economic and political aid, to bolster weak nations.
"A Hagel nomination signals an interest in, and a commitment to continuing a bipartisan approach to national security," said David Berteau, senior vice president at the Center for Strategic and International Studies.
He said that Hagel's two terms in the Senate, before he retired in 2009, spanned the latter years of the post-Cold War military drawdown and the post-Sept. 11, 2001 buildup. "From a budget point of view he has seen both ends of the spectrum and that gives him a good perspective to start from."
Hagel's possible selection has been met with initial praise from key members of the Senate, including the chairman of the Senate Armed Services Committee, Sen. Carl Levin, who said Hagel would be "terrific."
Hagel often straddled party lines and had some high-profile dustups with his Republican colleagues.
In 2008, he criticized Republican vice presidential candidate Sarah Palin, saying she lacked foreign policy credentials and that it would be "a stretch" to consider her qualified to become president. His wife, Lilibet Hagel, endorsed Obama in his first run for president. Hagel also was mentioned as a possible candidate for Pentagon chief when Obama was first elected.[8]
Responding to charges of Hagel's reputed anti Israel bias Steven Clemons, a senior fellow at the New America Foundation and a personal friend of Hagel's, said that, while he doesn't know if his friend will get the nomination, he predicts that if he does, Hagel would meet with pro-Israel senators and attempt to "mitigate the negative pressure."[9]
New America Foundation commentary
Writing in The Daily Beast, December 18, 2012, Peter Beinart, of New America Foundation, promoted Chuck Hagel as a possible Obama pick for US Secretary of Defense.[10]
In signaling that he's likely to select Chuck Hagel as his secretary of defense, Barack Obama is sending a message about his second term. In the decade since 9/11, the spirit of Harry Truman has dominated American foreign policy. Now it may be giving way to the spirit of Dwight Eisenhower. And that could make all the difference in the world.
Truman's foreign policy was grand. In March 1947, in his speech to Congress requesting aid to Greece and Turkey, and then, more comprehensively, in a secret 1950 strategy paper entitled NSC 68, Truman committed the United States to containing communism everywhere on earth. It was a stirring cause, and hubristic beyond words. The United States lacked the money and manpower, not to mention the wisdom, to ensure that no new nation embraced communism (itself an ill-defined term). And by making global containment the centerpiece of American foreign policy, Truman set America on the path to Vietnam...
Hagel may represent a shift: a sign that Obama is finally willing to liberate himself from Bush's legacy. A painting of Eisenhower adorns Hagel's office wall. And Hagel resembles the 34th president in two crucial ways. Unlike Truman, who believed that America's epic post-World War II economic growth meant it could afford epic increases in defense spending, Eisenhower—according to his treasury secretary—"feared deficits almost more than he feared the communists." For Eisenhower, who believed that Moscow wanted to goad America into "an unbearable security burden leading to economic disaster," the best way to strengthen national security was to reduce unaffordable defense spending. And he did so ferociously, cutting defense from almost 70 percent of the federal budget when he took office to just over 50 percent when he left—and in the process prompting four different Army Chiefs of Staff to quit.
Hagel's assumption is the same: that since economic strength forms the foundation of national security, slashing the Pentagon budget, and thus reducing the debt, may actually make America stronger. "The Defense Department," Hagel has argued, "has been bloated" and must "be pared down." Hawks warn that cutting defense will make America more vulnerable to foreign threats. But Hagel, like Eisenhower, understands that a nation cannot meaningfully define its threats without first defining its interests. That means determining which corners of the globe really matter to the United States, and which don't, and then figuring out how much defense spending you need. "We have not had any real strategic thinking in this country for years and years and years—strategic thinking in what are our interests," Hagel told the Council on Foreign Relations. He's right, and just asking the question would be a big shift from the Bush era.
Hagel, too, fears war because he knows it. In 1968 outside Saigon, a mine blew up his armed personnel carrier, badly burning him and blowing out his eardrums. As John Judis showed in a superb 2007 profile, Vietnam haunts Hagel to this day. And perhaps the defining sentiment of his political career has been his Eisenhower-like fury at politicians and pundits who advocate war without understanding its horror. "It's interesting to me," Hagel told Newsweek in 2002, "that many of those who want to rush the country into war [with Iraq] and think it would be so quick and easy don't know anything about war. They come at it from an intellectual perspective versus having sat in jungles or foxholes and watched their friends get their heads blown off. I try to speak for those ghosts of the past a little bit."
Had Hagel been around to "speak for those ghosts," I'm not sure the Obama administration would have sent 30,000 more troops to Afghanistan in a "surge" that, as Bob Woodward has shown, few in the White House believed could succeed. Hagel has also been more reluctant than Obama to support, even hypothetically, military action against Iran. Like Eisenhower, who scorned the idea that any war, once unleashed, could be controlled, Hagel reviles the bloodless, almost casual, way in which commentators discuss "air strikes" against Iran. Hagel doesn't talk about air strikes; he talks about war. "Once you start [a war with Iran]," he told The Atlantic Council in 2010, "you'd better be prepared to find 100,000 troops because it may take that." You can't say "it'll be a limited warfare. I don't think any nation can ever go into it that way."
Hawks are terrified of a Hagel appointment. They should be. Hagel is that rarest of Washington creatures: a politician brave or foolish enough to follow his conscience wherever it leads. He imperiled a safe senate seat in an overwhelmingly Republican state because he so fiercely opposed the Bush administration's foreign policy. It's entirely possible that he'd resign rather than support another Middle Eastern war. For the last four years, George W. Bush and Dick Cheney have been silent partners in Barack Obama's foreign policy, continuing to define many of the assumptions that guide America's relations with the world. Now, finally, mercifully, that may be beginning to change.
Institute for Policy Studies commentary
Phyllis Bennis, of the Institute for Policy Studies, wrote an article for The Nation, January 8, 2013, posing the question "Will Chuck Hagel's Appointment Actually Help the Anti-War Left?" [11]
While claiming that Hagel is a conservative, Bennis outlined advantages to leftist "peace movement" activists of Chuck Hagel becoming US Secretary of Defense.
Chuck Hagel isn't anyone I'd pick to be in a position of power. He's a conservative Republican, a military guy who volunteered to fight in Vietnam...
At the end of the day, this isn't about Hagel versus anybody. This is about what President Obama is signaling by his nomination of Hagel as Secretary of Defense—and about the political forces arrayed against him.
Hagel's nomination engendered bitter, angry opposition from the moment it was floated as a trial balloon two weeks ago. And the fact that Obama went ahead with the nomination, despite the opposition and the threats that the Senate would never confirm Hagel, is a good indication that on at least some critical foreign policy issues, Obama is not prepared to allow either the pro-Israeli lobbies or the hard-core neoconservatives, in and outside of Washington, to determine whom he could and could not choose as Secretary of Defense.
The opposition was from both of those separate, though overlapping, Washington cohorts. Pro-Israel forces are outraged that President Obama might appoint someone who once had the temerity to warn that the lobby "intimidates a lot of people" in Washington...but having a Secretary of Defense who acknowledges the danger of putting Israeli interests above those of the United States and willing to challenge the pro-Israel lobbies is a pretty interesting development. (And if Obama saw the nomination also as an opportunity to pay back Israeli Prime Minister Netanyahu for his all-but-official endorsement of Mitt Romney during last year's election, that's likely just a bonus.)
Neocon anger at Chuck Hagel isn't new. Some of it parallels the frustration of the Israel lobbies—Hagel's refusal to tow the AIPAC line, particularly refusing to call for war with Iran.
Hagel as Secretary of Defense doesn't guarantee there will be no war with Iran—but Obama's nomination of him, and willingness to defend him against the soft-on-Iran accusations, signals that the White House isn't looking to move towards a military attack any time soon...
And then there's the Pentagon budget. Hagel has called it "bloated," pretty amazing for a future Secretary of Defense. Obama may have felt that a decorated Republican military veteran would be the best choice to convince a Republican-controlled Congress that some cuts will have to be made... a Pentagon chief who actually believes his agency's budget should be cut—that's new.
Whatever else he is, Chuck Hagel is no leftist. Standing to the left of President Obama's center-right military policy is not a very high bar. But again—standing up to AIPAC, the defense industry (and members of Congress accountable to them) and the still-powerful neocons makes the Hagel appointment a good move for Obama. And it gives the rest of us a basis to push much farther to end the wars, to close the bases, to cut the Pentagon funding, to tax the military profiteers.
Ploughhares Fund
Chuck Hagel serves on the board of the radical Ploughshares Fund, a partner organization of the Institute for Policy Studies.
Iran ties
In 2008, Sen. Barack Obama and his newly-picked running mate, Sen. Joe Biden of Delaware, were firmly united one one issue: the need to forge closer ties to the government of Iran.
Kaveh Mohseni, a spokesman for the Student Movement Coordination Committee for Democracy in Iran, calls Biden "a great friend of the mullahs." He notes that Bidens election campaigns "have been financed by Islamic charities of the Iranian regime based in California and by the Silicon Iran network," a loosely-knit group of wealthy Iranian-American businessmen and women seeking to end the U.S. trade embargo on Iran. "In exchange, the senator does his best to aid the mullahs," Mohseni argues.
Biden was one of 16 U.S. senators who voted against a bill that would add Iran's Revolutionary Guards corps to the State Department's list of international terrorist organizations, because of its involvement in murdering U.S. troops in Iraq. Rather than sanction those in power in Tehran, Biden and Republican Sen. Chuck Hagel argued that the United States should offer Tehran a greater role in Iraq's domestic affairs. [12]
NIAC connections
Documents obtained by The Daily Caller showed that staffers for then-Sen. Chuck Hagel met repeatedly with a controversial pro-Iran lobby group, and some met with the organization's president.
A letter written by National Iranian American Council legislative assistant Babak Talebi describing Sen. Hagel as "generally on our side" regarding issues concerning the Islamic Republic.
A NIAC-authored portrayal of Iran-friendly politicians describes a meeting between Parsi and Hagel staffer Rexon Ryu in which Ryu "offered good advice." It also describes meetings "at least twice" with a Ryu deputy "to get his feedback and ask for the Senator's support."
"Hagel's moderate stance on immigration has also made him the recipient of IAPAC funds," according to that NIAC-drafted summary.
IAPAC is the Iranian American Political Action Committee. Its website includes a thank-you note from Hagel, written after the 2006 election. "Please know," Hagel wrote, "that I will always do my best and work hard to continue to earn your confidence and support."
Describing a March 31, 2006 meeting with Ryu, which took place in Hagel's office, an NIAC member wrote in a memo that "Hagel is concerned about the current path we are on. Rexon preferred not to see the imposition of punitive measures but rather a call for negotiations between both governments."
Ryu, Hagel's deputy, "noted that the military is stretched thin already," the memo concluded, "and was open to pursuing constructive measures."
Hagel, however, supports policies that are "aimed at strengthening civil society without aiding the Islamic Republic," that memo said.
Ryu later went on to work on Iran issues at the National Security Council. According to his LinkedIn profile, he is now deputy to the U.S. Permanent Representative to the United Nations at the State Department.
Ryu met with NIAC president Trita Parsi on Jan. 10, 2008. And other Hagel staff met with NIAC, according to the group's calendar.[13]
References