Chris Murphy
From KeyWiki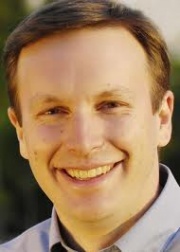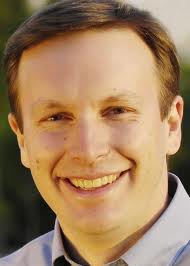 Chris Murphy is a Democratic member of the United States Senate, He previously represented the 5th district of Connecticut in the United States House of Representatives. Murphy won election to the Senate in November 2012.[1]
Murphy's Fifth District included the towns of Danbury, Meriden, New Britain, and Waterbury. He served on the Foreign Affairs Committee and its Middle East and South Asia Subcommittee. He also served on the Committee on Oversight and Government Reform and its Technology, Information Policy, Intergovernmental Relations and Procurement Reform and Health Care, District of Columbia, Census and the National Archives Subcommittees.[2]
Background
Congressman Murphy grew up in Connecticut, and attended Williams College in Massachusetts, graduating with honors and a double major in history and political science. In 2002, he graduated from UConn Law School in Hartford, Connecticut. He practiced real estate and banking law from 2002-2006 with the firm of Ruben, Johnson & Morgan in Hartford.
On August 18, 2007, Congressman Murphy married Cathy Holahan, a legal aid attorney who represents children in need in New Britain and Waterbury. Chris, Cathy, and their son Owen reside in Cheshire. [3]
State House
Prior to his service in the U.S. House of Representatives, Congressman Murphy served for eight years in the Connecticut General Assembly. He spent four years representing Southington and the 81st district in the House, and then spent four years representing the 16th Senatorial District, which includes the towns of Waterbury, Wolcott, Cheshire and Southington. While in the Senate, he served as the Chairman of the Public Health Committee.
As Chairman of the Public Health Committee, Congressman Murphy was the General Assembly's leader on health care issues. In 2003, during his first year as Chairman, he led the passage of Connecticut's landmark workplace smoking ban. That year, he also authored legislation that prohibits hospitals from engaging in overly aggressive collection practices against uninsured patients and a law establishing new government powers to be utilized during a bioterrorism attack. [4]
Working Families Party
The Working Families Party had their annual meeting August 27, 2011 in Hartford, CT. The Working Families Party led the successful fight for the "Sick Days" bill. Connecticut was the first state in the union to pass such legislation. Other successful initiatives where also noted along with Working Families election victories.
The meeting featured the three democratic candidates for US Senate Susan Bysiewicz, former Connecticut Secretary of the State, William Tong, State Representative and Chris Murphy, U.S. Representative and an information session on three "bold new policy ideas for Connecticut." Several hundred people attended the event.
The three bold policy issues discussed were: (1) The development of the Connecticut Partnership Bank, molded after the successful Bank of North Dakota (2) Green Jobs modeled after the the Green Jobs-Green New York action and (3) The development of a state pension fund for those in the private sector currently without a defined pension.[5]
Labor Endorsement
At the Connecticut AFL-CIO convention June 23, 2008, state AFL-CIO President John Olsen, calling on everyone to go out and organize. "We got the House and Senate back in 2006 and now we have to get the presidency back so we can win the Employee Free Choice Act, universal health care and an energy policy like the Apollo plan."
Connecticut Sen. Chris Dodd was warmly welcomed by the delegates. Decrying the disparities in America, he lauded the labor movement for hard fought battles for workers' gains "not given benevolently by corporate America," and passionately called for an all-out push to elect Barack Obama on Nov. 4.
Saying he hopes the Employee Free Choice Act will be the first bill on the new president's desk, Dodd emphasized that "this election will determine what kind of country, what kind of world, we leave to our children and grandchildren … We can't afford four more years of Bush."
The convention unanimously adopted a resolution reaffirming opposition to the war by national and state labor bodies, and asserting that Obama "shares labor's opposition … while John McCain supports the war and President Bush's military policy."
The resolution urges unions to inform their members "of McCain's pro-war position and how it is directly related to his anti-union economic policies; and how the continuation of the war is fueling the current economic crisis."
Bill Shortell, representing the Machinists Union and the Bristol Labor Council, recalled asking, when the war began, "Is this an issue for us?" to which his buddy replied, "Who's going to speak for me if the union doesn't speak for me?" Shortell called on the delegates to "take a strong position and back candidates committed to get us out of Iraq and end this bloodshed as soon as possible."
A heated debate took place over the endorsement of Jim Himes, a pro-labor, antiwar Democrat challenging incumbent Republican Chris Shays (4th Congressional District), a leading proponent of Bush's Iraq war policies. Shays was the only representative from Connecticut to vote for additional funding of the war last month. He had angered the endorsement committee during an interview in which he objected to a question on the war, saying, "Why are you asking me about that? That's not a labor issue."
AFSCME delegate Blair Bertaccini got a round of applause when he called on the convention to "support candidates who support us as a class, as workers, not just one particular sector. Otherwise we will keep losing numbers and become irrelevant." Himes won the endorsement overwhelmingly.
The convention also committed to help Democratic Reps. Chris Murphy (5th CD) and Joe Courtney (2nd CD) return to Congress. They both defeated Republicans in 2006 and have been targeted by the Republican National Committee for smear attacks.
Speaking to delegates from the 3rd CD, which she represents, Rep. Rosa DeLauro thanked the labor movement for enabling her to win by large majorities. "With big margins I can take on the strong fights, which those with small margins many not feel free to do," she said, referring to the vote against further funds for the war.
Delegates signed up for the Labor 2008 program, including speaking to members in their workplace and at home. Signatures were collected on postcards for the Employee Free Choice Act which will be presented to the new president in January.
A moment of silence honored prominent union leaders who recently died, including Merrillee Milstein, former District 1199 vice president and then deputy regional director of the AFL-CIO, known for her dedication and commitment to organizing and building diversity within the labor movement.
The convention adopted a strategic plan for the elections and legislative and organizing goals. A Diversity Dialogue will be held Sept. 20 with the aim of developing new union leaders. AFL-CIO representative Barbara Nicole Holtz urged delegates to attend, projecting the conference as a model for other states.[6]
Take Back the American Dream Conference 2011
Chris Murphy was one of the 158 speakers who addressed the Take Back the American Dream Conference 2011 . The Conference was hosted by the Institute for Policy Studies, and Democratic Socialists of America dominated Campaign for America's Future, [7]
2012 CLW Senate victories
2012 CLW Senate Victories were;
Tammy Baldwin (D-WI), Sherrod Brown (D-OH), Bob Casey (D-PA), Kirsten Gillibrand (D-NY), Martin Heinrich (D-NM), Heidi Heitkamp (D-ND) Mazie Hirono (D-HI), Tim Kaine (D-VA), Angus King (I-ME), Amy Klobuchar (D-MN), Claire McCaskill (D-MO), Chris Murphy (D-CT) Bernie Sanders (I-VT), Debbie Stabenow (D-MI), Jon Tester (D-MT), Elizabeth Warren (D-MA) and Sheldon Whitehouse (D-RI).[8]
"Champion for jobs and working people"
New Haven Connecticut Communist Party USA leader Joelle Fishman wrote in the People's World, June 28 2013;
The union-community coalition that came together around the city elections and the 2011 jobs program, was instrumental in electing Sen. Chris Murphy, a champion for jobs and working people, to the U.S. Senate. [9]
Filibuster reform
The Communications Workers of America is to make filibuster reform a top cause and they're trying to bring the rest of the union movement along. The union reiterated that goal in post-election comments.
"The 2012 election makes the reform even more paramount," it said. "Seven Democratic senators-elect - Tammy Baldwin (Wis.), Martin Heinrich (N.M.), Heidi Heitkamp (N.D.), Mazie Hirono (Hawaii), Tim Kaine (Va.), Chris Murphy (Conn.) and Elizabeth Warren (Mass.) - have all already pledged to Sen. Jeff Merkley, D-Ore., to support rules reform. And Maine's Independent candidate, former Gov. Angus King won on a platform included filibuster reform as a major campaign issue.
"The American people want their elected officials to debate and address the major issues of our time and to move past obstruction for obstruction's sake," added CWA Legislative Director Shane Larson.[10]
External links
References