Chris Coons
Jump to navigation
Jump to search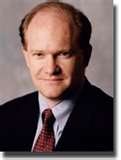 Christopher Andrew "Chris" Coons (born September 9, 1963), is an American lawyer and Democrat from Wilmington, Delaware. He lives in Wilmington with his wife, Annie Lingenfelter and their three children, Michael, Jack and Maggie.
He is the County Executive of New Castle County. On February 3, 2010, he announced his candidacy for the Senate seat vacated by then Vice President-elect Joe Biden and is currently running against the Tea Party/Republican candidate - Christine O'Donnell.[1]
Early Life, Family and Education
Chris Coons grew up in Hockessin, Delaware. His family fell on hard times when he was a pre-teen and his parents divorced. Soon after those tough times, his mother, Sally, re-married when Coons was just 14 years old. She married Robert Gore, wealthy Chairman of W.L. Gore & Associates, the Newark-based fabrics-maker.[2]
He graduated from the Tower Hill School and then Amherst College in 1985 with a B.A. in Chemistry and Political Science, earning a Truman Scholarship. During his junior year of college, Coons studied abroad at the University of Nairobi in Kenya.
Tower Hill School states in its mission:
The school prepares its students for citizenship in the global community and encourages an appreciation for the lifelong process of learning.
Amherst College states in its mission:
Amherst College is committed to learning through close colloquy and to expanding the realm of knowledge through scholarly research and artistic creation at the highest level. Its graduates link learning with leadership—in service to the College, to their communities, and to the world beyond.
In the early 1990s, Coons earned a Master of Arts in Religion (M.A.R.) at Yale Divinity School specializing in ethics, graduating in 1994.[3] Coons made a sweeping quote of his intentions in the Senate: Serving in the United States Senate would be a "great way for me to apply the principles and values that were honed at YDS."
Yale Divinity School Courses and Required Reading:
• Witchcraft and Witch Hunting: Specifically listed as REL 717: Witchcraft and Witch Hunting, the "REL" presumably stands for "Religion."
• Queer Worship. The formal name for this course is REL 786, Liturgy and Gender (Queer Worship).
• Queer Globalizations: Citizenship and the Afterlife of Colonialism is a great place to start. And Queer Globalizations? What values are to be found there? A check over at Amazon shows such interesting chapters and sections as "The Wily Homosexual" "Queer Values in a Global Economy" "Redecorating the International Economy: Keynes, Grant and the Queering of Bretton Woods" and "Stealth Bombers of Desire."
• Feminist/Womanist/Gendered Theologies: This course is listed as "REL 749." It is designed, the course description says, "to formulate a robust theological understanding of today's theopolitical issues" by "using feminist, womanist, and ethnic gendered theologies." A religious movement focusing on how exactly to liberate African women in America. Drawn from feminist and liberation theology.
• Introduction to Christian Ethics II: Yet another opportunity here in "REL 715" for Coons to study up on his favorites. Black Liberation Theology guru James Cone is mandatory reading here. Values taught in the reading for a class on Christianity? In God of the Oppressed, Cone salutes the values of Marx in a chapter called "Marx and the Sociology of Knowledge" while also musing about "Jesus is Black" and the "Meaning of Liberation."
Professors at Yale Divinity School:
• Thomas Ogletree - The Dean of the Yale Divinity School during Coons' time at YDS was Thomas Ogletree. Professor Ogletree has also been the Frederick Marquand Professor Emeritus of Ethics and Religious Studies at YDS. He is now listed among "Faculty Emeriti" after years of teaching Ethics, the very subject in which Coons received his degree from YDS.
A snapshot of Dr. Ogletree's view of the world that he imparted to his Ethics students can be found in a 1974 book he co-wrote that bears this title: From Hope to Liberation: Towards a New Marxist-Christian Dialogue Co-wrote? And with whom did Professor Ogletree, future Dean of Yale Divinity School and Ethics Professor for almost two decades, have as his co-author?
That would be the late Herbert Aptheker. The same Mr. Aptheker who is known in history famously in the day as a prominent member of the National Committee of the Communist Party USA and the founder of the American Institute of Marxist Studies.[3]
• Sister Margaret A. Farley - Sister Margaret, Professor Emerita of Christian Ethics -- Ethics being Coons' focus at YDS -- has her own interesting background. She shares with a late colleague the fact of being the first Catholic member of the YDS faculty.
But Sister Margaret is not your run-of-the-mill Catholic nun. She is, in Catholic circles, famous as the Sister of Mercy feminist, pro-abortion activist. In 1984, Sister Margaret signed a statement supporting abortion that appeared as an ad in the New York Times. In a review of Sister Margaret's book Just Love: A Framework for Christian Sexual Ethics, Anne Barbeau Gardiner, herself a Professor Emerita (of English at John Jay College of the City University of New York), titled her review of Sister Margaret's book: Reverend Mother Libertine. Ouch. Why? Because among other things Sister Margaret is a staunch supporter of abortion, defends masturbation, "heaps contempt on the Catholic view that marriage involves the 'total gift' of self," "contradicts the teaching of the Catholic Church by endorsing divorce and remarriage," and makes a "full-throated defense of homosexual relationships." Or, again quoting Gardiner, "defends the entire gamut of sexual activity outside of marriage."[3]
Awards and Honors
In 1999, Coons was awarded the Governor's Outstanding Volunteer Award for his work with the "I Have a Dream" Foundation, the Governor's Mentoring Council and the United Way of Delaware.
He has been named an honorary commander of the 166th Air Wing of the Delaware Air National Guard and is an honorary life member of the Minquadale Fire Company.
Professional Career
After graduating college, Chris Coons went on to work in Washington, D.C. for the Investor Responsibility Research Center. While there, he wrote a book on South Africa and the US divestment movement. He then worked as a volunteer for the South African Council of Churches and as a relief worker in Kenya. When he returned to the US, he worked for the Coalition for the Homeless in New York. In 1992, he earned his J.D. degree from Yale Law School and a master's degree in Ethics from Yale Divinity School.[4]
Coons clerked for Judge Jane Richards Roth on the United States Court of Appeals for the Third Circuit. He then worked for the National "I Have a Dream" Foundation in New York.[5] When he returned to Delaware in 1996, Coons began his 8 year career as in-house counsel for W.L. Gore & Associates, Inc. They are a Newark, Delaware-based manufacturer of Gore-Tex fabrics and other high-tech materials. He was responsible for ethics training, federal government relations, e-commerce legal work and for general commercial contracting.
Coons serves on several boards including First State Innovation, the Bear/Glasgow Boys & Girls Club and the Delaware College of Art & Design.
Political Career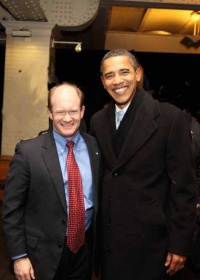 Coons first became involved in politics working on behalf of Republican politicians. He first worked for Ronald Reagan's presidential campaign in 1980 and then for Bill Roth's Senate campaign in 1982.[6] During college, he switched from being a Republican to a Democrat and in 1988, Coons worked as a volunteer for the Senate campaign of Democratic Delaware Lt. Gov. Shien Biau Woo.[5] He was a delegate from Wilmington to the 1996 Democratic National Convention in Chicago.
County Executive of New Castle County
Coons' first elected office was President of the New Castle County Council, elected in 2000 and serving four years before being elected County Executive in 2004. He was the endorsed candidate of the New Castle County Democratic Party in 2008 and was re-nominated by the party on September 9, 2008.
Coons was re-elected on November 4, 2008, defeating Republican candidate and former New Castle County Executive Thomas P. Gordon.
2010 Senate Campaign
On February 3, 2010, Coons announced his candidacy for the Class II (Junior) U.S. Senate seat for Delaware, vacated by then Vice President-elect Joe Biden, himself a former member of the New Castle County council. In the interim, the seat has been held by Ted Kaufman, an appointee. Coons was unopposed in the Democratic primary. He is running against the Republican's chosen candidate, Christine O'Donnell. O'Donnell is also the Republican/Tea Party candidate.
Let's take a look at where Coons stands on the issues:[7]
Abortion
Pro-choice, but no federal subsidies. (Sep 2010)
Support embryonic stem cell research. (Sep 2010)
Civil Rights
Targeted by Stonewall as pro-LGBT candidate. (Jun 2010)
Education
Every student deserves a quality public education. (Jul 2010)
Energy and Oil
Buildup of carbon dioxide is unsustainable. (Jul 2010)
Oil drilling poses an environmental risk. (Jul 2010)
Free Trade
Link fair trade with national security. (Jul 2010)
Government Reform
Campaign spending is not a form of speech. (Sep 2010)
Gun Control
Respect 2nd Amendment with common sense limitations. (Sep 2010)
From The Daily Times:
One reader asked Coons about the "F" grade the National Rifle Association Political Victory Fund recently gave him for his positions on gun rights and the Second Amendment. The NRA has endorsed Republican Christine O'Donnell in the race.
"We need to work harder to keep guns out of the hands of felons and those with demonstrated mental problems and to promote gun safety, but I strongly believe in the right of Americans to own and use firearms for self-defense and sport," Coons wrote.
Health Care
Longstanding need to fix health care system. (Jul 2010)
Homeland Security
Link security with development and human rights. (Jul 2010)
Immigration
Supports comprehensive federal immigration reform. (Sep 2010)
Social Security
Against privatizing Social Security. (Sep 2010)
Tax Reform
New approach to replace Bush tax cuts. (Aug 2010)
Increase property & sewer taxes; layoff 75 county employees. (Mar 2009)
War and Peace
Responsibly end the war in Iraq. (Sep 2010)
On September 18th, 2010, Coons stated at a debate in Wilmington, Delaware, that he supported Obamacare as currently written and indicated that there was little going on in Washington, D.C. that he would change. He also indicated his support for extending Miranda rights to terrorists. Coons raised taxes in 2005, 2007 and 2009. He also raided the county's reserve fund and increased water and sewer fees. The size of County government has grown every year under Coons and the budget has steadily increased.[8]
His support for taxpayer-funded abortion and partial-birth abortion earned him a 100 percent rating from NARAL Pro-Choice America. He favors amnesty for immigrants who are here illegally. His statements on the economy indicate that he thinks we need another stimulus bill.
Founding Members of Republicans for Chris Coons
A number of Progressive Republicans in Name Only announced their support publicly for Chris Coons on Oct. 26, 2010. Tom Evans - former Congressman. Bob Carpenter - son of the former Phillies owner. William "Bud" Roth III - Senator Bill Roth's son. Norm Veasey - former Chief Justice of the Delaware Supreme Court.
Founding Members of Republicans for Chris Coons:[9]
Campaign Contributions
Campaign Contributions for 2010 Senate Bid - Top 20 Donors (as of 10/04/2010):[10]
Raised: $1,622,522
Spent: $678,291
Cash on Hand: $944,230
Last Report: August 25, 2010
PAC contributions - $326,085 (20%)
Individual contributions - $962,849 (59%)
Candidate self-financing - $250,000 (15%)
Other - $83,588 (5%)
.....
Record and Controversies
Exxon Senators
Exxon Mobil Corp. lobbyist Keith McCoy listed six Democrats the oil giant saw as key allies to push its legislative agenda in the Senate in a secretly recorded sting video Greenpeace UK published late last month.
New analysis of campaign disclosures found the six Democratic senators ― Mark Kelly (Ariz.), Maggie Hassan (N.H.), Joe Manchin (W.Va.), Chris Coons (Del.), Kyrsten Sinema (Ariz.) and Jon Tester (Mont.) ― received a combined total of nearly $333,000 from lobbyists, political action committees and lobbying firms affiliated with Exxon over the past decade.
The analysis of campaign disclosures, which the advocacy group Oil Change U.S. conducted and HuffPost reviewed, found Tester received the most in donations from Exxon Mobil ― $99,783 from seven lobbyists, the company's PAC and four lobbying firms working for the firm.
The report includes some donations lobbyists at K Street behemoths such as Akin Gump Strauss Hauer & Feld and Brownstein Hyatt Farber Schreck gave before taking on Exxon Mobil as a client. Spokespeople for Coons and Sinema said including those contributions in the total was "misleading" and "inaccurate."
But Collin Rees, the senior campaigner at Oil Change U.S. who conducted the analysis, said the donations paint a fuller picture of Exxon Mobil's influence taking stock of the relationships the company's money helped cultivate as well as those that may have prompted the oil giant to hire certain lobbyists in the first place.
"This is a story about how lobbyists curry favor, and specifically about how Exxon's current lobbyists have spent decades currying the favor of these six Democrats to position themselves to do things like safeguard fossil fuel subsidies and pare down infrastructure packages," Rees said. "Exxon has hired these firms and lobbyists because they've contributed hundreds of thousands of dollars to these Democrats, both before and after they were hired by Exxon."
Counting donations from lobbyists like Arshi Siddiqui, some of which came before Exxon Mobil hired her, makes Sinema the No. 2 recipient on the list, with $70,800 in contributions from eight Exxon Mobil lobbyists, the company PAC and three lobbying firms.
"Inclusion of those contributions would be incredibly misleading," John LaBombard, a spokesman for Sinema, said of money that came from lobbyists who also work for other clients. "Kyrsten's work in the Senate is influenced by only one thing: what is best for Arizona."
Coons came in third with $68,650 from seven lobbyists, the PAC and four lobbying firms.
"One of the other ones that aren't talked about is Senator Coons, who's from Delaware, who has a very close relationship with Senator Biden," McCoy said in the now-viral video, in which he believed he was talking to corporate headhunters in Dubai, United Arab Emirates. "So we've been working with his office. As a matter of fact, our CEO is talking to him next Tuesday."
It's unclear whether a meeting with Exxon Mobil chief Darren Woods took place.[11]
Self-Avowed Bearded Marxist
On May 23, 1985 at the age of 21, Coons authored an article in the Amherst Student, the student magazine at his university, Amherst College. The article was entitled "Chris Coons: The Making of a Bearded Marxist." In the article, Coons, then 21 years old and about to graduate from Amherst College, chronicled his transformation from a sheltered, conservative-minded college student who had worked for former GOP Delaware Sen. William Roth and had campaigned for Ronald Reagan in 1980, into a cynical young adult who was distrustful of American power and willing to question the American notion of free enterprise. In one passage of the article, Coons explains how in the months leading up to his trip abroad, "leftists" on campus and college professors had begun to "challenge the basic assumptions" he had formed about America. A course on cultural anthropology, noted Coons, had "undermined the accepted value of progress and the cultural superiority of the West," while a class on the Vietnam War led him to "suspect…that the ideal of America as a 'beacon of freedom and justice, providing hope for the world' was not exactly based in reality."[12]
Click here for a PDF of "The Bearded Marxist."
Harry Reid's Pet
After predicting that Chris Coons will win 'safely' in the Nov. 2nd, 2010 general election against GOP nominee Christine O'Donnell, Senate Majority Leader Harry Reid (D-NV) infamously stated the following:
"I'm going to be very honest with you — Chris Coons, everybody knows him in the Democratic caucus. He's my pet. He's my favorite candidate."
"Let me tell you about him: A graduate of Yale Divinity School. Yale Law School. A two-time national debate champion. He represents two-thirds of the state now, in an elected capacity. I don't know if you've ever seen him or heard him speak, but he is a dynamic speaker. I don't mean loud or long; he's a communicator. So that's how I feel about Delaware. I've always thought Chris Coons is going to win. I told him that and I tried to get him to run. I'm glad he's running. I just think the world of him. He's my pet."[13]
Black Liberation Theology/Social Justice
Coons traveled to Africa in the 1980s - emerging as a committed leftist after volunteering for an organization supporting Black Liberation Theology, the South African Council of Churches and working as a relief worker in Kenya.
This is the radical religious philosophy espoused by left-wing activist James Cone and President Obama's one-time spiritual mentor, the Reverend Jeremiah Wright. Black Liberation Theology is an off-shoot of liberation theology, a Marxist-driven interpretation of Christianity.[14] This is not a detail you will find on Coons' website or in the mainstream media. The left has done their best to scrub this from public view.
While in South Africa, Coons was aligned with Frank Chikane who joined something called the Institute for Contextual Theology, quickly becoming its director and later a "Co-ordinator" of the ICT. The ICT is a Christian think-tank inside the South African Council of Churches. The same SACC that Frank Chikane would serve as General Secretary for from the late-1980s until the mid-1990s.
The SACC and ICT both promote liberation theology - a Marxism-as-Christianity philosophy from which James Cone developed Black Liberation Theology. According to the World Socialist Movement, their goal was "to transform black consciousness into class-consciousness."[14] This is referred to as the Black Consciousness Movement.
From The American Spectator, the liberation theologists viewed the gospel in the same light:
They were all united in the conviction that Christianity and the Gospel message had an edge of justice, liberation and a preferential option for the poor. Many of them operated in a global theological context that included the Latin American theologies of Liberation and all of them were firmly convinced that the Gospel is political.
Social justice is the language of Black Liberation Theology.
James Cone's influence on the leadership of SACC was discussed in "James Cone's Legacy in Africa: Confession as Political Praxis in the Kairos Document," a paper written by O.U. Kalu, a Research Associate at the University of Pretoria, when he studied at the McCormick Theological Seminary in Chicago, Illinois. (A .pdf of the paper is available here.) McCormick Theological Seminary has hosted Reverend Jeremiah Wright and advertised his book, Preaching with Sacred Fire: An Anthology of African American Sermons, 1750-present. McCormick has also been advertising book signings at Trinity UCC Church in Chicago.[14]
All involved with SACC and ICT, including Chris Coons, believe in Marxist/Socialist policies - specifically a redistribution of wealth ideology that would transform the United States into a Marxist state.
Taxation and the Redistribution of Wealth
Chris Coons the Taxman - Air date: 10-11-10
In 2004, while campaigning to become New Castle County's top executive, a position he was elected to, Coons promised not to raise taxes. Since then he has raised taxes three times.
From The Washington Examiner:
"Coons inherited a surplus. Celebrating victory on election night in 2004, he said his 'top priority would be to continue balancing the budget without increasing property taxes,' according to an account in the local News Journal."
"Yet in 2006, he pushed through a 5 percent increase in property taxes. In 2007, he raised property taxes 17.5 percent. In 2009, he raised them another 25 percent. Coons wanted to raise other taxes, too. He proposed a hotel tax, a tax on paramedic services, even a tax on people who call 911 from cell phones."
Also see: The Chris Coons Project - how Tweed Park Project gave to the rich and took the property of the working class - Delaware News
The Pension Loophole
The News Journal reported on 02/14/07 that, as New Castle County Executive, Chris "Coons voted to open a pension loophole that would have allowed County employees to buy into the pension system, or to transfer credit from other government services. He [Coons] saw to it that his buddies and top staff people — and all six of the new County Council Members and their staff — were grandfathered under that loophole which has, and will, cost Delaware taxpayers millions of dollars."[15]
Violation of Citizen's Rights
Chris Coons was sued for using his County position to harass, defame and intimidate attorney Thomas S. Neuberger (Plaintiff), a Delaware citizen who was investigating government corruption.
Excerpts from the Judge's opinion:
"Plaintiff claims that private medical information was made public in contravention of his constitutionally protected right to privacy and that his ability to engage in protected First Amendment activities has been chilled. As I must accept as true all well-pleaded allegations of fact, I find plaintiff successfully alleges actual and particularized invasions of legally protected interests."
"First Amendment Retaliation Claims:
Plaintiff alleges that defendants published newspaper ads and released his private medical information to retaliate against him for his exercising his First Amendment rights in two ways: (1) by speaking to the media and public challenging government corruption and illegality; and (2) by filing lawsuits on his clients behalf challenging the same."
"Fourteenth Amendment Privacy Right Claim:
The privacy right is "the right to be let alone – the most comprehensive of rights and the right most valued by civilized men. To protect that right, every unjustifiable intrusion of the government upon the privacy of an individual… must be deemed a [constitutional violation]."
On page 21 it states, "Individual Defendants claim they are entitled to qualified immunity for all of plaintiff's remaining claims."
Although Chris Coons unlawfully released and circulated Mr. Neuberger's personal medical records, he successfully averted justice by getting off on "official immunity."[15]
And there is more... From the American Glob:
(August 2007) WILMINGTON, Delaware (AP)- A third lawsuit alleges that New Castle Co6unty Executive Chris Coons retaliated against county employees because of their political views.
Dennis Parkstone filed the latest lawsuit last month. He claims he was fired after 35 years for a minor violation because he voiced support for Coon's rival in 2004, Sherry Freebery. However, county spokeswoman Christy Gleason says Parkstone was fired because he sent inappropriate and explicit e-mails on the county's e-mail servers.
A lawsuit filed by county police Corporal Trinidad Navarro is scheduled to go to trial next month. Navarro alleges he was passed over for a promotion because he supported a police chief appointed by the previous county executive.
And two years ago, Freebery's brother alleged in lawsuit that he was improperly fired because he supported his sister. He was the general manager of Special Services for the county.
Personal Gain from Cap and Trade
Chris Coons stands to make millions off of middle and low-income Delawareans through his wealthy family business (Gore-Tex) when, if elected Senator, he helps push through President Obama's Cap and Trade legislation.
No wonder Chris Coons is Harry Reid's "pet" and the President and Vice President are campaigning for him.
"Here is how the company pushed for more regulations to tax the poor and make millions for Chris Coons and his wealthy family:
In 2003, W.L. Gore began to actively campaign for more pollution regulation. "In the past, the company avoided talking in public about its position on proposed environmental regulations because it didn't want the companies that buy its air-cleaning filters to think Gore was trying to tighten standards just so it could sell more pollution control equipment, Coons said. Instead the company would go directly to its industrial clients with details about how Gore's products could help them comply with current rules, or new rules being developed by federal regulators. 'What we haven't done in the past is said it in front of Congress,' Coons said. Richard A. Bucher, the scientist who testified before the Senate in June, said that two years ago Gore would have declined the invitation of Delaware Sen. Tom Carper to speak publicly at a congressional hearing." (Steven Church, "Gore Joins Environmental Policy Debate," The (Wilmington, Delaware) News Journal, 11/16/03)"[15]
Council for a Livable World
The Council for a Livable World, founded in 1962 by long-time socialist activist and alleged Soviet agent, Leo Szilard, is a non-profit advocacy organization that seeks to "reduce the danger of nuclear weapons and increase national security", primarily through supporting progressive, congressional candidates who support their policies. The Council supported Chris Coons (D-DE) in his successful 2010 election campaign.[16]
From the Council website;[17]
Progressive Coons starts his fight to keep Joe Biden's Senate seat in Democratic hands as an underdog, but he has a serious chance of winning.
Coons first entered politics with an extensive background in foreign policy issues. He studied at the University of Nairobi, volunteered with the South African Council of Churches, worked in Kenyan relief efforts, and wrote reports on disinvestment from aparthied-dominated South Africa and rain forest destruction in Central America.
He supports ratification of the two key arms control treaties – both New START and the test ban treaty – and steps toward a world free of nuclear weapons.
Coons advocates "a robust, engaged foreign policy, based on diplomacy and strategic partnerships with other nations."
2014 endorsement
CLW endorsed Coons again in 2014;
Coons delivered on his promise to continue serving the people of Delaware in the same progressive tradition as Vice President Biden. During his term in office, Sen. Coons has averaged an outstanding 95% on Council for a Livable World's Senate voting scorecard.
Coons supported ratification the New START treat and supports ratification of the Comprehensive Test Ban Treaty. In addition to his support of sensible national security policies, Coons has also been a supporter of the reauthorization of the Violence Against Women Act, affordable healthcare and equal pay.
On the passage of New START, the nuclear arms reduction treaty, Sen. Coons released the following statement:
"This vote reinforces the wide consensus among national security and military leaders, as well as the American people, that New START is a pressing security matter of the highest order. New START will make America stronger and more secure by building on 30 years of U.S. global leadership on nuclear arms control and reduction. The 111th Congress has come to an end with the Senate fulfilling this critical national security obligation to the American people."[18]
Cuba visit
Senior senators met February 2012 in Havana with President Raúl Castro of Cuba and with an imprisoned American aid worker, but they reported no immediate breakthrough on Friday on winning the American's freedom. Related
The Caucus: Senior Senators Meet With Raúl Castro (February 24, 2012) Senators Patrick Leahy, of Vermont, and Richard C. Shelby, Republican of Alabama, met with Mr. Castro for more than two hours, the first high-level meeting between the two countries in nearly two years. The senators offered to take the aid worker, Alan Gross, home with them.
"I said if he'd like us to take this issue off his hand, we'd be happy to take Mr. Gross on the plane when we left," Mr. Leahy said in a phone interview from Port-au-Prince, Haiti. "He basically said, 'Nice try.' "
Senator Chris Coons, a Delaware Democrat who along with Mr. Leahy met with Mr. Gross at a military prison hospital in Havana, the capital, said prison conditions "are not great." But he said Mr. Gross appeared to be treated better than a typical Cuban prisoner.
"He's lost a stunning amount of weight," Mr. Coons said. "He is very thin."
The senators are part of a group of six lawmakers traveling to Cuba, Haiti and Colombia to widen agricultural trade with Cuba, inspect recovery efforts from the 2010 earthquake in Haiti and discuss antidrug efforts in South America. Also in the group were Senator Kent Conrad, of North Dakota, and Representatives Xavier Becerra, of California, and Peter Welch, of Vermont.
Mr. Gross, a Maryland resident, was sentenced last year to 15 years in prison after his arrest in 2009 while serving on a democracy-building project financed by the United States Agency for International Development. Mr. Gross, who was accused of bringing satellite and other communications equipment to Cuba, was convicted of crimes against the state, not espionage. Cuban authorities "do not consider Alan Gross a spy," Mr. Leahy said.
Mr. Gross had traveled to Cuba five times in 2009 under his own name before his arrest.
When the lawmakers met with the Cuban foreign minister and the president of the National Assembly, Mr. Coons said, Cuban officials tried to raise other issues, like expanding cooperation on drug seizures, oil exploration, trade liberalization and immigration.
Mr. Coons said he was firm that Mr. Gross's release must come first. "My message back was before anything else can be discussed, we have to make progress on our humanitarian concerns, and that means releasing Alan Gross," he said.
But Mr. Leahy said he told Mr. Castro that neither country should let one issue stand in the way of progress because that would let political elements on either side thwart warming ties.
Mr. Coons said the main goal of the talks was to assure Mr. Gross that his case remains the main impediment to diplomatic overtures. Mr. Gross told his visitors that he had walked eight miles that morning, pacing in the limited space he has, and that he does pull-ups on a metal grate in his one hour a day outside.
He gave Mr. Leahy and Mr. Coons bracelets he had woven from small plastic rings he snapped off water bottle tops.
"He wanted us to keep them to remember him by," Mr. Coons said. "I have mine in my pocket."[19]
On June 20, the Inter-American Dialogue hosted a conversation with Senator Chris Coons (D-DE) and Congressman Xavier Becerra (D-CA), who discussed their recent trip to Colombia, Cuba, and Haiti earlier this year. [20]
Honduras letter
On Thursday, May 23, 2013, U.S. Senator Cardin (D-MD) circulated a Senate sign-on "Dear Colleague" letter to Secretary of State John Kerry addressing deepening concerns about Human Rights and the Rule of Law in Honduras.
The letter states that violence and impunity for state security forces in Honduras has reached intolerable levels and cites concerns related to extrajudicial killings, linkages to death squads, and increasing militarization of civilian law enforcement. The letter also raises the concern that State Department certifications intended to ensure that U.S. foreign aid supports the rule of law in Honduras may contradict the reality on the ground.
The letter asks State Department to:
provide Congress with a detailed assessment of the efficacy of current Honduran government efforts to address this issue as mandated by FY12 Appropriations language;
conduct a detailed review of specific State Department actions to help ensure that no U.S. funds are being used to support police implicated in human rights violations; and
make every reasonable effort to help ensure that Honduras' upcoming November 2013 elections are free, fair and peaceful.[21]
In addition to Cardin, the letter was cosigned by Senators Sheldon Whitehouse (D-RI), Patrick Leahy (D-VT), Barbara Mikulski (D-MD), Jeff Merkley (D-OR), Tom Harkin (D-IA), Ron Wyden (D-OR), Tammy Baldwin (D-WI), Jack Reed (D-RI), Mark Udall (D-CO), Martin Heinrich (D-NM), Debbie Stabenow (D-MI), Robert P. Casey, Jr. (D-PA), Tim Kaine (D-VA), Michael F. Bennet (D-CO), Sherrod Brown (D-OH), Chris Coons (D-DE), Dick Durbin (D-IL), Barbara Boxer (D-CA), Al Franken (D-MN) and Jeanne Shaheen (D-NH).[22]
Freedom to Travel to Cuba Act of 2015
S 299, the Freedom to Travel to Cuba Act of 2015, principal sponsors are Sens. Jeff Flake, R-Ariz., and Patrick Leahy, D-Vt.[23]
By May 20, it had accumulated 33 co-sponsors, including 26 Democrats - Sheldon Whitehouse, Tom Udall, Dick Durbin, Thomas Carper, Amy Klobuchar, Barbara Boxer, Jack Reed, Debbie Stabenow, Jeff Merkley, Chris Murphy, Benjamin Cardin, Chris Coons, Dianne Feinstein, Jeanne Shaheen, Sherrod Brown, Mazie Hirono, Brian Schatz, Tammy Baldwin, Ed Markey, Heidi Heitkamp, Jon Tester, Claire McCaskill, Ron Wyden, Tim Kaine, Al Franken, Elizabeth Warren, Michael Bennet, Martin Heinrich . [24]
The "Jihad" Caucus
In May 205, a group of 14 U.S. senators, led by Illinois Senator Dick Durbin and Minnesota Senator Amy Klobuchar, wrote a letter to President Obama urging him to allow 65,000 Syrians into the United States as refugees. This would require a dramatic expansion of the refugee program, and virtually guarantee that a sizable number of ISIS fighters would slip in among them. Frank Gaffney's Center for Security Policy called these Senators the "Jihad Caucus" because practically speaking, Jihad is what this request will bring.
The 14 senators demanding this massive influx of Syrians were: Dick Durbin, Amy Klobuchar, Al Franken, Patrick Leahy, Dianne Feinstein, Patty Murray, Robert Menendez, Sheldon Whitehouse, Jeanne Shaheen, Chris Coons, Tim Kaine, Ed Markey, Sherrod Brown, and Mazie Hirono.
These same 14 had sent another letter in April Demanding action on the Syrians.[25]
"No Muslim Ban ever"
Muslim Public Affairs Council - MPAC January 28 2019·
We're proud to host a congressional reception tonight with our friends at ACLU, Oxfam & National Immigration Law Center recognizing Members of Congress working to rescind and defund the #MuslimBan. Stay tuned to your feeds tonight for live updates.
Attendees included Reps, Judy Chu, David Trone, Katherine Clark, Ilhan Omar, Rashida Tlaib, Andre Carson, Pramila Jayapal, Zoe Lofgren and Senator Chris Murphy.[26]
MPAC connection
Muslim Public Affairs Council - MPAC May 6 2019·
After months of working with Rep. Judy Chu and U.S. Senator Chris Coons, bicameral legislation has been introduced to repeal the #MuslimBan - the #NOBAN act. Your $50 donation today helps us to continue to work toward ending this bigoted ban. #TogetherWeCan fight injustice and end religious discrimination.
Resolution to Honor Civil Rights Hero Fred Korematsu
February 6, 2017, Senators Ron Wyden and Jeff Merkley introduced a resolution honoring Fred Korematsu, who challenged the internment of Japanese Americans.
Wyden and Merkley said the resolution honoring Korematsu's work and advocacy of the civil rights and liberties of all people is timely, given the president's executive order establishing a Muslim ban.
"Fred Korematsu's brave advocacy for the civil rights of 120,000 Japanese Americans remains a timeless example of courage that resonates today and every day," Wyden said. "I am committed to fighting for the continued advance of civil rights he spent his life defending, and against those who would betray both the law and our history to impose an unconstitutional religious test on immigrants."
"Heroes like Fred Korematsu demonstrate the importance of fighting fiercely for our core American values, even when it is hard," said Merkley. "His story reminds us that the time is always right to stand up for what is right. We must keep fighting for the freedom and equality that define our nation, and ensure that the Statue of Liberty continues to stand as a beacon of hope around the world."
The resolution is cosponsored by Senators Mazie Hirono, Bernie Sanders, Cory Booker, Brian Schatz, Sherrod Brown, Sheldon Whitehouse, Maria Cantwell, Elizabeth Warren, Richard Blumenthal, Tim Kaine , Patty Murray, Chris Coons, and Dick Durbin.
A broad coalition of advocacy organizations support the resolution, including the Fred T. Korematsu Institute, the Bill of Rights Defense Committee & Defending Dissent Foundation, Demand Progress, Free Press Action Fund, Restore the Fourth, The Yemen Peace Project, and Fight for the Future.[27]
US International Coalition for Human Rights in the Philippines
US International Coalition for Human Rights in the Philippines March 6 2018.
U.S. Senator Chris Coons of the United States Senate Committee on Foreign Relations
Click here to see Chris Coons' affiliations with different individuals and organizations...
Quotes
"While the Republicans are seeing how low they can go, attacking each other over student loan debt and personal finance issues, we'll continue talking about something more relevant: jobs for Delawareans." Write Down This Chris Coons Quote, Legal Insurrection, Sept. 16, 2010
"I came to suspect, through these and other courses, that the ideal of America as "a beacon of freedom and justice, providing hope for the world" was not exactly based in reality.
I realize that Kenya and America are very different, but experiences like this warned me that my own favorite beliefs in the miracles of free enterprise and the boundless opportunity to be had in America might be largely untrue.
The point that others ignore is that I was ready to change. Experiences at Amherst my first two years made me skeptical and uncomfortable with Republicanism, enough so that I wanted to see the Third World for myself to get some perspective on my beliefs. Certainly Kenya provided a needed catalyst; I saw there poverty, and oppression more naked than any in America, and I studied under a bright and eloquent Marxist professor at the University of Nairobi. Nevertheless, it is only too easy to return from Africa glad to be an American and smugly thankful for our wealth and freedom. Instead, Amherst had taught me to question, so in return I questioned Amherst, and America.
Some of the "Leftists" that I met early on were terrifyingly persuasive, although I never admitted that. A few became my friends and provided a constant nagging backdrop of doubt, for which I am now grateful. More importantly, during sophomore year, several professors challenged the basic assumptions about America and the world relations with which I had grown up. Cultural Anthropology inspired a fascination with other peoples, and undermined the accepted value of progress and the cultural superiority of the West." Update: pdf - Chris Coons Studied Under Marxist, Rejected Basic American Assumptions, Riehl World View, Sept. 22, 2010
"I'm someone who would broadly support the agenda of our president," Coons told a group of supporters. "I think we need more folks in the Senate of the United States who are... willing to work in responsible partnership with an administration that I think made the right choice on healthcare, on the stimulus, on the jobs bill."Harry Reid's 'Pet', National Review Online, Sept. 20, 2010
"There are areas where I'm solidly progressive, but I am also a fiscal conservative and don't think you can consistently label my positions with either liberal or conservative."DELAWARE POLITICS: Coons distances self from Obama, The Daily Times, Oct. 5, 2010
External links
References