Cheryl LaBash
Jump to navigation
Jump to search
Cheryl LaBash is a Michigan activist.
De-platformed
On January 22 2020, Facebook disabled the main pages of two major community organizations, Peoples Power Assembly and Women In Struggle/Mujeres En Lucha, as well as activists around the country who have played roles in either group, including Puerto Rican activist Berta Joubert-Ceci; Greg Butterfield, Struggle La Lucha writer; Cheryl LaBash, co-chair, National Network on Cuba; Maggie Vascassenno, Los Angeles Harriet Tubman Center for Social Justice; and others.
It also banished Peoples Power Assembly page editor Charlene Lady J. Jenkins, a founder of "What's Up Baltimore," whose Baltimore grassroots network was shut down as a result.
In addition, 16 individual activists' profiles were disabled, which means that close to a dozen other progressive pages and groups were frozen when their administrators were disabled, including: the Baltimore Harriet Tubman Solidarity Center, ICE Out of Baltimore, Prisoners Solidarity Committee, Youth Against War & Racism, and Baltimore and Maryland Amazon Workers.
Sharon Black stated: "Facebook's disabling of pages and the accounts of major activists who have not violated community standards is meant to silence and censor our voices. The Peoples Power Assembly has played a significant role in the Baltimore Black Lives Matter protests in the summer and more recently opposing Trump's effort to overturn the election. On Dr. King Jr.'s birthday holiday, we held a car caravan to Jessup Correctional Institute and the Howard County Immigrant Detention Center to demand justice for prisoners and detainees."
Berta Joubert-Ceci, founder of the Women's Fightback National Network/Red Nacional de Mujeres en Lucha and Women In Struggle, stated, "It is appalling - the cowardice of Facebook in silencing the voices of women and progressive people who struggle for justice and a better life for all." Joubert-Ceci is also an organizer of the International Peoples' Tribunal on U.S. Colonial Crimes in Puerto Rico. Her personal page, used to connect with the Puerto Rican movement, was deleted along with Women In Struggle.
Attorney Summerfield stated, "We intend to fight this. This includes waging a public campaign to demand that the pages of all activists and the groups they represent are reactivated. We intend to use every avenue at our disposal, including legal remedies, to stop the censorship of voices that are too often marginalized."[1]
Current co-chairs
As of February 26, 2020, the National Network on Cuba website listed current co-chairs as Alicia Jrapko, Banbose Shango, Cheryl LaBash, Gail Walker, Nalda Vigezzi and Current treasurer: John Waller
Los Angeles Ant-War event
The week leading up to the anti-war demonstration at Olympic and Broadway in Los Angeles on Sept. 29, 2007 which included a tent city to "Occupy the Occupiers," was historic in many ways.
When the idea was first introduced by members of the Troops Out Now Coalition-L.A., a group that was formed to build for the September actions in Los Angeles.
Organizations led workshops that included the history of struggles in the Philippines by BAYAN USA and in El Salvador by the FMLN. Life in present-day Cuba and the struggle to free the Cuban Five was presented by FIST (Fight Imperialism, Stand Together) along with the Coalition in Solidarity with Cuba and the American Friends Service Committee.
U.S. Labor Against the War organized a discussion on the trade union movement. The Garment Workers Center led a discussion on labor rights and immigration. A very exciting multimedia presentation was done by members of the March 25th Coalition, Students for a Democratic Society and Latinos Against the War on Venezuela and Colombia that included the immigrant rights struggle. Workers World Party held a teach-in on building unity to stop the war, using the book "Bolsheviks and War" by Sam Marcy.
Presenters at the Encampment included Ron Kovic, author of "Born on the Fourth of July"; Eisha Mason of AFSC; Namibia Donadio of FIST; Don Bustany of Pacifica Radio's Middle East in Focus; Carol Frances Likins of the Coalition in Solidarity with Cuba; Andy Griggs and Tom McKenzie of USLAW; Carlos Montes of Latinos Against the War; Martha Rojas of the March 25th Coalition; Eric Gardner of Students for a Democratic Society and the Freedom Road Socialist Organization/FightBack!; Berny Motto of the FMLN; Mazen Almoukdad, member of Al-Awda; Terrie Cervas, Bev Tang and Apollo Victoria of BAYAN USA; and Larry Hales of Workers World Party and FIST.
At the demonstration on the 29th, Palestine was a prominent focus. Mahmud Ahmad, representing Al-Awda Los Angeles, was one of the first speakers at the main rally who made the connection between U.S. wars of aggression and their unbreakable link to the struggle in Palestine.
Speakers at the main rally included actor Mimi Kennedy; Fernando Suarez del Solar of Military Families Speak Out; Hamid Kahn of South Asian Network; Omar Jubran of CAIR; Jasimen Syler of United Liberation Army; Cheryl LaBash of U.S./Cuba Labor Exchange; Andy Griggs of USLAW; Deanna Taylor, national co-chair Peace Action Committee—Green Party USA; Gloria Verdieu of San Diego International Action Center; Eric Gardner of UCLA SDS; Carlos Montes of Latinos Against the War; Hwa Young Lee of Korea Truth Commission; and Terrie Cervas of BAYAN USA, who gave a rousing speech about the significance of the week's events.
The main rally was co-chaired by Namibia Donadio of FIST and Berny Motto of FMLN. [2]
Fifth Cuba/Venezuela/Mexico/North America Labor Conference
The Fifth Cuba/Venezuela/Mexico/North America Labor Conference, with representation from eight countries and virtually every region of the U.S., took place the weekend of Dec. 5-7, 2008. in Tijuana, Mexico.
Sponsors of the conference included the U.S./Cuba Labor Exchange; Sindicato Mexicano de Electricistas; World Organization for the Right of the People to Healthcare—Service Employees International Union 1199 NY; International Committee for the Freedom of the Cuban Five; National Network on Cuba; Venezuela Solidarity Network; International Action Center; Cuba Solidarity New York; Southwest Workers Union; and Converjencia de los Movimientos de los Pueblos de las Americas; among others.
The Dec. 6-7 sessions were chaired by conference organizers Cheryl LaBash and Ignacio Meneses, and by SEIU Local 1199 leader Rhadames Rivera.[3]
Committee to Defend Diane Bukowski and Freedom of the Press
In 2009 Cheryl Labash was listed as a supporter of the Committee to Defend Diane Bukowski and Freedom of the Press[4]
Workers World Party
In 2010, Cheryl LaBash was a Workers World Party national organizer and a co-coordinator of the U.S./Cuba Labor Exchange.[5]
U.S. Cuba Network extends solidarity to Charleston massacre victims
In a statement issued on June 20, 2015.
The National Network on Cuba extends our solidarity to the survivors and our condolences to the families of the victims of the racist terror attack on Mother Emanuel African Methodist Episcopal Church in Charleston, South Carolina. The Mother Emanuel AME Church is a symbol and example of African-American communities who have fought racism and oppression from before the first slave ships left the coast of Africa to the Black Lives Matter movement today. A founder of this church, Denmark Vesey, was hanged for planning a rebellion to end slavery.
This racist massacre could never happen in Cuba because the very foundation of that country is based on respect for humanity and collective care for each other. In Cuba, these words are not just phrases but something they practice daily. These basic principles of solidarity between people also extend to the world, where time and time again Cuba has been the shining example of sending brigades to help fight against diseases, and they are first responders when a disaster happens. Cuba never asks for anything in return, like when they sent military assistance to Angola in the 1980s to help defeat the racist South African Army.
The National Network on Cuba stands with the people of Charleston and says no to racism and white supremacy.
Signers were Nalda Vigezzi, Banbose Shango, Franklin Curbello, Cheryl LaBash, Alicia Jrapko.[6]
"Happy birthday Fidel"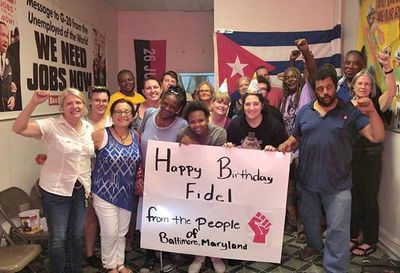 The Baltimore branch of Workers World Party celebrated the 90th birthday of Cuba's historic leader, Fidel Castro, on Aug. 13, 2016. An introductory panel featured Fred Mason, president of the Maryland/Washington, D.C., AFL-CIO; Leslie Salgado, from Howard County Friends of Latin America; and Cheryl LaBash, a co-chair of the National Network on Cuba. In a "fish bowl" discussion, four young organizers described what socialism means to them, followed by questions and comments from others.
Sharon Black, an independent candidate for City Council president, chaired the meeting, and Andre Powell, mayoral candidate — both from Workers World Party and the Baltimore People's Power Assembly — spoke in solidarity with the Cuban revolution. Independent City Council candidate Nnamdi Lumumba, of the Ujima People's Progress Party, also expressed his solidarity with socialist Cuba.[7]
References